Security Steel Doorsets
The Garage Door Centre recognises the importance of not only installing a secure garage door, but also that a durable, strong pedestrian door is vital in working towards keeping the entirety of your home safe and secure.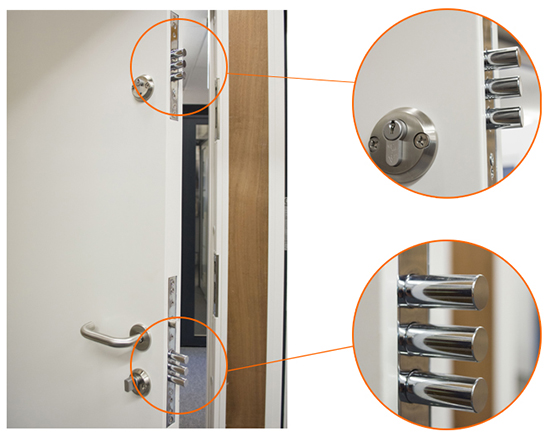 Secure Your Home & Garage
Any door entering the garage from the outdoors, or from the home, should offer high levels of security due to its accessibility on the ground level as an external door of the home.
As a result, The Garage Door Centre supply and install security steel doorsets that can work in unison with a secure garage door. This type of door can also be used in commercial and industrial environments due to their high specifications.
What is a Steel Door Set?
A security steel doorset is a factory produced and assembled hinged door, its primary purpose to provide good levels of security, stability and durability. As the doorsets are pre-fitted with furniture and specified to the application's unique specifications, they offer the very best performance when fitted by a qualified installer. Our steel doorsets have undergone thorough testing in order to achieve their certifications.
The diagram to the left demonstrates the sheer quality and strength of a steel doorset's features - the particular door photographed can be seen at our Wellingborough showroom, as well as other doors featured in our steel doorsets range.
Samson Range
Our sister company, Samson, specialise in security solutions for domestic, commercial and industrial applications, and now manufacture two high quality, bespoke steel doorsets: The HomeGuard and GarageGuard.
The HomeGuard is designed to perform as a secure entrance between your home and garage, whilst the GarageGuard works as an external pedestrian door leading into the garage.
The high levels of security however, do not compromise the appearance that can be achieved, with various colours and finishes available to create aesthetics to suit various styles of property.
| | | | |
| --- | --- | --- | --- |
| Samson GarageGuard Front | Samson GarageGuard Back | Samson HomeGuard Front | Samson HomeGuard Back |