SeceuroGlide Roller Doors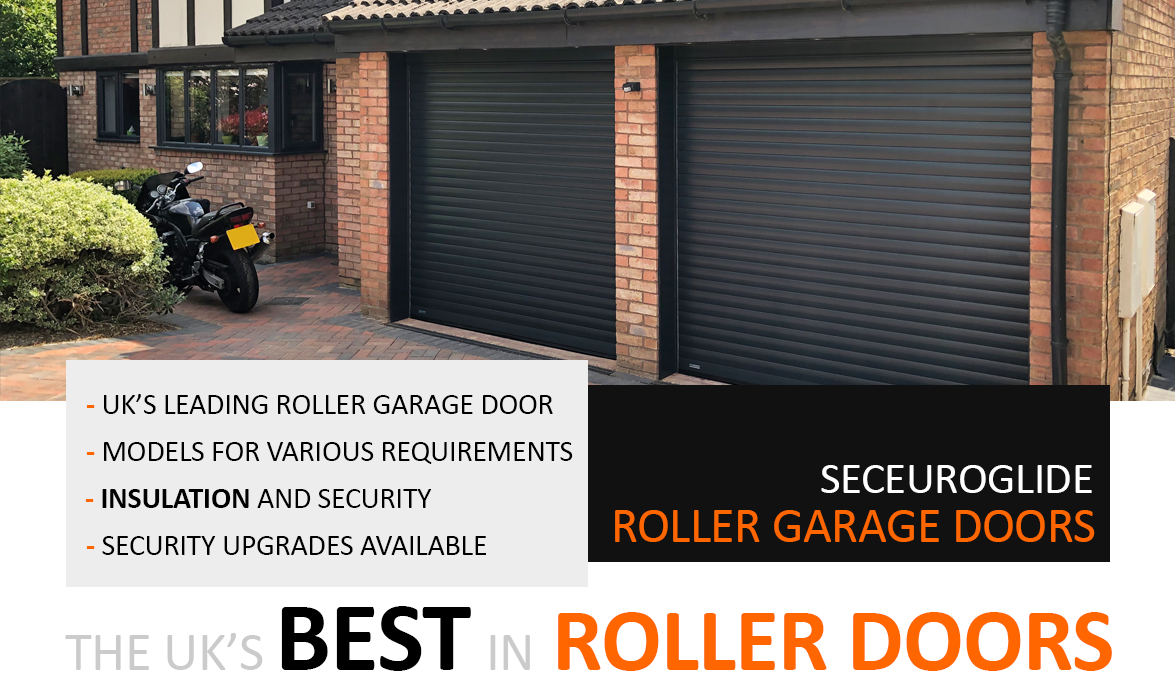 The SeceuroGlide roller shutter garage door is an elegantly simple door design, with robust, reliable and secure features that offer excellent protection for your garage, car and home.
With a SeceuroGlide, you are guaranteed the very best in roller doors; it was one of the first insulated roller shutter garage doors to be launched in the UK. Since the successful launch, its position and reputation within the market has soared due to persistent loyalty to development and innovation.
The SeceuroGlide's Sound Construction
Manufactured using a strong double-skin aluminium, a well-insulated and secure curtain is provided and held in place with high performance webbing that is unaffected by extremes of temperature. This provides smooth, dry running in the guides and ensures a quiet operation, unlike 'end-locked' roller shutter curtains. A strong extruded top slat and a SeceuroGlide patented comb locking mechanism effectively resists attack from would-be intruders.
Quality Sealing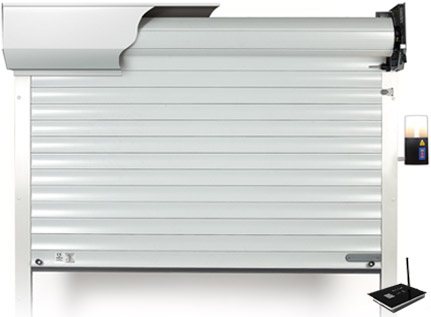 The high performance weather-stripping in the guides also ensures a good level of sealing and when closed, ensuring excellent acoustic and thermal properties. The large bottom rubber seal provides a good barrier to dust, leaves and any unwanted visitors.
Bespoke Measurements
Each SeceuroGlide roller door is individually manufactured to your requirements, meaning you get the exact sizes to maximise your garage opening. Remote controlled and electrically operated as standard, the SeceuroGlide uses the NRG motor, complete with a comprehensive 5 year warranty and a choice of remote handsets. Or, upgrade to the world-renowned Somfy Motor Unit at an additional cost.
Versatile - For Garages of all Shapes & Sizes!
SeceuroGlide roller shutters allow you to park right up to the roller door on both sides, whilst allowing you to open or close the door with ease.
The internal space requirements are minimal, enabling maximum use of your roof space inside the garage. Vertical opening means you can install the door behind any shaped structural garage opening without fouling the door curtain, and is ideal for arched openings of all shapes and sizes.
Style
There are five different models within the SeceuroGlide range:
Each style is equipped with their own properties that make them all unique. Dependent on what you are looking for, SeceuroGlide offer a range of doors to suit all. Each comes with a 5 year warranty for peace of mind with your door in the event of an incident.
The Perfect Finish for Your Home & Garage!
The SeceuroGlide is available in any RAL colour, allowing you to perfectly match your brand new roller door to any existing paintwork or double-glazing to create a coordinated look for your home.
Plus, SWS offer a selection of fourteen paint or wood-effect finishes; match your door to outdoor furnishings, or simply add a level of warmth that the wood effect finishes create for any home and garage.
All styles are designed so that little maintenance is required, meaning your door will continue to look great with very little effort.
Safety
Safety is a fundamental concern in the continuing development of the range. All SeceuroGlide roller doors are fully CE compliant and come as standard with Safety Edge collision detection and Anti-Fullback devices where required. This means the SeceuroGlide will retract at any point a resistance is detected. This includes on the bottom slat sensor or if anything becomes caught in the rolling mechanism.
Any remote control garage door without compliant up to date safety features is not only illegal, but can be very dangerous.
Space Saving
A tight coiling curtain design and discreet optional boxes maximise the drive-through height of your garage - ideal for larger vehicles such as 4x4s and people carriers. There is no intrusion into overhead storage space within the garage as no tracks are required, and without the kick-out of traditional 'up and over', doors you can park safely inches from the door.
Insulation
The door's construction consists of insulated foam-filled lsats, superior guide rail inserts, bottom slat rubber seals and a curtain that finishes higher than alternative competitor designs. These features help increase energy efficiency whilst reducing heating costs, with a typical U-Value of 5.2 W/m²K.
Lighting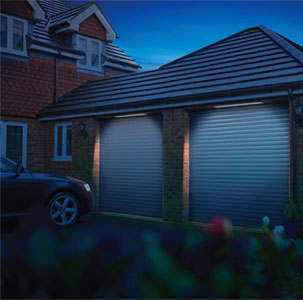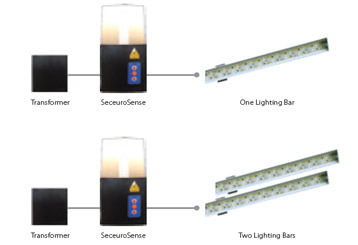 Our SeceuroGlide range allows for the opportunity to have attractive outside lighting. Discretly fitted as a down light, this enhancement to your garage can be set to turn on and off automatically in accordance with when you use your garage, or it can be left on to allow additional lighting to your outside area. Our internal lighting is controllable at the simple touch of a button, allowing your garage to be used at any time of day.
Another standard feature is the built-in courtesy light, located within the control box; a handy addition that provides light upon the opening of the door. If there's a powercut, there's also no need to worry - internal manual override is also provided as standard. Other useful accessories to consider include key switches, battery back-up systems, wireless digital keypads and multi-channel transmitters for incorporating electric gates, etc.
Security
The SeceuroGlide Classic and Excel have been accredited with the Secure By Design certification. Not only does this provide peace of mind, but assurance that your garage is equipped with additional security features to keep your possessions safe. The integrated slats are linked at the top and bottom with the next slat, and at the bottom is a secure rubber seal, which not only prevents unwanted debris entering but also stops unwanted visitors. Once the SeceuroGlide door is sealed shut, the slats close together so there are no gaps between each of the slats. This prevents the chances of someone wedging an instrument between the slats.
Automatic anti-lift locking and SeceuroSense receiver units feature rolling-code technology, ensuring that there is no other insulated roller door available.
For the very highest security specification see the SeceuroGlide Excel Roller Door >
SeceuroGlide Connect/Connect+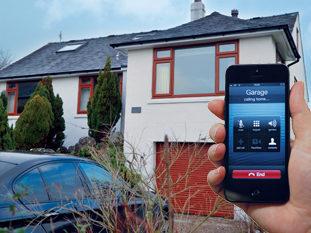 With the ability to use your garage door from your phone, this added extra can provide useful and helpful operation to your garage door when you don't want to carry a remote control with you while going out and about.
With simple plug and play facilities, it requires an easy step by step set-up that doesn't take long to initiate, using your home's WiFi to operate the door.
Because it is classed as a 'Plug and Play' setup, no software or application is needed to control your door from the comfort of your phone.
If you wish to upgrade your SeceuroGlide Connect to the Conect+ you can control your SeceuroGlide door with a simple text message or phone call. With the Connect+ you can request a status on your garage door to see if everything is in good working order, and even check that you closed the garage door.