High Security Garage Doors

High Security Garage Doors
With both domestic and commercial crime rates seemingly continuously on the increase, it is more important than ever to protect your home accordingly. Specifying and installing a high quality, security-enhanced garage door is a great way to achieve this, especially considering the high-value items often found within a garage. Take a look at the list below to see which options are best for each door type if you require a garage door for security.
Don't forget - our Northamptonshire showroom showcases the very best in garage doors, so come along and see the range for yourself.
So, Which Garage Doors are Secure?
Up and Over Garage Doors


A basic good quality up and over garage door specified with a steel sub frame and a 4 point locking system will provide a very good level of security. This is all providing the door panel is of a box section construction and that a euro profile cylinder locking system is fitted. Most opportunist burglars would not bother a forced entry with one of these garage doors because of the noise and effort required. Specialised tools would also be needed, which are not carried by most burglars.
A most recent addition to the Garador up and over door range is the Guardian range of doors. This offers manually operated steel up and over doors in limited sizes, carrying the very prestigious Level 1 LPCB rating.
The Guardian door is a tested version of their Horizontal and Vertical ribbed door design with extra bracing and steel plating at crucial points to resist attempted forced entry. 4 point locking is standard and the door is supplied as either a standard or purpose made size with a box section steel fixing sub frame fitted as standard.
Side Hinged Garage Doors

Another option for security, as well as practicality, is the side hinged steel garage doors with the steel box section fixing frames. Several manufacturers offer very high levels of upgraded security locking as well as double skinned steel panels for strength. When properly specified and installed, these can be very secure indeed. When fitted with a hydraulic electric door operator with an electro-magnetic lock, this option adds additional strength to the side hinged door.
Wessex offer a GRP range with an uprated 'Premiere' specification with excellent locking facilities.
Carteck, Ryterna and Hormann offer double skinned steel insulated side hinged doors with defined levels of security in their standard lock sets. The panels are designed to be strong as they are 42mm thick steel panels.
Sectional Garage Doors

For increased peace of mind at a very sensible price, the garage door we sell the most for security (as well as for insulation, sealing properties and practicality) is the sectional garage door (of which many models also boast excellent insulation, efficient sealing and total practicality).
This type of garage door has a very strong yet basic design in that the individual panels of the door have 4 encapsulated rollers either side, moving behind a durable steel sub frame system. The 42mm double skinned insulated steel version of the Hormann, Garador and Carteck sectional door provides a door panel with incredible lateral strength and, although there is only one locking point internally, it is very difficult to penetrate this type of garage door by force or with tools. Fitting behind an opening further increases the security element, as fitting in this position eliminates all penetration points. Fitted with the correct electric operator provides a well-protected garage door option.
Insulated Roller Garage Doors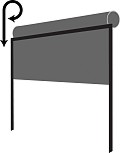 Another popular option is the double skinned insulated, aluminium roller shutter garage door. However, only in electric operation form is this door really secure.
Many manufacturers produce this type of roller door but you have to make sure some basic features are included to ensure security.
Single skin steel roller shutters are available, but security is not one of the high priorities of this door type.
The double skinned aluminium roller shutter is the one to opt for when security is the key feature that is required, but to be secure they have to have good quality side guides to prevent forcing the curtain, a good quality bottom slat as this is the frequent attack point, rolling code technology on the radio transmitter and receiver, as well as a proven locking system to hold the curtain in place when closed.
The Seceuroglide brand of insulated roller shutter was one of the very first roller garage doors in the UK and has been developed over the last several years to become market leader with a patented locking system as standard, as well as being the only 'Secured by Design' option with the Seceuroglide Excel roller garage door.
Please do not confuse the insulated aluminium roller shutter with the basic single skin steel roller shutter. Security is not one of the high priorities of this roller door; type and simplicity and price are the key factors.
Silvelox
For the absolute ultimate in security - and incredible beauty - Silvelox garage doors are almost certainly in a league of their own. They provide extraordinary levels of very discreet security through a combination of 80mm thick one piece, counterbalanced door panels and automatic latches with reinforced bolts locking into tough steel sections.
With garage doors and entrance doors to match, all are provided in stunning timber designs and certain to visually impress. And, what is more, the security elements with Silvelox doors certainly neither spoil nor compromise their wonderful aesthetics.
Certifications
An effective way to gauge which doors are most secure is to find out which ones have obtained security certifications.
One to certainly look out for is the Secured by Design accreditation, an initiative recongnised by the Police and only awarded to doors that have undergone thorough testing.
A primary example is the SeceuroGlide Excel by SWS, a roller door with enhanced security features offering one of the most secure roller doors available that is Level 1 Secured by Design approved.
Other ratings to look out for are LPCB, LPS and BS EN to ensure that the door has been tried and tested with proven results.
How Does a Garage Door Comprimise Security?
Older Garage Doors
Consider how easy it would be for an intruder to gain access to your possessions, and in many cases, your main house by entering through your garage, especially if your garage door is of an age where the only security locking is a tiny latch in the centre of the door at the top. These latches are mainly linked via a cable to a handle which, if broken, enables operation of the latch instantly and quietly. On garage doors with badly fitted timber frames, it is also extremely easy to force the latch from outside quietly and efficiently.
Many older garage doors, whatever the type, have very poor security if properly examined, and present an easy target for would-be intruders as a garage is not seen as quite as substantial a challenge as the main house. Cheap and badly fitted electric operators do not offer any better security either; they need to be specified and installed correctly to a good, solid-built door.
Whilst reviewing the various government web sites that list incidents of crime, you will see that the garage is a regularly targeted, vulnerable area, especially when there is access to the main house through the garage.
Consideration must be given to the actual door panel itself as some garage door panels may well look attractive, but look closer and you may see that the panel is indeed only very thin and could be cut or smashed through relatively easily.

Inferior (and therefore frequently cheaper) GRP doors are an example of this; the price is low because of the lack of material used in the door panel itself and therefore the strength and security is compromised. However brilliant the locks might be, if you can kick a hole in the door panel, their quality becomes quite irrelevant as they can be operated by the hand that has slipped easily through the hole! Cheap timber garage doors with a plywood face backing are also another example of garage doors that could be easily penetrated.
Protect Against Intruders
Modern garage doors of nearly all types do now at least come with a euro profile cylinder locking system as standard, and use locking rods rather than cables. Any decent one piece up and over will have a minimum of 2 locking points internally. Quite often, you will be able to upgrade to the option of a 4 point locking at a small extra charge - both Hormann and Garador offer this. But, do remember - the locking on a garage door can only be as effective as the overall strength of the door panel itself, and the fixing sub frame it operates within. If the door panel is flimsy it can be bent easily, forcing the locks and likewise for the sub frame whether it be timber or steel, it must be fitted square and with the right fixings to prevent any form of forcing.
Contact Us to Find Out More
Specifications on the locking and design of garage doors are constantly changing, so for up to date information on the very latest availability, telephone our sales office or e-mail us directly with your requirements.
Come along to our Northamptonshire showroom, where you can view and try out our range of garage and entrance doors for security for yourself.