SWS Seceuroglide

Combining great design and exceptional build quality, the SeceuroGlide range of garage doors are designed and manufactured in the UK and offer attractive and effortless protection for your home.
We understand that buying a new garage door is a significant investment for your home and one we know that is important to you. The SeceuroGlide range of garage doors aims to ensure you make the most of your investment by offering a garage door that will fit all of your requirements without compromise. SWS have created a range of elegant and stylish looking roller shutter doors that require no tracks and produced no 'Kick Out' unlike your standard 'Up & Over' garage doors.
Each door is available in a selection of colours of your choice and is secure against intrusion from any unwanted visitors. Because of this, you will have constant peace of mind that your home and property is secure and safe all year round and for many years to come. We are proud suppliers of SWS doors and offer and extensive range of styles and colour by SWS.


---

Seceuroglide Sectional Garage Doors
Seceuroglide Sectional Garage Doors combine reliable performance with purpose-built designs that are ideal for everyday modern life. These doors are automated as default, so they can be easily operated with just the touch of a button. The Black Edition operator even features a unique locking system for added security.
SWS also offer a selection of low maintenance finishes, such as the Anthracite Dura, their more durable finish whicb helps to minimise dirt and marks. These finishes are all designed to free up your time and make your garage door hassle free and easy.
Not only are they easy to use and durable, but they are also ultra stylish and safe. Minimalist design combines with advanced engineering to ensure you never have to compromise. Finger-safe technology ensures that fingers cannot become caught or be trapped between the panels, and therefor cannot be operated care-free around young children or pets.
Not only this, but every electrically operated Seceuroglide Sectional Garage door has what is known as "obstable detection" technology built into the motor. This means that when anything is detected in its path, the door will immediately stop, allowing for a greater degree of peace of mind.
With a Seceuroglide, the Choice is Always Yours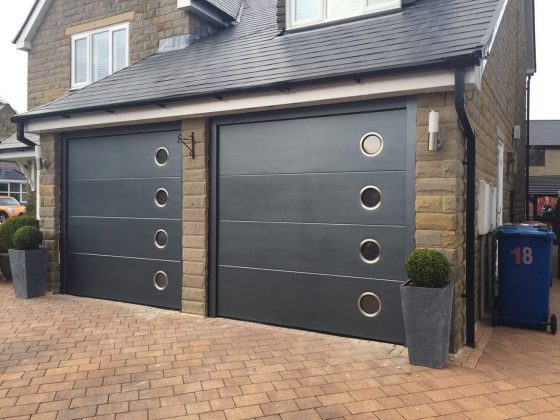 You are in complete control of how your door looks. From colour to design, there are countless options, so whether you want to blend in or stand out, everything is possible.
With so many possible options, it is important to keep your end goals in mind. Maybe you are aiming to mix perfectly with the neighbouring properties, in which case our range of colours and the ability to spray in any RAL colour will surely help. Perhaps you want to ensure you still have natural light inside your garage, in which case we have a selection of glazing and windows in various configurations.
The process for making a truly unique and purpose built door is simple;
Measure your hole and ensure you get your fully bespoke sizing

Choose from four different types of panel

Choose from hundreds of colours

Choose a finish, with smooth or embossed styles

Choose your accessories such as windows, frames, etc

Choose your operator

Insulated Panels Help Save Money
The RAC conducted a study and found that just 24% of all garage owners use their garage to store a car. Instead they are being used as a large storage area, or being converted into additional rooms such as gyms, offices, or workshops. If like 76% of others, you use your garage for one of these reasons, SWS' 40mm insulated Seceuroglide panels are a must.
Consisting of a CFC-free core encased in two steel sheets, the panels are finished with a polymer coating which is incredibly hard-wearing and encased in weather-seals which reach 30mm in the opening on all sides of the door, providing vital protection against the elements. The steel itself is hot dip galvanised, and then a primer and polyester finish coat is applied. The standard finishes are excellent in withstanding weathering and corrosion, making them ideal for coastal properties. The surfaces are easy to clean, and this reduces maintenance.
The insulation has another great effect too, conserving energy and saving you costs on your bills, making it not just a stylish, practical and safe choice, but a financially sound one too.