✓ Bespoke Garage and Entrance Doors ✓ Steel, Aluminium and Engineered Timber Panel Options ✓ 25 Years Manufacturing Experience
✓ Unique Design Oppurtunities ✓ Insulated Doors with a Vast Range of Finishes & Colours ✓ Manufactured in Lithuania ✓ Made to Measure on all Available Doors

Ryterna garage doors are designed to operate manually and electronically, and are compatible with electronic operators of most well-known manufacturers, providing you with optimal operating comfort, efficiency and safety.
Ryterna are a company from the picturesque city of Kaunus in Lithuania and they have expanded and now employ over 450 people across Europe, with branches all across Europe and parts of Asia.
With a huge 25 years worth of experience in building doors, Ryterna are specialists who have a distinct advantage over other manufacturers due to their ability to make almost door design and style and this is because Ryterna put a large emphasis on individuality and bespoke designs.
Offering a wide range of made-to-measure doors with numerous design choices, including the possibility to create your own designs, Ryterna place emphasis on their modern, minimalistic designs. Their 'retro' range however, corresponds with more traditional buildings, allowing you to choose from a variety of garage doors suited to your house and taste.
Select one of the door types below to begin choosing the ideal door for you.
Sectional Doors

Ryterna sectional doors are all built in made-to-measure sizes, ensuring you get only the very best fit, and with bespoke colours too, you can get a totally unique and specialised door.

Alongside this, there is also the options of extras such as the stainless steel windows which will only put your door into a league of its own.

The materials used are all of the highest quality and look fantastic, ensuring these doors will look at home on almost any property.

Entrance Doors

Ryterna not only do a host of impressive garage doors, but also do a range of matching entrance doors that compliment your Ryterna garage doors andensure that your property has one complete aesthetic.

Their entrance doors are made of steel and aluminium and this ensures that the door is safe and secure, and like other Ryterna doors, they are available in a range of colours and styles.

Alongside this, they are all at more affordable prices than some of their biggest competitors and this makes Ryterna entrance doors a fantastic choice.

Pedestrian Doors

Alongside main Entrance Doors, Ryterna also offer pedestrian side doors, which offer easy and safe entrance to your garage, without having to use the garage door. These doors have perimeter sealing and can even be double leafed if needed.

The doors themselves can be made to match a garage door, or simply be chosen in the style you require with plenty of different panels and surface options to choose from, ensuring a unique door if you are looking to stand out.

Side-Hinged Doors

A stylish option, Ryterna side-hinged doors are a fantastic option for ease of use and accessibility. Side hinged doors are particularly useful for those properties where you will often need to access on foot. If the garage doesn't have the space for a seperate pedestrian door, side-hinged is the perfect solution, especially for those who do not use their garages to store a vehicle.

They are available in a wide range of styles and colours and the combinations available are almost endless. The door is split 50/50 as a standard, but it is possible to ask for it to be split into different proportions.

Side-Sliding Doors

Ryterna also make side-sliding doors. These are exceptional looking doors that have a large aesthetic appeal. Their nature means they can have plenty of design options and can be customised with windows and more.

They are also low maintenace, and also compatible with most electric operators fo ease of use. They do however require some interal space at the side so the door can easily slide open and close and for the tracks to sit.

Ryterna produce a whole range of exceptional doors, and every single one stands out for several reasons.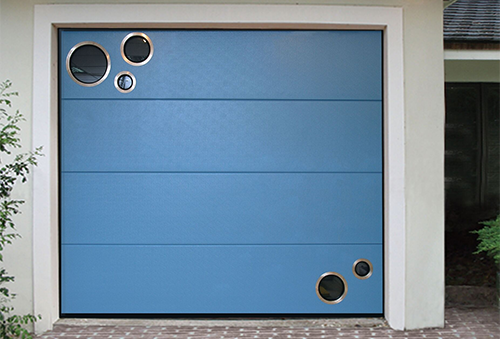 Appearance and Bespoke Design
Ryterna are a world leader in bespoke garage and entrance door designs, and are able to produce a door with almost any colour or variation in design to truly enable a unique door for any customer who wishes to stamp their own style into their home.
The range of colours spans the entire RAL colour wheel, and this means there are a huge level of variations even on the most basic doors.
Alongside this, individual panels can have different colours, or you can even have a basic image such as an outline or shadow on the door.
Alongside this, windows can be added in a huge number of variations, from circular windows to lines and more, the only barrier is that certain door types may stop certain window designs.
Steel, Aluminium and Engineered timber panel options
Ryterna are mainly known for their steel sectional, side hinged, and pedestrian and entrance doors, and these are of course made from the highest quality materials. As well as this, the entrance and pedestrian doors also use aluminium.
Ryterna do also make engineered timber panel doors, and these are definitely worth looking into if you want a great looking door and don't mind a slightly higher level of upkeep and maintenance.
Using a combination of the latest technologies and perfect product results, your Ryterna garage door will be one of outstanding appearance and performance.
Insulation
All Ryterna doors are insulated and this will allow you to save money on your energy bills, slowly paying back the money spent on the door, which is already less than many of their direct rivals. This effect would only be enhanced if you use your garage as a workshop, gym, or office.
Experience & Reliability
With over 25 years of door building experience, Ryterna showcase the very best of the European design and innovation and this is why The Garage Door Centre have chosen to stock their doors.
Unique designs and ideas, coupled with fantastic quality control and a passion for what do ensures that every door is a statement, as good as the last and exactly what the customer needs. It's this determination and love for what they do that has seen them expand to employ almost 500 people, and has enabled them to have offices in Germany, Poland, Russia, China, The Netherlands, France, Italy, Great Britain and more.
CONTACT US!
Any questions? Give The Garage Door Centre a call where we are able to guide you in regards to your requirements, as well as discuss and answer any questions you may have.