✓ 70 years of Manufacturing ✓ Steel, Timber and GRP Products ✓ Up and Over and Side Hinged Doors Manufactured in the UK ✓ Standard or Purpose Made Doors
All Doors Based on a Steel Chassis Sub Frame Design for Rigidity ✓ Secured by Design Security Options ✓ Insulated Roller and Sectional Doors and Front Entrance Doors
The Garage Door Centre have been working with Garador since 1986, and as one of the most experienced garage door manufacturers their consistency and quality can be trusted.
Garador are one of the oldest garage door manufacturers in the UK with 70 years of experience and expertise; today they offer a wide variety of door mechanisms for a range of different applications including Up & Over, Side-hinged, Sectional, and Roller doors, all of which have various features and additional extras available. Their doors are all manufactured in Yeovil, Summerset, at their state of the art factory.
Installations are controlled from our dedicated showroom in Northamptonshire, where our engineers are specially trained to ensure that your garage door attains the perfect fit.
You can read-up on the types of garage doors Garador manufacture below and follow the links to view the ranges. Alternatively you can view the full Garador collection here.
Garador Garage Doors
Up & Over Doors

Garador's Up & Over garage doors are available in steel or timber finishes with a range of ribbed and panelled designs. The timber doors are in two ranges: the Solid Cedar range and Elizabethan range, which is made from plywood and solid red cedar. The GRP doors are produced in either white or timber finishes meaning the style of your door is adaptable to your home and personal taste.

Garador's Up and Over doors require little maintenance, and are equipped with rust-resistant panels to sustain their appearance. These panels are placed in a rigid box section chassis. resulting in them seving as long-wearing, sturdy doors.

Side Hinged Doors

Garador's Side Hinged doors are reliable, traditional garage doors consisting of either steel or timber materials with convenient pedestrian access. They are manufactured with equal leaves, with the right leaf leading as standard – other leaf configurations can be dealt with upon request.

The side-hinged doors allow for optimisation of your garage space as they open outwards, not effecting wall space or utility equipment. Equipped with weather seals and two bolt latches, your garage door is sure to protect itself against intrusive weather conditions or burglaries.

Roller Doors

Garador roller doors are manufactured to provide you with a convenient and space-saving entrance to your garage. Made from insulated aluminium laths, the roller doors are electronically operated to allow ease of access as they vertically lift and roll above the door to allow for space to be saved within your garage. The roller sheets are easy to maintain; they appear modern and sleek, and are available in various colours, finishes and timber-effect coatings.

Sectional Doors


Garador sectional garage doors rise vertically upon opening, allowing for driveway space and access for wider vehicles. Whether you use your garage to store your car or for other domestic uses, the sectional doors are manufactured with either single skin or thermally insulated sections to suit its function.

A variety of colours, finishes and styles will allow any customer to be satisfied with not only the convenience, but the appearance of Garador's Sectional Doors.

Garador Pedestrian Doors

As well as making fantastic garage doors, Garador also make pedestrian side doors.

Most useful for when you need quick and easy access to your garage, and don't want to spend the time opening a full garage door, these doors are a useful feature for many properties. This is particularly useful if you use your garage for something other than just storing a car, such as a gym, an office, or more.

If you have an up and over or sectional door, these are essential for allowing quick and effortless entry. They are all made of high quality steel or cedar timber, and are available in 17 different colours.

Garador Entrance Doors

Garadors range of FrontGuard entrance doors are amongst the most superbly engineered entrance doors available today. There is a huge choice of different styles, from the effortlessly classic to the modern and stylish, and many of them have Secured by Design accreditation.

The doors are all constructed on an aluminium frame, with 12 point locking. The doors are specifically engineered to minimise heat loss, and have multi-point locking which provides extra security. The FrontGuard range are all built with shatterproof glazing. The outside pane is laminated security glass, whilst the inside pane is safety glass.

The doors are all available in a range of designs and colours, with various different options available too.

Manufactured in the UK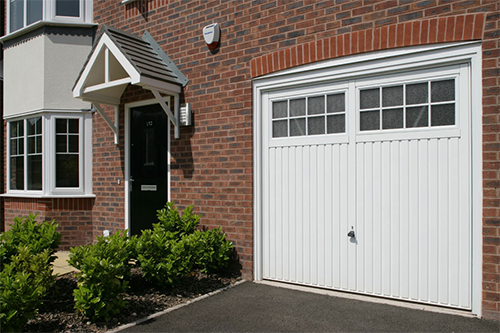 Garador were originally formed as part of Westland Engineers all the way back in 1948, and after taking the name Garador, they became the only up and over garage door manufacturer in the UK during the 1950's. They built a garage door manufacturing facility in Yeovil at the end of the decade and still make doors in the town to this day.
60 years later and Garador is still one of the UK's largest up and over, side-hinged and sectional garage door manufacturers. Garador have a policy of continually reinvesting in the technology and production techniques and as a result they have one of the most modern facilities for garage door manufacturing in Europe.
Secured By Design
Many of the doors that Garador manufacture are given the Secured By Design tag. Secured by Design is a police-backed initiative born in 1989, which promotes certain standards and is aimed to help promote products which are designed to make your home more secure and make burglary more difficult.
Environmentally Friendly
Garador themselves are an environmentally friendly company and this extends to the products they make themselves.
They have implemented a recycling scheme where all metals, plastics, paints and packing materials and reused or recycled wherever it is possible to do so. They also use an intelligent energy management system and all of their doors are insulated, to help you save on energy costs.
Quality Materials
Every single garage door that Garador make is based on a steel chassis sub frame design, and this helps with stability. The materials used are all of the highest quality and with over 70 years of experience they can be trusted to match this with their expertise.