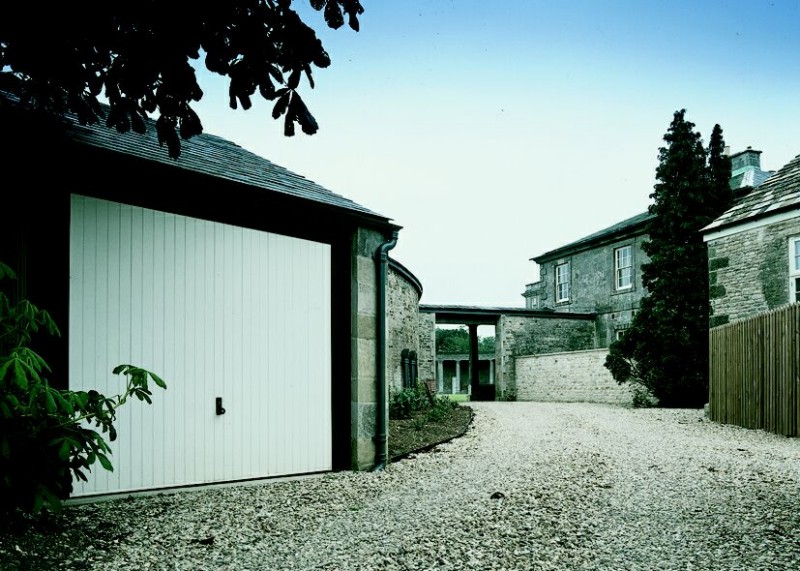 Hormann offer one of the single largest ranges of high quality up and over garage doors, available from their UK sized Series 2000 range.
The Series 2000 up and over garage doors fall into two main categories for the type of operation - canopy or retractable
The illustrations further down on this page show both garage door types with the optional steel fixing sub frame option
Always remember - any up and over garage door requires a fixing sub frame, usually either in timber or steel, and it will not fit directly to any structure without the sub frame, which should never be attempted! This sub frame needs to be fitted in-between or behind the structure.
Materials
The up and over garage door is still remains the most versatile in terms of materials and designs. The one piece panel structure means that doors can be made from steel, fibreglass (GRP) and most types of timber.
Steel is the most popular material used in Hormann up & over garage doors. Their durable construction is a point of paramount significance, which is further complemented by their low-maintenance qualities and competitive price. Hormann steel garage doors are available in a powdercoat finish or a textured wood foil coating for a natural appearance.
Many wonderful timber doors have been designed and manufactured over the years, along with some very large steel and GRP doors. More recently however, the maximum available width of a one piece up and over garage door has reduced due to stricter safety legislation, and therefore the sectional garage door has stepped into its place. Steel is the most economical choice of door panel.
Download the Series 2000 colour brochure PDF (4.61Mb)

Steel Up & Over Door Designs
Hormann's dedicated factory in Germany press and assemble galvanised steel garage doors to the highest quality. The component parts are then shipped to Leicestershire, where they are assembled into complete garage doors that are then fully prepared to install; the handle being the only part fitted on site after fixing the door and gear to the structural opening. Each of the parts on a Hormann up and over garage door are either zinc or galvanised, unlike other manufacturers, ensuring long life and smooth operation.

GRP Up & Over Garage Doors
Hormann GRP (fibreglass) garage doors are produced using the tried and tested steel 'open for infill' system, which then has a high quality GRP panel inserted and secured into it. This system ensures that no warping can occur, which happens on some GRP garage doors when there are large temperature changes or they are exposured to the sun over a period of time. The Hormann range has a choice of factory finished woodgrain colours and smooth white gloss finishes, as well as optional windows in some of the designs. A range of standard sizes are available with or without an optional box section steel sub frame for installation.

Timber Up & Over Garage Doors
Just like the GRP doors, the Hormann timber up and over garage doors use the steel box section chassis system as the basis for a very high quality door. The preferred timber for longevity and flexibility in colour staining is Cedarwood, which is the timber used for the entire range. Cedarwood is also light in weight, ensuring a good range of sizes that are effortless to operate. The timber garage doors are supplied as standard with a clear basecoat stain for on-site finishing, but can be factory finished in a selection of colours. Again the steel box section fixing sub frame is available on all sizes in canopy or retractable gear options.

Hormann Up & Over Canopy Doors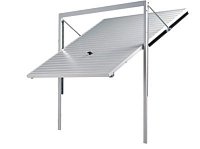 The canopy garage door is the simplest and most common type of garage door mechanism, its name deriving from the fully opened garage door panel protruding about a third forward of the sub frame to form a canopy.
It gives the maximum drive-through width when open and is the easiest to install. The door is balanced and assisted by torsion springs positioned above the door panel on the head of the fixing frame, lifting the door panel by a pair of cables attached to a roller either side of the door.
The canopy door mechanism is generally only available up to 8 feet (2438mm) wide.
It is not generally used if the garage door is to be automated, although with the use of a good quality 'bow arm converter' and a reasonably powerful operator, this type of door can be automated successfully.

Hormann Up & Over Retractable Doors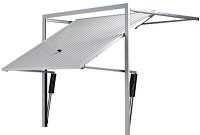 The retractable garage door is fast becoming the most popular type of up and over garage door mechanism in the UK, its name deriving from the garage door panel retracting fully into the garage when open. It is the mechanism that will convert easily and safely into electric operation with the least equipment required. The drive-through width on a retractable mechanism is reduced as the lifting arms sit in between the sub-frame when the door is opened - be careful when limited for width that you do not restrict access too much for getting a vehicle in and out..
The retractable mechanism can take much heavier loads with tension springs at the sides, easily increasing in size and strength.
The best retractable garage doors have no cables internally for locking, but locking rods made from steel with connection to a locking system using a euro profile cylinder. They also have multiple springs either side to spread the risk of spring failure and to give an overall smoother action when lifting.
Retractable gear mechanism is generally used for garage doors over 8 feet (2438mm) wide, and heavier garage door panels, such as hardwood. All double garage doors have retractable gear only.
Door Finishes
Steel garage doors are powdercoat primed in white as standard from the factory, and are now available in several optional RAL colours.
Terra Brown

RAL 8028

Signal Blue

RAL 5005

Steel Blue

RAL 5011

Moss Green

RAL 6005

Ruby Red

RAL 3003

Jet Black

RAL 9005
Hormann Decograin Golden Oak finish
The most recent innovation has to be the Decograin finishes; attractive, laminate foils, these are applied to the outside face of the door panel to simulate different attractive wood finishes; these are very effective and come with a 10 year guarantee. Two main woodgrain finishes are offered - Golden Oak and Rosewood, perfect for matching modern Upvc window and entrance door finishes.
| | |
| --- | --- |
| Golden Oak | Rosewood |

GRP (fibreglass) doors are available in forever-evolving finished woodgrain colours and are all hand finished, so never expect quite the same finish as a sample you may obtain! The 'base' colour of the door is in the gel pigment used to make the door in the first place and the final front finish is hand applied.
Timber garage doors are increasingly available in fully finished colours using microporous wood treatments. The most popular form of supply however, is still base coat stained for final finishing on site in order to coordinate with other timber finishes on the property.
Automatic Garage Doors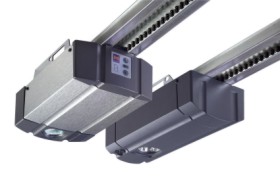 All Hormann up and over garage doors can be remote control automated using any of the vast Hormann range of remote control electric operators.
These high quality electric operators now come as standard with Bi Secur technology and a brand new range of hand transmitters with technology to remotely give an indication of whether the door is open or closed.
128 bit encryption is also used for the very highest levels of security and reliability - the same as what is used in internet banking!
Automating a canopy type up and over garage door will always require the use of a bow arm converter if installing with a traditional boom type operator.
A fully retractable up and over garage door is always preferable on larger width garage doors if the option is available, as a bow arm is then not necessary. The retractable garage door has no cables to worry about, while the side tension springs and the operator have very little work to do when opening and closing the door - it simply pulls from the top of the panel via a towing arm. You can also add the very useful 'de-latch kit' to a retractable electric door system, giving the extra security of utilising the manual locking rods and latches in conjunction with the electric motor, all driven by a simple mechanical device.
The range of access controls available today are vast, with wall mounted internal and external access controls and a selection of remote control devices to cover all requirements. Hormann electric garage door operators are supplied with 2 transmitters as standard when purchased. Other remote transmitters and access control systems are available from the selection shown below, and other controls are available to link in with Homelink systems and vehicle transmitter systems.
HS 1 BS

1 Channel Hand Transmitter

HS 4 BS

4 Channel Hand Transmitter

HS 5 BS

5 Button Hand Transmitter

HSP 4

4 Function Hand Transmitter

HSE 2 BS

2 Channel Micro Transmitter

Matching Side Doors
Hormann produce a range of steel and timber side hinged doors to match the majority of up and over garage doors from the UK and European range, as well as front entrance doors matching their unique range of European sized N80 and DF98 garage doors in timber and steel.
The garage side doors are standard or purpose made sizes as required and are white powdercoated as standard from the factory with a standard steel fixing frame. This frame is a corner type frame as standard but can be changed to a block frame for easier installation.
General Sizing Information
When talking about up and over garage door sizes, the reference is always to the internal sub frame dimensions. This is the frame for fixing the door panel itself to and is either produced in a timber or steel box section. A 7 foot by 7 foot garage door (2134mm x 2134mm) ordering size refers to the daylight opening size of the sub frame, while the garage door panel itself is smaller for operating tolerances.
Sub fixing frame sizes themselves vary depending on the gear and manufacturer required – so beware of overall size dimensions! The actual drive through width and height of any one piece up and over garage door will never be the same as the ordering size. The door panel hangs down in the opening and reduces the height depending on the thickness of the panel itself, and the width can be reduced as mentioned above when using retractable door gear. The optimum single garage door size is about 8'0" wide (2438mm) to allow easy access of a vehicle, the height depending on other factors such as building restrictions or taller 4 x 4 vehicles.

Many diverse European metric sizes are available from Hormann as well as purpose made sizes - please call us for details.
Installation Positions
Hormann up and over garage doors with fixing sub frames can be installed either inbetween or behind the structural garage opening - but not in front!
The installation position is usually dependant on sizing restrictions or the finish and depth of the garage piers, although the aesthetic is quite often a major factor. A garage door fitted onto the inside face of an opening can be wider and higher than a door fitted inbetween the same size opening. If you are not sure please call or email us - it could mean the difference between getting your vehicle into the garage or not!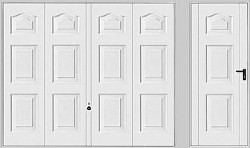 Pedestrian Doors in the Main Door
Hormann also offer a large range of their N80, DF98 and ET500 European range of garage doors with optional pedestrian doors built into the main door on either the left or right hand side. A range of powdercoated finishes and sizes are available all with steel sub frame as standard.