Side Hinged Locking Upgrade HALF PRICE!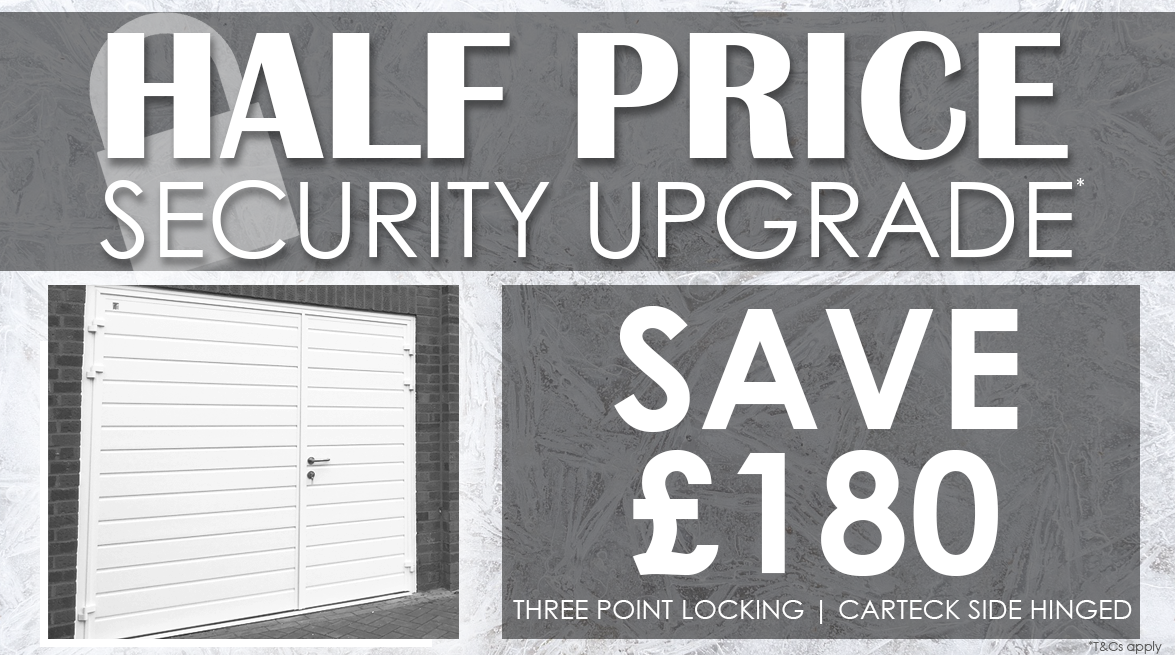 Are you interested in Carteck side hinged garage doors?
GET A LOCKING SYSTEM UPGRADE - TO THREE POINT LOCKING - FOR HALF PRICE!!*
SAVING A HUGE £180!!
FOR CARTECK SIDE HINGED DOORS
Protect your home & garage this winter with our seasonal special offer!

ABOUT CARTECK SIDE HINGED DOORS
Carteck's side hinged garage doors are a great solution for a convenient means of access via both vehicle and on foot.
These are purpose made, insulating garage doors that are designed to perfectly fit your garage opening and offer insulation to aid in keeping your home and garage warm.
Offer Details:
Upgrade from the standard locking to a three-point locking system on Carteck side hinged garage doors for HALF the normal price!
This equals to saving a huge £180, whilst providing a significant amount of additional security.
The three-point locking system is equipped on the active leaf, creating enhanced strength against attempts to force them apart.
This is a Winter Special Offer only, so be sure to take advantage within the next couple of months!
Offer expires 28th Febraury 2019.

INTERESTED?
Contact us!
For more information, just give our team a call on (01933) 229135, or drop us an e-mail: enquiries@thegaragedoorcentre.co.uk
Alternatively, you can see and try our Carteck side hinged doors out for yourself at our Northamptonshire Showroom!
*Terms and conditions apply. Not to be used in conjunction with any other offers.

The Garage Door Centre's Winter Special Offers!
Our seasonal offers are here! Click the "Winter Offers" button below to see our complete collection of current offers, as well as our special roller door winter offer featured on our Roller Doors Guide!