Gliderol Sectional

Gliderol Sectional Garage Door
New to the Gliderol Sectional Garage Doors range comes the Gliderol Panel-Glide. The Panel-Glide is a visually-engaging, high quality garage door constructed using a very strong galvanised steel.
Panel-Glide sectional doors are manufactured within the UK in both single skin and 42mm insulated panels. These are available in a very easy to use manual version or with the extravagance of an electrically powered remote control operation which can be activated by the simple push of a button using the Glidermatic GTS Optima operator.
Installed using a vertically opening panel system located behind the structural opening and attached horizontally from the celing, the Gliderol Panel-Glide sectional door allows for full use of the driveway for parking.
The Gliderol Panel-Glide sectional garage doors range is available in 4 designs and categorised into Panelled and Ribbed Designs.
Gliderol Sectional Door Designs
Remote Control Operation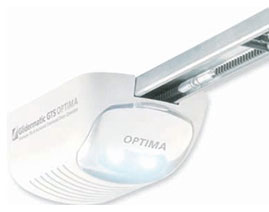 Remote Control Operation is achieved thanks to the Glidermatic GTS Optima. This Operator flourishes with an unrivalled design which makes it a necessity for any household garage door.
It consists of a highly powerful motor assembly (1000N) and a heavy-duty transformer (175 VA) within its sleek and modern chrome/white exterior which helps to lift any size of residential door with ease. It is also partnered by a toothed belt and 24v low voltage motor which assists in providing whisper quiet operation at all times. It's fully enclosed steel shaft ensures working parts are not exposed and remain out of harms way.
Easy to use, easy to install!
The GTS Optima can be installed with most new and existing one-piece or sectional garage doors. Due to the minimal number of parts required, installation is quick and free of hassle.
The Gliderol Glidermatic GTS Optima also provides the following:
Safety Reversing automatically offers a reverse function should an obstruction restrict the downward cycle of the door.
Soft Start/Soft Stop offers system which provides a slow start and slow finish combined with a fast opening speed.
Environmentally Friendly LED Lighting can fully illuminate your garage when the operator unit is in motion.
Power Activation Sensors regulate and automatically adjust the power of the motor to open and close efficiently.

Automatic Closing can be set to automatically close the door after 90 seconds.
Manual Release is also available to manually operate the door should a power failure occur.
Low Maintenance is achieved by using a hard wearing nylon gearing mechanism which ensures a long operational life.
GTS Transmitter can operate up to 3 doors / 2 doors and a gate / home alarm system setting. The UHF transmitter usually operates in a line of sight operation for safety benefits. An additional feature of the handset is the facility to use the handset to set the up and down door limits.
Optional Extras
Handles
When electric operation is not required, Gliderol provides a range of door handles to accommodate for manual operation.
| | | | | |
| --- | --- | --- | --- | --- |
| White | Antuique Bronze | Black | Chrome | Gold |
Colours
All doors are available in white as standard however other colours are available on request. We have 3 standard colours and 2 decograin colours available at a surcharge.
Note: Colours shown are as close as possible to actual products. We strongly recommended comparing actual samples.
| | | | | |
| --- | --- | --- | --- | --- |
| Racing Green | Black | Van Dyke Brown | Golden Oak | Rosewood |
Windows
Windows offer a fantastic source of natural light into your garage. Windows are available on both both the Oxford and the Hampton panelled doors. Please call us for more information.
Gliderol Sectional Panelled Designs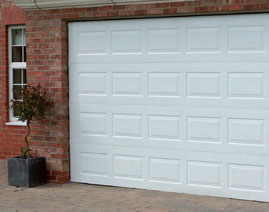 Oxford
The Gliderol Panel-Glide Oxford utilises a simplistic classical Georgian squared design to complete a neat, traditional household garage door.
Each imprinted square is accurately marked during manufacturing with minimal distortion to the steel. Recommended for use with a woodgrain finish, the Gliderol Oxford is also available in a smooth finish.
The Oxford design is also available with a large selection of window sections to allow for natural light. Each window is flawlessly constructed using hard-wearing clear or tinted acrylics.
This garage door is available in both Safe-t-Glide and Insul-Glide.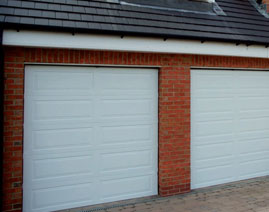 Hampton
The Gliderol Hampton design incorporates the natural look of timber with the infallible strength of steel.
The Hampton is given a visually astute image due to a highly modern parallel rectangular embossment design. This is achieved during manufacture with minimal distortion to the steel.
The Hampton integrates modern technology in the production of this strong and versatile panel door to offer high levels of performance and style which enhance the visual image of your home.
The door is lightweight and easy to use with its track and roller system in addition to accurate torsion spring tensioning.
This garage door is available in both Safe-t-Glide and Insul-Glide.
Gliderol Sectional Ribbed Designs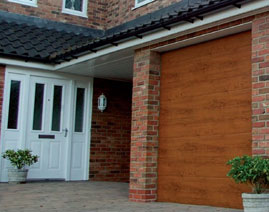 Tuscan
The Tuscan offers a timber-planked style door which is constructed using low maintenance polyester and laminate steel. Horizontal V grooves create a classy yet contemporary looking garage door.
Ideal suited to the modern home, the Tuscan provides the perfect alternative to either of the Panelled designs.
The Tuscan is manufactured to perfectly suit the hit-and-miss British weather with low maintenance being a primary positive for this door.
This garage door is available in both Safe-t-Glide and Insul-Glide.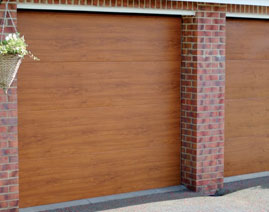 Madison
The Gliderol Madison, with its distinct clean sharp lined appearance, is available in woodgrain only. It's impeccable finish blends in perfectly with rendered homes.
The panel concept and technological developments have allowed new and improved styling opportunities which are fully utilised in this door.
This superb styling is achieved using polyester and laminate steel without the negatives of extra maintenance, cost and short-lifespan often associated with true timber products.
This garage door is available in both Safe-t-Glide and Insul-Glide.