Seceuroglide Roller Shutter Garage Doors

The Seceuroglide roller shutter garage door is an elegantly simple, well proven door design, with robust, reliable and secure features offering excellent protection for your garage, car and home. It is unique against the huge numbers of roller doors produced in the UK, many with little or no regard to safety or security. With a SeceuroGlide, you are guaranteed the best in roller doors.
Introduction to the SeceuroGlide Roller Door
The SeceuroGlide was one of the first insulated roller shutter garage doors to be launched in the UK. Since that successful launch, its position and reputation within the market as well as its level of public popularity has soared due to persistent loyalty to development and innovation in the product.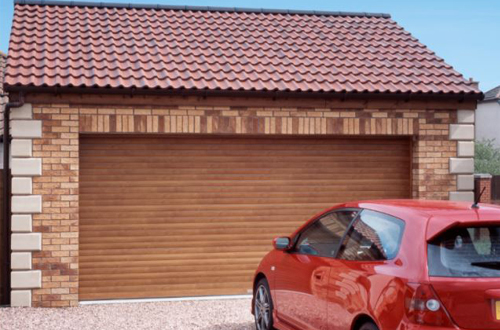 Manufactured using a strong double-skin aluminium slat with an insulating core, it provides a well-insulated and secure curtain that is also held in place with high performance webbing that is unaffected by extremes of temperature. This provides smooth, dry running in the guides and ensures a quiet operation unlike 'end-locked' roller shutter curtains. A strong extruded top slat and a SeceuroGlide patented comb locking mechanism effectively resist attack from would-be intruders.
SWS Seceuroglide roller shutters allows you to park right up to the roller door on both sides and still allows you to open or close the door with ease. The internal space requirements are also minimal - enabling maximum use of your roof space inside the garage. Vertical opening means you can install this door behind any shaped structural garage opening without fouling the door curtain. The roller door is ideal for arched openings of all shapes and sizes.
Each Seceuroglide roller door is individually manufactured to your requirements meaning you get the exact sizes to maximise your garage opening. The SeceuroGlide door is remote controlled, electrically operated as standard using the world renowned Somfy tubular motor drive unit, complete with a comprehensive 5 year warranty and a choice of remote handsets to suit you.
Style
Wide range of low maintenance finished colours, including textured woodgrain finishes to exactly match the latest generation of PVC windows and doors. Renolit woodgrain options also available as well as any RAL colour option for 2013 onwards. All styles are designed for easy maintenance, allowing you to enjoy your door without needing to put too much time into maintaining the door. SeceuroGlide is available in a choice of fourteen paint or wood-effect finishes allowing you to match your new roller door to any existing paintwork or double-glazing for a coordinated look to your home.
Safety
Safety is a fundamental concern in the continuing development of the range. All SeceuroGlide roller doors are fully CE compliant and come as standard with Safety Edge collision detection and Anti-Fallback devices where required. This means the SeceuroGlide will retract at any point a resistance is detected. This includes on the bottom slat sensor or if something gets caught in the rolling mechanism.
Any remote controlled garage door without compliant, up to date safety features is not only illegal but can be very dangerous.
Space Saving
A tight coiling curtain design and discreet optional boxes maximize the drive-through height of your garage - ideal for larger vehicles such as 4x4s and people carriers. There is no intrusion into overhead storage space within the garage as you do not require any tracks, and without the kick-out of traditional 'up and over' doors you can park safely inches from the door.
Insulation
Insulated foam-filled slats, combined with superior guide rail inserts, bottom slat rubber seals and a curtain that finishes higher than competitor designs help increase energy efficiency and reduce heating costs, with a typical insulation U value of 5.2 W/m²K.
Lighting
Our SeceuroGlide lighting options give the opportunity to have attractive outside lighting. Discreetly fitted as a down light, this enhancement to your garage can be set to turn on and off automatically in accordance with when you use your garage, or can be left on to allow additional lighting to your outside area. Our internal lighting is controllable at the simple touch of a button and will make your garage a room that you can use at any time of day.
The built in courtesy light in the control box providing light when opening the door and internal manual override is also a standard feature. Other useful accessories to consider include key switches, battery back-up systems, wireless digital keypads and multi-channel transmitters for incorporating electric gates, etc.
Security
Automatic anti-lift locking and SeceuroSense receiver units featuring rolling-code technology ensure there is no other insulated roller door available more secure than a SeceuroGlide.
For the very highest security specification see the SeceuroGlide Excel feature.
Peace of Mind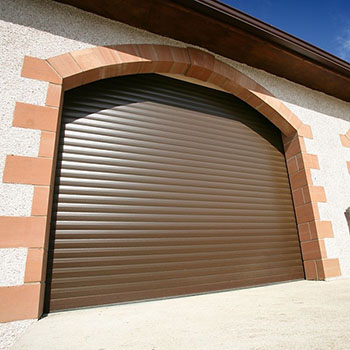 Each door is backed by a comprehensive two year guarantee covering all manufactured parts. In addition, the Somfy tubular motor is supplied with a full five year manufacturer's warranty, and textured woodgrain finishes carry a limited ten year guarantee.
Supplied with 2 hand held radio transmitters as standard and with the very latest rolling code technology, you can rely on your roller garage door being only activated by your transmitter. You choose which transmitters you require when ordering from a wide choice of sizes and styles.
You can now opt for a control panel offering control of the roller door via your smartphone. An additional wireless router is provided and access to an App providing various controls for the door and other items such as lighting, gates, awnings and other doors.
SeceuroGlide Connect allows connection through a Wi-Fi router with any terminal using remote access via internet or Ethernet. SeceuroGlide Connect enable you to use your smart phone like a normal transmitter. A plug and play system allows you to set up the system effortlessly, without the need for specific applications. *Please note: SWS can no longer supply EE sim cards.
The high performance weather-stripping in the guides also ensures a good level of sealing, and when closed, the door has excellent acoustic and thermal properties. A large bottom rubber seal ensure a good barrier to dust, leaves and any unwanted visitors.
Low voltage LED lighting options are also now available from Feb 1st for inside and outside your garage door, all controlled by your control box internally. GSM phone control options are also offered now at very competitive prices.
Please ask for details on this system and its applications - call on 0800 525 442
SeceuroGlide Roller Shutter Colours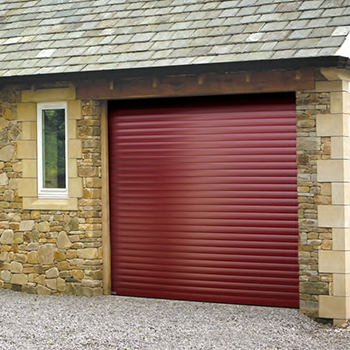 14 powder coat and 3 woodgrain laminate finishes offer you every opportunity to match your home exterior with powder coated guides to match or compliment your chosen curtain finish. Matching guides are especially relevant if your roller door is installed externally. We can also offer 40 optional woodgrain and solid colour 'Renolit' finishes to enable further enhancement to the door appearance.
All in all the Seceuroglide roller garage door offers the very latest technology combined with a very sleek, stylish, practical range of curtain colours to give an excellent value for money package.
The Seceuroglide comes with 2 handsets - select from any of the 6 below to your taste. Operate your door without leaving the car.