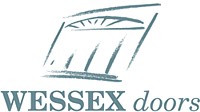 Wessex GRP Sectional Garage Doors
Wessex Vienna GRP Sectional Garage Door
Sectional operating gear is fitted as standard on the Vienna. This provides the convenience of all round weather sealing, vertical lift operation (so you can park right up to the door), maximisation of door width and ease of remote control operation. The Vienna range is suitable for garages with opening widths from 6'10" to 16'0" (2083mm to 4677mm) and opening heights 6'6" to 7'6" (1981mm to 2286mm). With a full range of made-to-measure sizes available, the Vienna is perfect for almost any garage opening.
• Durable - Low maintenance finish and all round weather seal
• Convenient - Park right up to the door - outside and inside
• Vertical opening - Saves space in your garage and on your driveway
• Safe - Anti finger-trap panel joints

Wessex GRP Sectional Garage Door - Standard Colours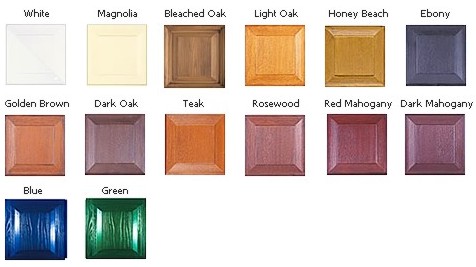 The Vienna, manufactured by Wessex Garage Doors in the West Country, is the only G.R.P. sectional garage door available in the UK.
GRP has a better strength to weight ratio than steel, is a natural insulating material, won't warp, shrink or rust and is virtually maintenance free.
The Wessex Vienna garage door range is hand laminated in G.R.P. with a three-layer resin and glass fibre mat construction with steel reinforcing, providing impressive strength and rigidity to the door panel. The woodgrain or smooth white finish versions offer very practical, tough surfaces for a long lasting garage door
The Vienna's two versions are both double skin construction with the Vienna 40 having the added benefit of a 40 mm thick layer of foam insulation, giving the door the highest level of thermal insulation of any garage door available in the U.K. Vienna doors have a white G.R.P. panel bonded to the rear of the door that conceals the strengthening structure behind the face of the door and gives a neat, light reflecting finish. Single and double sizes are available in either a crisp Gloss White finish or a choice of 19 authentic, deep grained, Woodgrain colour finishes. Windows are also available for the Vienna in black mock glazing as an option.
Wessex GRP Sectional Remote Control Operators
Wessex Vienna GRP sectional doors can be fitted with one the "state of the art" DC operators. The DC-650NIII super quiet toothed cable drive operator is suitable for most door sizes, alternatively the more powerful DC-800NIII is available for our larger doors. Both incorporate the latest microchip technology, LED status and diagnostics, very simple 3-step set-up procedure plus a comprehensive list of safety and security features. Traditional chain drive or the "whisper quiet" Kevlar belt drive options are available which is particularly suited to integral garages
The entry level opener, the DC-550NIII is equipped with all the safety features of the DC-650/800NIII operators and is suitable for smaller door sizes.
To complement the standard electric opener packages Wessex also offer a dedicated range of options and accessories to add extra convenience and extra security to satisfy your individual requirements. Once you have installed an electric garage door opener you'll never want to be without one.


Smooth DC motor featuring 'soft start-soft stop' for improved safety and quieter closing. Also features Smart Entry System automated force setting. Patented Reference Point Technology means the opener always knows the precise position of the door and constantly measures and monitors forces for ultimate safety and sensitivity. The operator not only monitors itself, the Doorsafe monitoring feature constantly measures the door's performance and activates the safety systems should the door begin to operate outside the force safety envelope. Energy saving circuitry reduces running costs. Anti-thief backdrive feature gives further protection against unauthorised entry. The DC-650NIII operator is suitable for Steel, Timber, ABS, Wessex 3 and 4 Crown doors and Vienna sectional doors up to 4267mm wide x 2286mm high (14'0" x 7'6") or 3658mm wide x 2438mm high (12'0" x 8'0") and 5 Crown doors up to 3048mm wide x 2134mm high (10'0" x 7'0").

The DC800-NIII shares all the features of the DC650-NIII but has a more powerful motor. It also allows an intermediate close position to be programmed and an adjustable interval for the courtesy light. This operator is suitable for all retractable doors but is recommended for Wessex 3 and 4 Crown doors and Vienna sectional doors over 4267mm wide x 2134mm high (14'0" x 7'0") or 3658mm wide x 2438mm high (12'0" x 8'0") and all 5 Crown doors.

The DC550-NIII is our entry level operator. This operator is suitable for all Wessex Steel, Timber, ABS, GRP and Vienna sectional doors up to 4267mm wide x 2134mm high (14'0" x 7'0") except 5 Crown doors up to 3048mm wide x 2134mm high (10'0" x 7'0").

* An alternative receiver module may be required dependent upon which version of Homelink you have.

• Security - The sectional garage door is one of the most secure garage door designs on the market with 5 encapsulated rollers each side of the door and superb panel strength combined with euro profile cylinder locking as standard.