Garador Guardian Security Garage Doors
Do you need a steel, manual operated garage door with real security features, then take a look at the Garador Guardian range...
The first range of Up & Over steel garage doors to meet the prestigous 'Secured by Design' accreditation. This new Garador Guardian Range of doors have been engineered to offer even greater security to meet STS202. Currently available in the two designs with either Retractable or Canopy gearing options and a choice of 7 standard colours. In addition, Garador can also offer a range of steel front entrance doors which are also SBD certified.

The Garage Door Centre can also provide steel security hinged doors for the pedestrian entrance to a garage right up to level 4 in 'secured by design' specifications.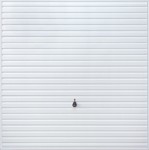 The garage doors are always supplied as standard with a factory fitted box section galvanised steel sub fixing frame and also 4-point locking rods. The standard garage door was already secure but the Guardian version is ultra-secure.
The door is only available in single sizes and only as a manual operation to maintain the certification.
| | |
| --- | --- |
| Lock Body Protection | Anti-Snap Cylinder |
| High Security Bracing | Improved Lock Security |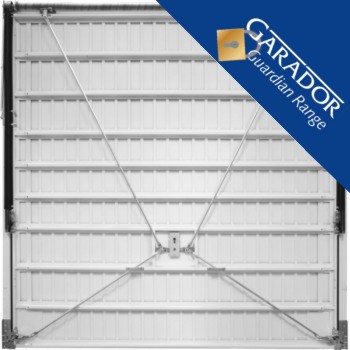 Lock Body Protection
A reinforcing plate has been added to the lock body to prevent attack against the locking mechanism. This new plate protects both the lock body and the central locking rod anchor points against forcing and cutting through the door panel to gain access.
Anti-Snap Cylinder
The standard cylinder has been changed for a new anti-snap version which also incorporates a sacrifical front. The new cylinder is designed to prevent entry even after an attack.
High Security Bracing
Braces at the back of the door have been increased from 2 as standard to 8 braces for extra protection.The number of spot welds has been increased by more than 70, further securing the door skin.
Trying to bend this door is near on impossible!!
Improved Lock Security
Additional plates added to the base corners protect the bottom locking points of the door. These plates ensure the bottom latches remain intact even under extreme attack to prevent access.

Who are the LPCB?

What does Secured by Design mean?
Call us now for details and latest prices on this security garage door on 01933 229135