Garage Door Types Explained
Garage Door Operating Mechanisms Explained
The most popular garage door operating mechanisms available in the UK explained.
For further information then please call us directly on 01933 229135
Canopy Up and Over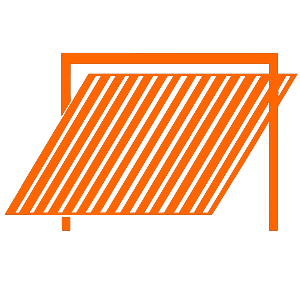 Traditionally the most popular type of standard up and over garage door operating gear for all doors up to 8 feet (2438mm) wide - called canopy as about a third of the door (panel height) protrudes out from the framework when open forming a 'canopy'.
A torsion spring is used above the garage door panel to lift the door via steel cables at the sides and conical drums attached to each end of the spring. Doors over 8 feet (2438mm) wide are usually too heavy for this mechanism to safely be used and are operated using the
retractable gear
.
They are quick and easy to install and also provide the full drive through width when open unlike the retractable mechanism. This garage door type can be made remote control but requires extra equipment (i.e. canopy bow arm converter) and is therefore more expensive to convert to a remote control door
Retractable Up and Over
A far more popular garage door type in the UK now because they can be easily converted to remote control electric operation and are very reliable too.
No cables are used in the lifting operation, instead side mounted lifting arms with tension springs attached lower down assist the opening of the garage door panel whilst the door panel opens into the garage on horizontal steel runners using rollers at each corner of the door panel to support it.
All one piece garage doors over 8 feet wide (2438mm) use retractable gear as larger arms and springs can cope with very heavy door panels unlike the canopy gear.
The drive through width using this mechanism is reduced slightly when the door is open as the lifting arms are

positioned inside the sub frame. If width is a cocern for you beware of this reduction in any calculations.
Retractable PLUS Up and Over
This is the same as the retractable gear except the lifting arms are positioned higher on the door panel and frame to give full drive through width for wing mirrors on the majority of cars. This gear type will not help if you have a 4 x 4 or large van as the wing mirrors are usually higher than a standard car.
It is only available on a few of the standard door sizes available and very useful for the smaller width doors 7'6" feet (2286mm) and under.
More about Up and Over Garage Doors
Sectional Overhead Door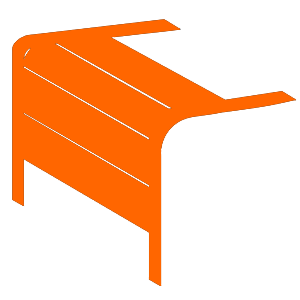 One of the fastest growing garage door types used in the U.K. now and about 70 - 80% of the U.S. and European market. It offers greater security, fantastic sealing, insulated options, no swing out, very large size ranges and excellent smooth opening properties.
The basic advantage it has over any up and over is that it does not swing out when opening or closing as the whole door is split horizontally into 4 or more panels which operate in vertical tracks that curve at the top into horizontal tracks to follow the garage roofline. The individual panels have two rollers per panel giving a very rigid and positive movement and enabling large widths to be used when the door panels are double skinned (up to 8000mm wide!), usually in 20 or 42 or 45mm thick options. This type of mechanism can also go far higher than most other door types and is easily automated.
More about Sectional Garage Doors

Roller Shutter Door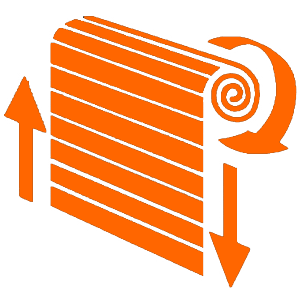 A classic and easy to understand door mechanism whereby individual horizontal slats constructed from either steel or aluminium roll up and down on a barrel. The mechanism does not swing out during operation and is usually positioned behind the structural opening to maximise width and height when open. The main variations occur in the construction of the slats used in the door 'curtain'. Many different slats are produced although the main slat type used for garage doors is a double skinned aluminium, foam filled, insulated slat. The thickness and the depth of the slat will determine the overall size of the roll when the door is open to give you the amount of headroom required in your garage (standard door usually about 300mm).
Most roller garage doors are motorised due to the relative price of the electric motor compared to springing, locking and other elements required in a manual door.
The price difference is usually negligible after all the safety elements are included.
You can get almost any colour finish now for the curtain and a massive range of foil laminate woodgrain effect finishes.
It is the most compact of solutions for garage doors generally.
More about Roller Garage Doors
Round The Corner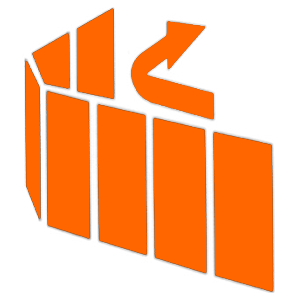 A true classic as this was one of the earliest methods of operating a garage door and usually constructed from timber panels. The door slides all one way then curves round to follow the wall back into the garage. Bi-parting, where 2 separate doors slide in opposite directions, is a method usually used on larger door sizes.
Modern systems now are available in all types of timber, aluminium and steel slats and can be manual or remote control operated at almost any size.
They are a great solution where garage door panels swinging out from the opening are a problem or in limited headroom applications.
More about Round the Corner Garage Doors
Side Hinged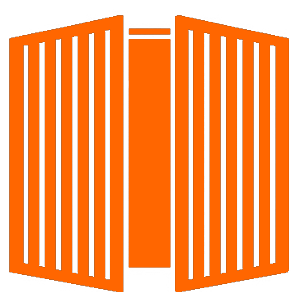 Another original door system used over many years, recently revived due to popular demand and now manufactured in timber, steel, Upvc and GRP (glass reinforced polyester).
Simple and practical on all openings up to about 10 feet (2743mm) wide and 8 feet(2438mm) high.
The doors hinge outwards on a steel or timber sub frame with no part ever going into the garage
(apart from some types of door stays).
Ideal for garages used for anything except the car as pedestrian access to bikes, freezers, tumble driers, etc. is made very easy by opening only one leaf of the pair.
This is further enhanced as some manufacturers produce garage door sets with a one third, two third arrangement specifically to give a pedestrian sized access door.
See more about Side Hinged Garage Doors
Special Door Types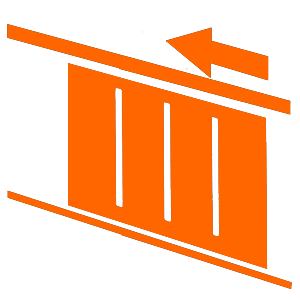 Options for special types of doors include folding, sliding and hinged mechanisms using steel or timber panels designed as required.
We also now offer the superb trackless sectional door, a system using the combination of counterbalanced weights and folding panels to offer a garage door of unique internal mechanism and diverse outside appearances in timber.

For full details on any of the garage door gear types above please call us directly on 01933 229135
and for a guide to the approximate prices for many of the doors click here.