Overlap Trackless Sectional

The Trackless Securlap is a unique type of Sectional garage door with innovative offerings; the absence of tracks and hardware on the inside of the door allows for the optimisation of interior space and a sleek, tidy appearance.
The door, comprised of two halves that are hinged in the middle, effectively folds in half as the lower section slips below the upper section and sits beneath the ceiling. The door panels are lifted using a counter-weight system of weights and pulleys.
The weights, enclosed in steel casings, are situated on both sides of the doors panels as the cables run over the top, enabling the door to be lifted from the sides.
Vertical operation

Sleek interior

Stacking panels

Space-saving technology

Insulated panels

High security

Made to measure

Low maintenance mechanism

Smooth operation
The Trackless Securlap door is available as a purpose-made garage door system from manufacturer Silvelox; the colours and finishes available between both provide a plethora of options for you to optimise the appearance of your Securlap garage door in correspondence with your home.
As well as selecting your favoured finish of either solid paint, woodgrain effects or wood stain on real timber surfaces, you can also select whether your door consists of either double skinned, insulated steel or double skinned timber panels.
It is standard for the overlap doors to be electronically operated but it is possible to install a manually operated door if required.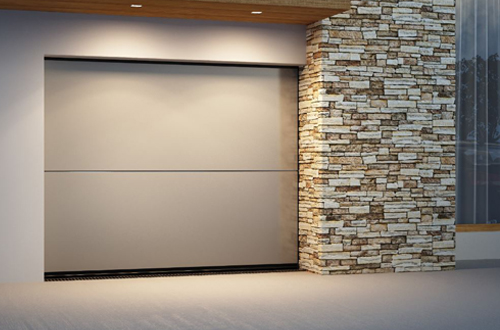 Whether your Securlap door provides the entrance to your gym, playroom, office or standard garage, this garage door allows you to optimise the space with its purpose-made dimensions and trackless operations.
The double-skinned panels offer excellent durability and insulation, as well as acting as an excellent protector against harsh weather; the door is also equipped with a manual release as standard for overriding in the event of a power failure.
In addition to the sleek aesthetic and smooth movement of the Securlap, the doors are produced with excellent security measures and safety precautions, preventing both unwanted intruders and accidents.
Ultimately, the Securlap consists of all essential features of a modern-day garage door with numerous bonuses due to its unique, innovative technology and sleek appearance.
Whether you opt for a glass, wooden or metallic-style of Securlap door, you are guaranteed to become the owner of a garage door that compliments the appearance of your home. The contemporary technology and operation also promises to keep the entrance of your garage door on-trend for an extremely long time.