Garage Doors Warwickshire, Warks UK
We are The Garage Door Centre, leading suppliers of garage doors in Warwickshire. Amongst our collection of doors, you will find only the highest quality brands, all of which come fully guaranteed. We have developed strong relationships with the brands we supply from, meaning we can offer you products at very reasonable prices.
These are some of the most popular garage door types we offer, roller shutter, up and over and sectional garage doors, electric garage door operators and automated gate systems in Warwickshire, Warks UK
We deliver garage doors to all areas of Warwickshire. When you purchase a product from us, we will confirm your shipping details. Ask us more about buying garage doors in Warwickshire – please call us on 01926 832 000 or request a quote by filling in our form.

Choosing your Garage Doors in Warwickshire
We understand that it isn't easy to decide on the type of garage door you would like, especially if this is the first time you have bought one. There are so many options on the market – how do you know which one will be right for you? To help, we have put together a number of handy guides:
• Browse through our garage door gallery. This is a great place to start, as you can decide on the looks you like. Our gallery is split into sections to help make it easy to navigate.
• Garage door type and price guide. Once you have decided on the doors you like and know your measurements, see how much your chosen doors are likely to cost by looking through our guide.
• A guide to materials. Choose from aluminium, steel, GRP fibreglass and various different types of timber, with or without glazing. Find out more with this helpful information.
• PDF downloads. Here you will find downloadable materials about specific types of doors, depending on the brand.
• Brands guide. See the different brands we can offer you to help make your decision.
The Garage Door Centre showroom is open to visitors but is by appointment only. Please contact us on 01933 229 135 between Monday - Friday 9:00am to 17:00pm.
6-8 Meadow Close,
Finedon Road,
Wellingborough,
Northamptonshire
NN8 4BH
Opening Hours:
Monday: 9.00am to 5.00pm
Tuesday: 9.00am to 5.00pm
Wednesday: 9.00am to 5.00pm
Thursday: 9.00am to 5.00pm
Friday: 9.00am to 5.00pm
Saturday: Closed
Sunday: Closed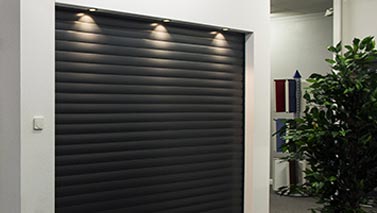 See what out clients have to say
Smooth transaction from start to finish. Would fully recommend to anyone. Nice smart looking garage door. Thanks!
Why The Garage Door Centre
We have happy customers throughout Warwickshire, who are both pleased with their garage doors and delighted with the levels of customers service we provide. We work with homeowners and professionals, like architects, developers and builders - trade accounts are available if you shop with us regularly.
Why choose us?
• More than 30 years' experience of garage doors
• Quality products from leading manufacturers and brands
• Reasonable prices across our ranges
• Helpful staff who are happy to share their knowledge
Delivery is available throughout Warwickshire – popular areas include Nuneaton, Rugby, Leamington Spa, Stratford-Upon-Avon, Ettington, Kineton, Napton on the Hill and Warwick.
Contact us to discuss garage doors in Warwickshire. Call us on 01926 832 000 or request a quote.
Garage Door Types
The types we supply have been categorised below to help you find details or images of the door you may be looking for. If the door is not listed below, please call us free on 01926 832 000. Altenatively Email your requirements to us and we will find what you are looking for.
Choose from the following Categories: