Hormann Aluminium Entrance Doors
Hormann TOP range of Entrance Doors - quality products from a leading manufacturer
Aluminium Entrance Doors are the perfect choice for lasting durability.
The Garage Door Centre is a specialist supplier, distributor and installer for the complete range of Hormann aluminium TOP entrance doors including the garage side doors and general purpose steel door ranges also offered. This is a range of entrance doors where the highest quality components and the very best in German engineering have been married to produce an entrance door of exceptional quality in a very wide range of styles, sizes and colours to ensure you can specify a door unique to you and your home.
It is easy to see that aluminium and steel doors are superior to Upvc plastic, composite GRP and wooden doors in so many ways. Other than the many technical equipment and design options, you can enjoy a number of additional advantages in their construction:
• High acoustic rating
• High thermal insulation
• High security
• High stability
• No follow-up painting necessary, with the doors looking as good as new after many years of service.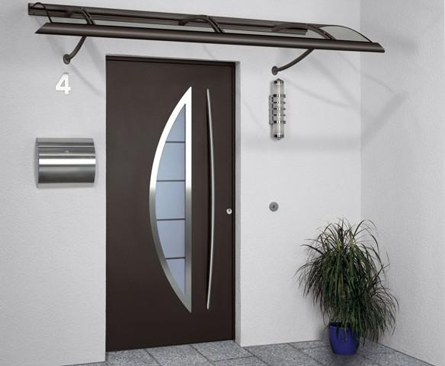 The Hormann range of TOP Comfort, TOP Prestige and TOP Prestige PLUS offers an enormous range of the very highest quality aluminium entrance doors with so many options with colours, surface finishes, glazing, side lights, transoms, locking, access control and so on.
For new build or renovation the sizes are available with all doors delivered pre framed from the factory for ease of handling and installation, even when side lights are specified these are generally built as one complete unit and incorporated into the whole framework system for strength and style.
The whole purpose of the TOP range is to offer a high quality entrance door that you can specify as your own with individual elements and a choice of nearly every RAL colour available as well as some beautiful Decograin laminate woodgrain finishes.
There are over 20 different types of glass that can be specified in double or triple glazed sections.
When it comes to security, you can also rely on the high quality of Hörmann entrance doors – the H-5-Automatic special security pivoting bolt lock included as standard provides your home with quality-tested protection.
When locking, 3 steel bolts with 2 additional hooks pivot into the stainless steel lock plates. In addition, a stainless steel bolt on the hinge side engages with the rounded architrave frame. This way, you can feel perfectly secure with the effective 6-point locking system.
Additional locking options are all available including finger scanners built into the door, proximity card readers and other multi user access control systems.
'Made in Germany'
All entrance door components are developed and produced in-house at a dedicated Hörmann factory. Highly qualified employees permanently work on new products, continuous developments and improved details. The results are patents and one-of-a-kind high quality products. You can depend on the Hormann door: endurance tests under real conditions ensure mature series products in Hörmann quality.