Hormann Steel Front Entrance Doors
The Thermopro range of steel entrance doors from Hormann offers the very highest level of quality in a standard or bespoke range of sizes.
Why Would You Install a Steel Entrance Door?
Well when you think about the alternatives of timber, Upvc and GRP it is easy to understand the benefits of high quality steel - strength, security, stability and style.

The Hormann steel entrance doors are beautifully pressed into panelled and more contemporary designs and then finished in high quality powdercoat and laminate woodgrain finishes to offer a long lasting good looking tough surface inside and out.

Hormann ThermoPro steel entrance doors are available in a large selection of styles. Thanks to standard multiple-point locking, these inexpensive doors give you a feeling of security, save energy through excellent thermal insulation and gives a stylish appearance to your home.

Without visible leaf frame
Hörmann's ThermoPro entrance doors have an exclusive appearance. A beautifully shaped smooth door leaf made of steel, without a visible leaf frame, simply looks good.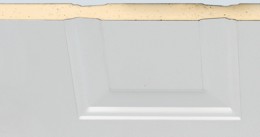 High thermal insulation
Nowadays, people try to save energy everywhere in their homes and ThermoPro doors also play their part. With a 46-mm-thick door leaf completely filled with CFC-free rigid foam, these entrance doors provide excellent thermal insulation with a U-value of up to 1.0 W/m2 K, reducing your energy bills.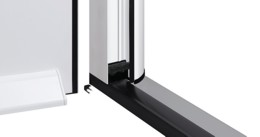 The best sealing possible
Double seals on all four sides with additional corner seals near the bottom provide extra protection against bad weather. Heat loss is reduced considerably with this feature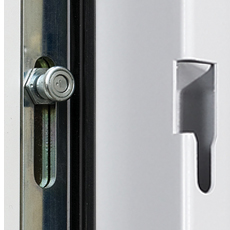 8-point security
Because you and your family want to feel safe at home, all ThermoPro doors are equipped with multiple-point locking as standard for extra security.


The doors are available in a range of standard sizes and purpose made sizes to suit most openings and all sizes refer to the overall door panel and frame size as they are delivered as a complete unit preassembled from the factory. The ThermoPro range of doors only open inwards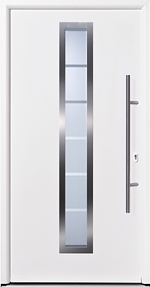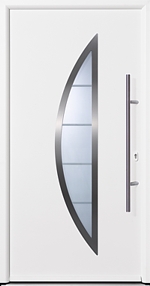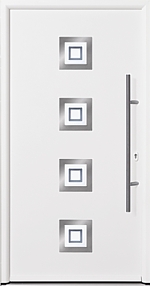 See the Full Range of Hormann Thermo Pro Doors - Click here >