Bespoke Timber Garage Doors
Let your mind run amok, let your imagination drift – regress into the past, advance to the future or embrace the present. Never before have there been the options to stamp your own individuality on a property with a garage door simply by side stepping standard patterns offered by most Purpose made timber garage doors for any opening timber garage door manufacturers and come up with your own innovative design.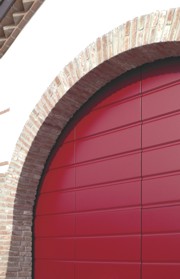 The Garage Door Centre has specified and installed hundreds of purpose made timber garage doors since 1986 with the assistance of high quality joiners and major manufacturers. Working with many architects most of the garage doors have been complete one-off designs but some have been repeated several times since first conception.
Type of doors that can be produced to individual designs.
There are quite a few options as most manufacturers of timber garage doors do offer a bespoke service. Up and over solid timber doors, timber door panels in a steel chassis (such as the Hormann 2011 OFI), timber sectional doors, timber round the corner garage doors and of course the most traditional of all doors, the timber side hinged doors sets can all be manufactured to bespoke designs. So firstly decide the type of garage door that will satisfy your individual requirements and that is suitable for your property. Give thought to the daily usage of the garage door before proceeding further. For example very wide side hinged doors give huge problems in high winds as well as taking up a lot of operational space, very wide up and over timber doors reduce drive through height considerably when open as they are inevitably very thick in construction and so on.
Styles
Think carefully about the image that actually you want to depict. Make sure that it is in keeping with its surroundings – individuality is great, incongruousness is bizarre. Whatever style you like, you will have to make sure that it is in keeping with the property. For example if the property is period then consider a pair of routed wooden side hinged garage doors (if you don't want side hinged doors, remember that you can have up and over garage doors or sectional garage doors that faithfully replicate side hung wooden doors). If however your property is a wonderful example of contemporary design then you may look to the Hormann LTH40 timber sectional garage door range – a computer aided precision mill transfers your design to the wooden door panels.
Timber types
Basically whatever timber type the manufacturer uses for their standard doors can be used for bespoke doors – likewise the treatment options will be the same as those offered for the standard range. So if you plump for a purpose made Hormann LTH40 timber sectional door the timber options would be Nordic pine of Hemlock, factory pre-treated to protect against fungal and insect attach and requiring post-treatment with a wood preservative.

Cost
You will need to obtain a quote for the door of your choice being produced to your own design but you should not have to pay for the adaptation of your drawing. If you would like some prices from us go to our online quotation form and give some details
Remote control operation.
Exactly the same options and constraints as with the equivalent standard garage door Arched timber side hinged doors Special design timber up and over garage doors Silvelox special design Garage doors in paradise