Domina Overlap - The Unique Trackless Sectional
Introducing the Delta Overlap - the worlds first and most unique trackless sectional garage door.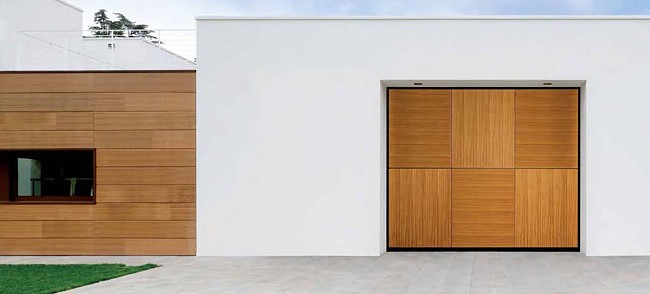 The Delta Overlap is a totally unique garage door design in the way it operates with vertical lifting, no external protrusion, no internal tracking and the neatest finish internally once fully open providing full drive through width and height. This means no unsightly internal ceiling tracks are required allowing you to make the most of your garage space internally.
Stunning door designs are available and all made to measure up to 5000mm wide and 2800mm high at no extra cost.
High levels of thermal and acoustic insulation are offered by the Overlap, as well as fantastic security by the standard use of 2 mechanical locking steel clasps at the top of the door panel - perfect for the integral garage leading directly into your home or where insulation is important.
The Delta garage door is manufactured with high quality factory finished timber or steel insulated panels in a choice of designs and various timber species. The garage door panels are extremely stable due to their unique, tried and tested construction, and offer excellent security, style and reliable operation in a unique door package.

The door is supplied and installed with a complete factory finish as standard whether it is timber or steel, so no further treatment is required just keep the surface clean like any other external timber products. The steel door designs come in a wide range of RAL paint finish colours.

See the short video below on the Overlap Garage Door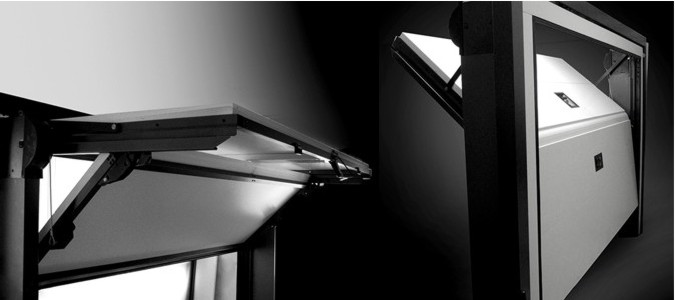 The exterior face of the Delta garage door sits totally flush to the sub fixing frame. This allows for seamless integration with the facade of your property if this is required. Because of this, these doors can be integrated into a building structure seamlessly.
However, it is the interior of this garage door is where the real innovation of the Overlap lies.
Designed to be space saving and easy to operate with automated opening as standard, the Domina Overlap garage door is the perfect solution for garages that are not very deep or are very close to the street pavement.
If you do not like, or cannot have, the internal tracking of a normal sectional door then this door may well be the perfect solution for you and your property.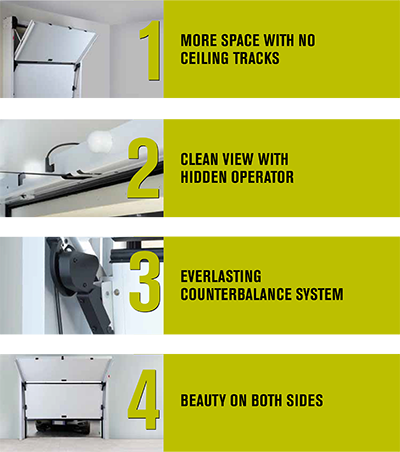 Delta Trackless Sectional Door
The inside of a Delta garage door is totally flush finished with no internal tracking mechanism intrusion at all. Many garages are spoilt by long, unsightly internal tracking mechanisms, especially garages with higher ceilings and finished ceilings.
The 2 door panel sections are perfectly joined in the middle to offer a door with outstanding weathersealing and insulation properties and an incredible 10-year warranty, Delta is as reliable as it is innovative.
This beautifully engineered and totally unique garage door has to be seen to be fully appreciated as you can see in the video above.
The insulated panels can provide insulation values down to U=1.14W/m2K
For 2013 a newer construction of the Overlap offers even higher levels of insulation with thicker door panel sections now the standard construction.
The Overlap door is available as either a fully automated electric system or a manual operation with both systems balanced using counterbalancing weights rather than any springing mechanism meaning far less components subject to longer term wear and tear.
Door panel designs are numerous. Download the PDF colour brochure
The Range of Standard Silvelox Timber Models
The Opening Process of an Overlap Door