Gliderol Steel Roller Shutter Doors
The Garage Door Centre is offering the superb Gliderol steel roller shutter garage door at unbelievable prices during the Winter period. All the roller garage doors are purpose made to suit your opening and we have shown the prices below banded into size width parameters to make life easier for pricing.
Please note: Price shown are for installation in Northamptonshire, Milton Keynes, Bedfordshire, Warwickshire, Hertfordshire, Leicestershire, Lincolnshire, Cambridgeshire and the immediate surrounding areas.
Other areas will be subject to negotiation.
SAVE 50% off normal manufacturers retail price!
Take advantage of some of the best value Roller Shutter prices on the Internet!
As part of this fantastic special offer, all of the prices shown below include:
Removal & disposal of old garage door
10 year warranty on plastisol/weathergrain finish options available

Installation of new Gliderol roller door
Door manufactured to your exact size
The prices below only allow for sizes up to 7 feet high (2134mm) but we can offer prices for sizes up to 10 feet high (3048mm) on request. Call us on 0800 525 442 for more information.
To calculate the size range, simply measure your brickwork opening size width and check our table below to see the price band it falls into.
Size Range
Brickwork Opening Size
Price Installed inc. VAT
Extra for Laminate Woodgrain Finish
1
4'0" - 7'6"
(1220mm - 2286mm)
£675
+ £49
2
7'6" - 9'0"
(2286mm - 2742mm)
£785
+ £89
3
9'0" - 11'0"
(2743mm - 3353mm)
£885
+ £89
4
11'0" - 14'0"
(3353mm - 4267mm)
£1075
+ £150
5
14'0" - 16'0"
(4267mm - 4877mm)
£1280
+ £150
Please be aware that whilst The Garage Door Centre will make every effort to satisfy all customer requests we do reserve the right to restrict the areas for which we offer an installation service and that these area restrictions may change at any time without notice. In addition all orders are subject to survey and the right is reserved to decline any order at the point of survey.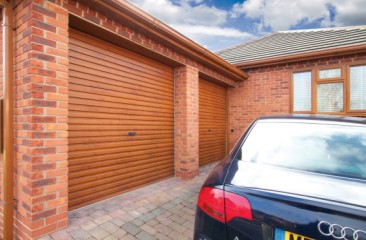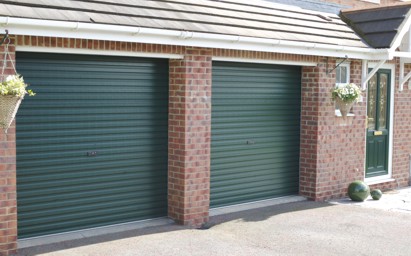 Colours Available

White

Honesty

Mushroom

Goosewing Grey

Merlin Grey

Navy Blue

Ocean Blue

Olive Green

Juniper Green

Burgundy

Terracotta

Vandyke Brown

Black

Mahogany

Rosewood*

Golden Oak*
*Laminate woodgrain finishes are available at a surcharge.
View pricing above for more information.
Optional Accessories
Simply add to door prices above (prices include VAT)
| | |
| --- | --- |
| Remote Control Motor, 2 transmitters and internal emergency override. | + £290 |
| Windlock security option for added security and wind resistance (double doors only) | + £130 |
| External manual release. (if no other means of access is available into the garage) | + £95 |
| Digital keyless entry pad (inside or outside) | + £75 |
If you require 2 or more doors we will arrange the details when we contact you for surveying.
If you are a DIY enthusiast then we can supply only and deliver the roller door direct to your home. Call for prices but make sure you have your sizes when you do.
For more information on the Gliderol Roller Shutter garage door, visit the unique page here
Freephone (0800) 525442 to arrange and order this offer over the telephone