Silvelox Garage and Entrance Doors
Silvelox Garage Doors
Manufactured in Castelnuovo, Italy, Silvelox garage doors are all built entirely in timber and characterised by a particular building technique that ensures solidity, non-deformability and elegance. Stringent quality control standards, outstanding traditional craftsmanship, and timber of the highest grade combine to produce possibly one of the world's finest garage doors.
Silvelox garage doors are without question superior building products. The 80mm thick modular main door panel provides effective insulation and acoustic properties. The range of styles, timber types and factory finishes set the doors apart from all others.
The unique pedestrian door option allowing access without opening the entire garage door is a highly desirable and practical solution that does not compromise the visual appearance of any of the door designs available. Simply turn the garage door handle in the opposite direction and you have a pedestrian door with a threshold as low as technically possible. Two doors in one!
The choice of timber as standard is Okoume, Northern Spruce or Oak. Other timbers can be sourced and used on request including Meranti, Iroko, Chestnut and Teak. Silvelox offer finishes for the wood essences chosen, using a special water soluble acrylic varnish that guarantees stability of the characteristics of timber. The finishes both enhance the aesthetics and prolong the life of the door.
For the householder who prefers exclusivity, bespoke designs can be produced to individual specifications to compliment any style of property. This includes aluminium.
The Silvelox garage door is incredibly easy to operate.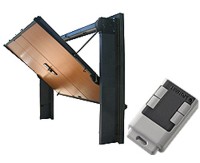 Silvelox adopts a patented system that allows the door panel to lift itself when the handle is turned, thus perfecting the up and over action with lateral counterweights. Each garage door, even if ordered in the manual version, is pre-arranged to allow the use of Silvelox automation. Remote control operation is built into the upper crossbeam of the frame therefore not encroaching into internal garage space.
Security is an issue that Silvelox have focused very heavily upon. All Silvelox Up & Over doors have, as standard, the certification anti intrusion CLASS 1 relevant to resistance to burglary carried out by breaking down a door or by hook and traction towards outside. Secur Plus offers the ultimate in security and is the only timber garage door approved by the German criminal investigation police. Designed with high tensile steel inserts behind the elegant exterior, the door will withstand the toughest and most professional burglar. Certified by UNI ENV 1627 Class 3 that is awarded if a garage door is intruder resistant for 20 minutes of sustained attacking. A steel plate is inserted into the garage door panel as well as increased specification locking methods.
Arched openings do not present a problem - Silvelox offer a non protruding version of all the different garage doors to allow installation behind unusual shaped openings. As the leading bottom edge of the garage door never moves past the front of the framework it is possible to open and close and not hit the structural surrounding.
Personal safety is also a prime consideration - Silvelox Garage doors are designed with safety as the leading factor with finger protection, anti accidental door drop protection, photocells as standard in the motorised version and finger protection in the pedestrian door. The door fully complies with the directive 89/106/CEE (CPD) and is fully CE compliant.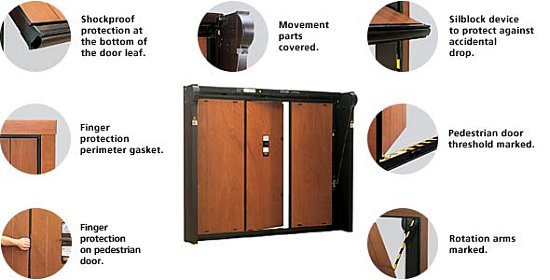 To view the full standard range of garage doors in our product catalogue Click here.
For a full brochure pack please call us free on (0800) 525442.
Email enquiry about Silvelox Garage and front entrance Doors : Click here
Silvelox Garage Door Range
| | | | |
| --- | --- | --- | --- |
| BIG | FOR | TOP | ARA |
| ARC | EGO | GEO | OLD |
| SPI | TAU | VIP | ZEN |

Bespoke Designs
Silvelox will produce almost any design in any of the timber species offered and will offer a drawing for your approval before construction. Exclusive Silvelox garage and matching front entrance doors can be produced from drawings supplied by a specifier or architect to your exact specification. The bespoke door service can be particularly beneficial when Listed Building Consent is required or local planning restrictions may apply.
For ultra modern looks the use of stainless steel as design elements or manufacturing as a complete door is possible as in the distinctive MET model
Silvelox colour brochure >

Front Entrance Doors to match

Silvelox produce a complete range of garage doors and entrance doors to match. Garage and front entrance door sets are available that perfectly match from the design, wood and colour choice down to the finest detail of handles and glass options. Built to an exceptionally high specification, they represent a superb investment and will greatly enhance the overall look of your property.


Model Specification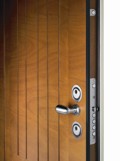 Perfecta
The ultimate security entrance door, heavily reinforced on the inside and is classified burglar-resistance Class 4, the highest level available.
As with all Silvelox doors, Perfecta can be personalised in many ways to create a special aesthetic solution and an individual expression of style. The inclusion of an internal attack-proof double electro galvanised steel body assures a high standard of security as well as a long life. Perfecta has passed all tests for burglar resistance class 4, air permeability, water resistance, noise resistance and architectural performance.
The Perfecta series is available with a motorised lock operated with an electronic key (transponder) and a backup system that ensures use even in the event of a power cut.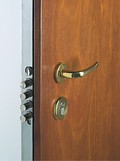 Optima
Optima entrance doors also offer a high degree of protection and are classified for Burglar-resistance Class 3.
Silvelox Optima entrance doors also offer excellent security characteristics thanks to the inclusion of an internal double electro galvanised steel body. They have passed the following tests: burglar resistance Class 3, water resistance, air permeability and noise resistance. The visible edge of the door, where the locking mechanism is sited, is finished in steel.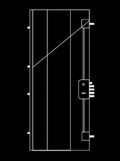 Valida
The Silvelox Valida offers high performance at an affordable price, and is certified for Burglar-resistance Class 2.
The Valida series provides high performance at an incredibly low price. Certified to burglar resistance Class 2, it is insulated with sound absorbent material and includes a draft excluder. Though other options are available, the handle is supplied as standard in anodised aluminium. The visible edge of the door is finished with a brown, pre-varnished strip.
Personalisation of a Silvelox front entrance door is as varied as their garage door range and all the obvious accessories are well catered for. Letterboxes, handles, glazing, side panels, transoms and many other items are offered in many different materials and colours. If the standard range of entrance doors does not offer the right design then turn to the bespoke design service and have your own unique design created. Silvelox has a dedicated internal Design and Feasibility office where experienced draughtsmen will design bespoke doors exactly to your own or your architect's design. They can work from architectural drawings, photographs of a door style that you have seen or even from a descent verbal brief. Compromise is something you will never have to consider when dealing with Silvelox.
Silvelox

ARA

ARC

BIG

TOP

EGO

FOR

GEO

MET

ZEN

OLD

SPI

VIP

TAU

All Silvelox garage doors have past rigorous tests regarding their burglar-resistance. These tests range from resistance to a body charge, two-footed kicks and attempts to pull the door outwards with a hook (Class 1) to resistance to burglars using screwdrivers, pliers and wedges to try to break into locked and bolted building components.

The maximum degree of anti intrusion resistance for garage doors is offered by series Secur Plus. It is the first wood garage door to have passed all the tests required by the European Regulation ENV 1627 for CLASS 3 anti intrusion.

Silvelox entrance doors achieve the same, and in one case a higher, level of security. The model Perfecta is certified to class 4, Optima class 3, and Valida class 2.

The security classification is dependent on the different structures that are incorporated into the doors' interior composition. But in every case this hidden strength and security lies under the most beautifully finished wooden panels.
Silvelox Secur Plus, the anti intrusion garage door Secur Plus - armour-plated for optimum anti-intrusion security
Keeping your home, you and your family secure
Certified Class 3 burglar resistant to European Standard EN 1627
When the security of your family and home is of the utmost importance, Silvelox can offer you real security and peace of mind. The exclusive Silvelox Secur Plus range is certified Class 3 burglar resistant to EN 1627, the European Standard for security.
If you are looking for the highest levels of protection for your garage and home, Secur Plus will be a very favourable choice. While offering an exceptional level of burglar resistance it is virtually indistinguishable on the outside from the Silvelox standard range. Because of this you will not be advertising the fact that there may be expensive cars, motorbikes and other valuable assets within the garage or building.
There is a thick steel plate laminated into the body of the door panel that is virtually impervious to even a sustained attack, and the sub frame has been strengthened to comply with EN 1627. Nevertheless, the door feels as light and as easy to use as the standard ranges, and opens fully at the turn of the handle.
Specification summary:
80 mm thick leaf invisibly laminated with an integrated steel sheet backed by reinforced steel rods.
Hardened steel hinges
Mobile bolts have drill-resistant and anti-unthreading cylinders, invisibly protected by a manganese steel plate to protect against jemmying.
Crossbar and uprights are reinforced with steel brackets in areas that are susceptible to break in.
To anchor the frame to the concrete wall (or to similar structures, of mechanical resistance equal or superior to R 250 Kg/sqcm) special fixing systems are used rather than normal brackets