Garador Sectional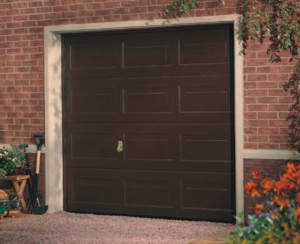 Sectional Garage Doors are fast becoming one of the most popular ranges amongst garage doors manufacturers and with Garador, this is no exception. A financially logical and rewarding addition to any variety of household, our selection of Garador Sectional doors can suit almost any domestic need.
Garador provide quality, style, security and safety in one complete package with a quality-assured manufacturing process.

What is a sectional garage door?
Click here for your easy explanation!
The superb engineering involved in the construction process of all Garador sectional garage doors ensure they are amongst the finest sectional garage doors available on the current market. It has the technical adaptability to be controlled either manually or automatically using an electric operator. An electric operator with remote control handset allows you to open your Garador Sectional Garage Door from the ease of your home or in your car.
A Garador sectional garage door can provide many advantages to both your lifestyle and garage compared to the traditional up and over garage door. A Garador Sectional Garage Door can provide:Garador Sectional Garage Door Medium Linear Design on house driveway
A wider drive-through width

More space on the driveway due to it's vertical opening

Greater headroom clearance within your garage - perfect for large or off-road cars

Ease of use with the fantastic GaraMatic operating system

A comfortable way to open your garage door with a designer range of Garador Remote Control Operators

Perfect for using garage for other uses - Office, Gym, Playroom, Workshop etc.
Each door is available with different levels of thermal insulation; these are classed as Premium, Standard and Classic.
These different levels of garage door skin width mean high levels of sealing are achievable. With the addition of the Premium double-skin, a fully insulated garage door that can act as a wall that perfectly fits your opening width is available. The Premium is the overpowering model which offers very high levels of insulation.
All doors are manufactured to high standards and offer long-term functionality, smooth running and maintains its designer image as if it was bought yesterday.

Garador Steel Sectional Garage Door Designs

Garador Sectional Georgian Woodgrain Designs
Georgian woodgrain doors from Garador offer a timeless design which has proven to be very popular amongst buyers. Available in either the Georgian Small and Georgian Medium design, the Garador Georgian Sectional Garage Doors range provides you with choice to help you find what you're looking for.
Available with a range of window sections, colours and handle designs on request. Click each door to view what optional extras are available.

Garador Sectional Linear Woodgrain Designs
Linear designs offer a neat, tidy visual appearance that would complement any home. Designed with a horizontal ribbed style, a contemporary look is achieved with an exquisitely simple design. This garage door is competitively priced which makes it one of a number of sectional garage doors that represent real value for money supplied & fitted by The Garage Door Centre.
Available with a range of window sections, colours and handle designs on request. Click each door to view what optional extras are available.
Garador Sectional Colours
All of the following colours apply to both Georgian and Linear designs.

Ruby Red
RAL 3003


White
RAL 9016


Light Ivory
RAL 1015


Terra Brown
RAL 8028


Anthracite Grey
RAL 7016


Steel Blue
RAL 5011


Fir Green
RAL 6009


Ochre Brown
RAL 8001


Window Grey
RAL 7040


Sapphire Blue
RAL 5003


Moss Green
RAL 6005


Clay Brown
RAL 9006


White Aluminium
RAL 9006


Pigeon Blue
RAL 5014

Stone Grey

RAL 7030


Light Grey
RAL 7035
Solid Timber-Effect Doors
Garador offer a magnificent range of steel doors coated in a timber-effect foil coating to offer the authentic image of a natural wooden door. The doors still retain their many qualities from their steel construction including being maintenance-free, strong and easy to operate but they radiate the natural essence of a beautiful timber door supported by the magnificent grain effect achieved by the coating.
| | | |
| --- | --- | --- |
| Georgian Golden Oak | Georgian Rosewood | Georgian Dark Oak |
| Linear Golden Oak | Linear Rosewood | Linear Dark Oak |
In line with European safety requirements, Garador sectional garage doors are installed with the following safety components to ensure a safe, secure garage door is maintained at all times:
Reliable Anti-Drop Devices - No matter whether your door comes with a tension spring or a torsion spring assembly, a Garador sectional door is protected against dropping as the anti-drop device catches the door in the unlikely event of a spring or cable failure.

Safety Door Travel is ensured using a combination of adjustable rollers, solid roller brackets and safety tracks to prevent the door from derailing and causing a serious accident.

Finger Protection is covered with the Garador finger protection profile located on each section rebate of the door. It provides effective finger protection on both the inside and outside of the door (including hinges) meaning you won't have to worry about trapping your fingers.

Side Hand Guard ensure that fingers cannot get trapped in the side tracks by completely enclosing them.

Safety Tracks with Internally Guided Cables also prevent fingers getting trapped. Garador Sectional Doors come with angled safety tracks. The internally guided cables are installed between the door leaf and frame to eliminate another potential injury.