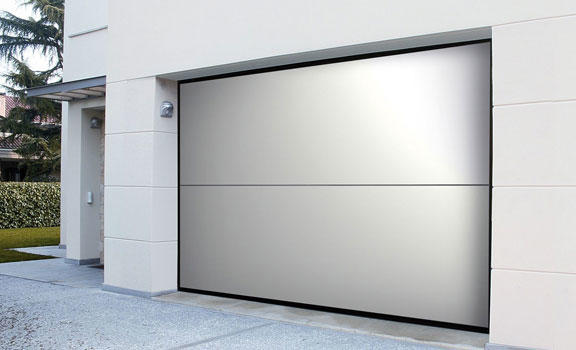 Overlap Trackless
The Domina Overlap door manufactured by Silvelox is a unique and special garage door cappable of offering vertical opening and all the beneifts of a sectional door but without any internal tracking whatsoever.
It is always purpose made and offers excellent security and insulation.
The Delta Overlap Air consists of assembled plain panels for a refined, contemporary an

The horizontal lines featured on the panels make this a door of contemporary harmonisat

The timeless elegance of a panelled appearance makes this an appropriate door for a mor

The distinctive panel production makes for a door with strong personality and style.

Wider lines emphasise the sleek design of the door, creating a determined character.

The carved horizontal lines are featured to create four divided sections for a coordina

The Overlap ARA features a clean, modern design with neo classic geometric patterning.

Uniform squares are embossed into the wooden faade of this design, creating a tradition

Evenly spaced horizontal lines seperate the grain of the timber into six equal sections

Beautifully engineered bas-reliefs characterise the SLOT. A modern, designer door.

The timber grain direction is altered between sections to create a beautifully subtle,

Minimalist with a twist - Simple yet contrasting timber grain directions between the up

Vertical lines showcasing the natural grain of timber makes for the most traditional an

Simple cross-hatch grooves give this contemporary garage door a touch of an avant-garde

A garage door design that complements both traditional and contemporary architecture.

Deep grooves within the face of this modern garage door create soft geometric lines.

The most modern and minimalist garage door design you'll find.