Gliderol Sectional

Gliderol's range of sectional garage doors are safe, reliable and high quality doors, consisting of 40mm insulated panels with a "U" value of 1.35. These features make for a door that withstands all weather conditions, as well as keeping your garage well-insulated. There are various panel styles (shown below) available for you to select and compliment your home. From the differing presentation of ribs to create a modern aesthetic, or a georgian style panel for a traditional alternative, Gliderol panels will have a style to match your taste and the rest of your home. Select either a smooth, textured, or wooden smooth finish. Gliderol sectional doors can either be manual or automatically operated.
Gliderol Sectional Door Panel Designs
| | | | | |
| --- | --- | --- | --- | --- |
| L-Ribbed | M-Ribbed | Georgian | S-Ribbed | Microwave |


Remote Control Operation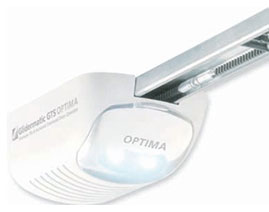 Remote Control Operation is achieved thanks to the Glidermatic GTS Optima. This Operator flourishes with an unrivalled design which makes it a necessity for any household garage door.
It consists of a highly powerful motor assembly (1000N) and a heavy-duty transformer (175 VA) within its sleek and modern chrome/white exterior which helps to lift any size of residential door with ease. It is also partnered by a toothed belt and 24v low voltage motor which assists in providing whisper quiet operation at all times. It's fully enclosed steel shaft ensures working parts are not exposed and remain out of harms way.
Easy to use, easy to install!
The GTS Optima can be installed with most new and existing one-piece or sectional garage doors. Due to the minimal number of parts required, installation is quick and free of hassle.
The Gliderol Glidermatic GTS Optima also provides the following:
Safety Reversing automatically offers a reverse function should an obstruction restrict the downward cycle of the door.
Soft Start/Soft Stop offers system which provides a slow start and slow finish combined with a fast opening speed.
Environmentally Friendly LED Lighting can fully illuminate your garage when the operator unit is in motion.
Power Activation Sensors regulate and automatically adjust the power of the motor to open and close efficiently.

Automatic Closing can be set to automatically close the door after 90 seconds.
Manual Release is also available to manually operate the door should a power failure occur.
Low Maintenance is achieved by using a hard wearing nylon gearing mechanism which ensures a long operational life.
GTS Transmitter can operate up to 3 doors / 2 doors and a gate / home alarm system setting. The UHF transmitter usually operates in a line of sight operation for safety benefits. An additional feature of the handset is the facility to use the handset to set the up and down door limits.
Colours
Note: Colours shown are as close as possible to actual products. We strongly recommended comparing actual samples.
Windows
Windows provide a fantastic source of natural light into your garage, and there are various styles to be chosen from, including rectangular, circular, square and special glazing shapes. Please call us for more information.
Safety
Gliderol sectional doors are designed to be safe and effective. Finger trapping is minimised by the side spring mechanism for doors up to 3.5m wide are completely enclosed, and in the case of a spring breaking, there are spring breaks attatched to torsion springs to avoid the door from falling.
Resistance and Durability
The doors are equipped with a plastic base on the side profile, reducing the chance of corrosion when heavy downpours cause rain to collect at the bottom of the doors. As well as the insulated panels, the adjustable roller brackets allow the top panel to seal against the top profile, significantly helping to prevent heat escaping and drafts.