homepage bottom_new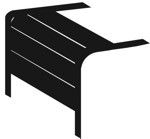 The sectional door still offer the best value for money in any mechanism. The choice of designs, colours and finishes are enormous, the range of sizes go up to 8 metres wide! The security, insulation and weathersealing properties, ease of operation and practicality makes this an ideal solution for any garage.
Sectional doors are manufactured in steel, aluminium, timber and GRP and a key feature is that they operate vertically with no swing out at all and once open fully can give maximum drive through width and height.
We offer the widest range in the UK from only leading established manufacturers.
More Information on Sectional >
Our timber range is second to none. Many companies offer timber products but as a material timber has many variances in quality and whilst it may be possible to buy a pair of softwood side hinged doors for less than £300 the cedarwood timber version may be over £800 but will last 5-10 times longer and look better too and all our doors include all necessary furniture and locking. Idigbo is the new Oak.
We offer up and over, sectional, side hinged and round the corner mechanisms to best suit your requirements.
Standard or purpose made are manufactured in many different species such as cedar, oak, larch, idigbo, hemlock and spruce to name a few.
More information on Timber >
The roller garage door is a popular choice in the UK and it is not hard to see why – Simple, smooth mechanism with a vertical rising operation to enable operation even when a vehicle is parked right up to it, inside or out.
Simple, single skin steel and foam filled insulated double walled aluminium roller door curtains are the 2 types available with options on manual or electric operation. For the aluminium roller door a much wider range of different curtain types for different sizes and requirements are manufactured, and all made to order.
See the Seceuroglide, Gliderol, Hormann, Garador and Samson ranges for complete peace of mind and best guarantees.
More information on Roller Shutters>
Aside from the types mentioned above, have a look at our Up and Over, side-hinged, round the corner sliding and extensive automatic electric remote control. We have the best and most extensive selection in the UK, and an unrivalled service throughout the specification, ordering and installation process.
We only work with the major brands, so you can be certain we will find the most appropriate for your need. Our garage door brands include Hormann, Garador, Silvelox, Seceuroglide, Gliderol, Samson, Novoferm, Cotwold, Wessex, Cedar, Woodrite, Carteck, SWS, Vertico and Rundum Meir to name just a few!
We work with trade, domestic and professional customers throughout the UK, literally every day. We're here to help, and are waiting for you to phone us. Don't worry if you are not sure what you need; our staff are very knowledgeable and experienced so you can trust we will do our very best to steer you in the right direction. Our head office and main showroom are based in Wellingborough, so naturally we service Northampton Northants, Northamptonshire, Bedford, Bedfordshire, Milton Keynes, Buckinghamshire, Peterborough, Cambridgeshire, Oxfordshire, Warwickshire, Coventry, Birmingham, the Midlands, West Midlands, East Midlands, Leicestershire, Hertfordshire and not to mention London. Additionally we provide our services and products to customers in just about every UK town & county, as you can see in out location pages below.