Hormann Thermo Doors
If you want a high quality, highly insulated and extra secure entrance door fro your home then the Thermo range may well give you everything you want. The door is manufactured in Germany and fully factory assembled unlike most entrance doors where the locking and hardware is a seperate installation. The door is made from start to finish in one factory with every component fitted and tested for the easiest on site installation providing a superb and stylish product for your home. Watch the short video below for some basic details on this fantastic product:
The Hormann Thermo46 doors come in a wide range of styles and finishes and offer fantastic value for money but with the Hormann philosophy of 'Quality without Comprimise'.
View the Thermo65 version with higher insulation values. Click here!
Thanks to a standard multi point locking system these very competitively priced entrance doors give you security, save energy through excellent thermal insulation and give a stylish appearance to compliment your home.
With over 50 years experience and over 13 million doors sold Hormann has become number 1 in Europe.
Without a Visible Leaf Frame
The Thermo46 entrance doors have an exclusive appearance with a beautifully shaped smooth door leaf in steel without a visible leaf frame for a very clean appearance.
High Thermal Insulation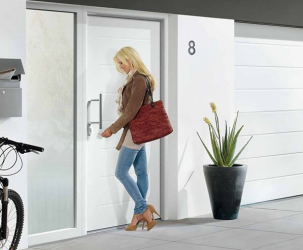 Nowadays everyone is trying to save energy in their homes and Thermo46 doors can play a part in this. With a 46mm thick door leaf completely filled with CFC free foam these doors provide excellent thermal insulation with a k value of up to 1.1 W/m2K. Reduce the energy bills!
The Best Sealing Possible
Double seals are standard on all 4 sides with additional corner seals near the bottom providing extra protection against bad weather. Heat loss is kept to an absolute minimum.
8 Point Security
To feel safe in your home and when you are away the Thermo46 doors are equipped with multiple point locking as standard for extra security - far higher levels of security than nearly all other standard front entrance door systems.

Hormann has added the prestigious 'Secured by Design' option to 7 styles in the Thermo46 Entrance Door range**
Thermo46 Steel Entrance Door Designs

Certified Brand Quality
All ThermoPro entrance doors are manufactured in line with ISO 9001 and regularly subjected to the very strictest quality tests. A CE mark indicates the doors totally comply with EU directives in accordance with EN 14351-1. All the important requirements are adhered to as standard:
- Water tight under heavy rain
- Stable under heavy winds
- Airtight
- Accoustically insulated
- Thermally insulated

Quality Features
Thermo46 entrance doors are all supplied with the aluminium sub frame, threshold and selected locking as standard fitted from the factory in 3 different variants. All the doors are ideally suited for use as a side entrance door whilst the aluminium frame and leaf offers the best thermal insulation.
Already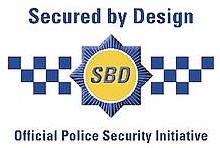 available to meet the stringent European WK2 security classification the Thermo46 range of contemporary and classic styles feature multi-point locking with a combination of conical swing and security lock bolts that pull the door tightly shut. Three further security bolts on the hinge side make it practically impossible to force the door open.
One of the key elements of the Secured by Design option is a new, even more secure, individually coded lock cylinder that has been designed to resist picking, snapping, bumping or drilling. The door also achieves the level 1 status as recognised by the LPCB with police and insurance company recognition.
Hormann has added the prestigious 'Secured by Design' option to 7 styles in the Thermo46 Entrance Door range**
Take a look at our Secured by Design Garage Doors.
Thermo46 Steel Entrance Door Colours
Thermo46 entrance doors are supplied in a smooth white powdercoat finish (RAL 9016) as standard from the factory with the option of 11 other standard powdercoat colours available at a small extra cost.
Most of the doors also have the option of the Decograin laminate woodgrain finish in Golden Oak, Dark Oak and Night Oak. These surface finishes are super tough and offer a match with the LPU40 range of sectional garage doors also available from Hormann.

White Aluminium
RAL 9006

Terra Brown
RAL 8028

Clay Brown
RAL 8003

Light Grey
RAL 7035

Window Grey
RAL 7040

Anthracite Grey
RAL 7016

Light Ivory
RAL 1015

Moss Green
RAL 6005

Ruby Red
RAL 3003

Pigeon Blue
RAL 5014
More recently the Decograin laminate foil coated range has taken the UK by storm - 4 beautiful woodgrain laminate finishes with unique embossed graining offering either Golden Oak, Dark Oak, Night Oak and Titan Metallic as a fully finished surface with a 10 year guarantee - a perfect match to many Upvc windows and external timber features.
| | | |
| --- | --- | --- |
| Golden Oak | Dark Oak | Night Oak |

Thermo46 Steel Entrance Door Technical Configuration Details
| | | |
| --- | --- | --- |
| High thermal properties achieved thanks to a 46mm thick door leaf infilled with CFC free rigid foam. | A double seal with additional brush seal at the bottom of the door protects against bad weather. | Standard 5 point locking and extra security through adjustable steel roller pivots all give that extra secure feel. |

Aluminium Frame

The aluminium frame provides the best thermal insulation and in addition with the thermal break and round style design (profile a1) or rectangular design (profile a2) gives your entrance door an exclusive appearance


8 point locking with pivoting bolt lock

For a truly secure home: 2 conical swing bolts engage 2 additional security bolts and 1 deadbolt in the frame's lock plates and pull the door tightly shut.

3 further security bolts on the hinge side are still included.


Aluminium/Plastic Threshold

The door has a 20mm high threshold with thermal
break preventing heat escaping near the door