Look no further than The Garage Door Centre for quality, insulated roller garage doors!
The Garage Door Centre offers a comprehensive range of insulated roller shutter garage doors that are of the highest quality, many are of which are the best quality you'll find in the UK.
Insulated Roller Garage Doors offer a smooth, vertical operation which maximises space both inside the garage and on your driveway, allowing you to park right up to the door on either side.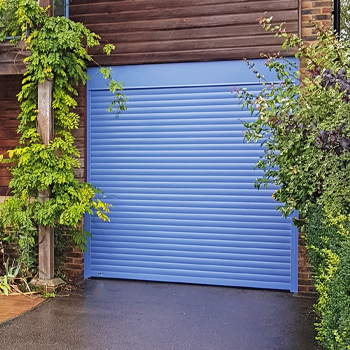 Various optional extras are available for utilisation of your garage door, as well as the convenience of remote controlled operation.
Key Features of Insulated Roller Doors
Roller doors with foam-filled slats don't just offer thermal insulation! They provide:
- Reduced heat loss due to foam-filled aluminium slats
- Energy conservation that can help reduce your energy bills
- Sound-proofing properties - insulated slats offer thermal AND acoustic insulation
- Increased strength in comparison to single-skin steel roller doors
- Convenient and easy to use, with electric and manual operation available
Non-insulated and insulated roller door slats:
Although steel, single-skin roller doors have individual benefits for particular applications, aluminium roller garage doors are the best option for insulation and security due to the increased thickness of the door leaf.
Insulated roller doors are no different in their principal to non-insulated roller doors, but do have the added advantage of strength in the curtain in addition to their insulating properties.
See below for a visual comparison between the single skin roller slat, and the twin-walled, aluminium slats that are foam-filled to offer insulating properties.
Materials & Construction

Insulated roller doors are constructed with twin walled, maintenance free aluminium slats, and are insulated with CFC-free foam to maximise energy efficiency in your garage.
All exposed components are made from corrosion resistant aluminium that are then factory coated to a high standard, giving you a maintenance free door which will look as good as new for years to come.
Unlike the lower priced single skin steel roller shutters, individual aluminium slats can be replaced if damaged, are much quieter in operation and are also quieter when the door is closed in high winds. Many manufacturers now offer a smaller aluminium slat to give a smaller coil, therefore requiring less headroom internally; these will not insulate as well as the more commonly used 77mm x 20mm slat, as shown in the image to the left.
With exceptionally durable construction, backed up by a comprehensive 2 - 5 year guarantee on all manufactured parts, an Insulated Roller Garage Door is a sound investment for your home.
Reliable and robust, insulated roller doors offer secure protection for yourself, your car and your home. Exceptionally strong aluminium slats lock into position to repel attack or attempted break-in, whilst remote controlled operation further increases security.

Remote Control Automation

Electric Roller Doors are generally supplied with two mini keyfob transmitters. Each uses secure, state-of-the-art rolling code technology with millions of possible combinations, and allows you to operate and lock the garage door remotely. An integral courtesy light built into the control panel automatically illuminates the garage interior for convenience and safety.
All automatic Roller Garage Doors are equipped with an intelligent safety bottom edge detector, with optional infra red photocells for extra safety usually if the door is near a public highway or pathway. These systems will immediately stop the operation of the door if an obstruction in its path is detected, thereby preventing injury or damage. The infra red safety beams should not be the only safety device on a roller door unless it uses a 'hold to run' logic with the static or remote controls.
The luxury and convenience of Remote Controlled Operation in most insulated roller doors allows you to open, close and lock your roller garage door from the comfort and safety of your vehicle.
Space and Energy Saving
With an insulated Roller Garage Door your garage can provide valuable additional space as a workshop, hobby or utility room. Twin-walled, maintenance free aluminium slats are insulated with CFC-free foam for increased energy conservation, reduced heat loss and improved sound proofing. Like all vertically operating garage doors, they are not restricted to usage by the shape of the garage opening, and therefore have a far greater variation of applications than up and over garage doors. Brush seals provide superior draught proofing and whisper quiet operation, whilst a bottom weatherseal helps prevent dust and debris from blowing into the garage.
The most space can be gained inside a garage by installing a roller shutter externally, and with the aluminium insulated roller shutter this is very easy as the design allows a fully enclosed aluminium hood to be fitted, enclosing the coil and resulting in a more finished visual appearance.
The example door above shows all components neatly powdercoated in a black paint finish and a discreet hood cover to produce a neat overall look. With the door fitted externally the width, height and length of the garage is optimised for maximum usage internally.
Insulated Roller Doors for all Budgets

There are an increasing number of lower-specification, insulated roller garage doors available on the UK market now, offering a no frills system with basic remote controls, no internal lighting, non-painted guides and lower levels of security add ons.
These still offer excellent packages for a roller door product far superior than lower priced steel shutters, or even basic up and over garage doors.
Manufacturers:
The Garage Door Centre supplies insulated roller garage doors constructed from aluminum foam filled lath from the following market leading UK based companies. Make sure that, whichever manufacturer you may be looking at, has a fully compliant safety detection system, and will be properly CE marked on installation. There are currently far too many roller garage doors being offered which are not safe, reliable, or even suitable for any long term use.
Click the logos below to find out more about the manufacturer's available roller doors.
We can provide prices for supply only or installation if required throughout the UK, and do have many other manufactures for more specialised applications when required.