Sectional Garage Side Doors
The Garage Door Centre offers an unrivalled choice of matching and individual styled side doors for your garage in steel, timber and aluminium. The majority of pedestrian access doors to an average garage are not particularly secure with quite basic locking so once you have decided to upgrade your garage door to a new sectional or roller door with security or insulation specifically in mind perhaps you should also take the opportunity to look at replacing your side entrance door.

Download PDF file of Side Door Overview (0.7Mb)

The Hormann range of 'sectional' side doors are specifically designed to match the entire LTE, EPU, LTH and LPU40 range of sectional garage doors with exactly the same outside designs in the same finishes and colours too. The doors are offered as standard or made to order sizes with variations on the fixing frame to be either fitted inbetween the structural opening or to the inside face as well as a 'corner' frame system used extensively in Europe but more difficult to incorporate on UK built properties.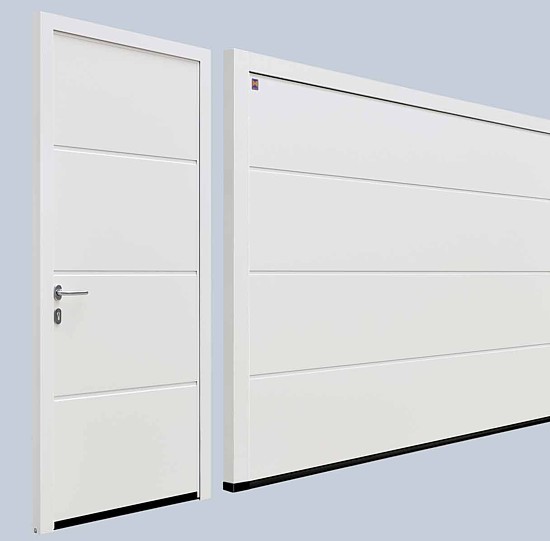 3 point security locking is available as shown in the image above for the Sectional side doors with a dead lock and 2 hook locks top and bottom.
The strength of the panel is superb especially with the stell fixing sub frame and an external rebated edge preventing access to try to force any of the locking or hinge points

The construction for every sectional side door is the same as the LPU40 garage door - 42mm double skinned steel with a PU foam core for high insulation values and a high quality paint or laminate foil coating finish.
For the timber side sectional doors the construction is traditional joinery methods but incorporating high quality composite timber species for the most stable long term reliability.
The steel and timber sub frames used on the sectional side doors incorporate rubber weatherseals for the best possible protection from wind and rain.


A lever/lever handle and euro profile cylinder locking is standard with a choice of handle finishes and a small threshold is standard too with a rubber seal on the bottom of the main panel.

The different fixing sub frames available are shown below and note the different handle heights too.
| | | |
| --- | --- | --- |
| Profile Type 1 with a block frame | Profile Type 2 with a block frame | Profile Type 3 with a corner frame |