The locking of the popular SeceuroGlide LT roller garage door has been further improved by UK manufacturers SWS. Enhancing this already great roller door for our clients is now available, as standard!
Locking Upgrade
Security upgrades are a regular occurrence from reputable manufacturer SWS, so no surprises here! This welcome news is common as their initial business focus surrounded security shutters and products.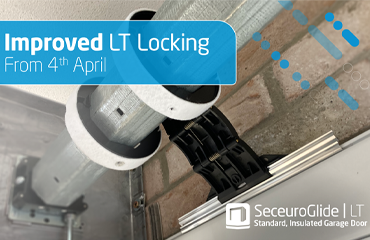 The upgrade consists of more secure and higher quality auto-lock straps and collars. This take the good quality, entry-level roller door a step further when compared to similar doors on the market. The LT is to be manufactured with the new locking upgrade as of 4th April 2022, so is available to purchase as of yesterday.
SeceuroGlide Security Options
If you require enhanced, certified security roller doors, take a look at the higher-specification SeceuroGlide Classic and Excel. These excellent roller doors boast increased security and official Secured by Design accreditation.
However, if an insulating, electric and good quality roller door is simply what you need, be sure to check out the LT and its features, including:
- Over 20 appealing colours and finishes
- Electric operation with two handsets as standard
- Optical safety edge
- Endlocked, insulated 77mm slats
- Available up to 5200mm wide