The wonderfully versatile side hinged garage door offers a solution to so many problems and provide opportunities not available with any other type of garage door, especially if you don't use your garage for storing your car.
At The Garage Door Centre, we have seen a marked increase in the number of requests for side hinged, traditional garage doors. Many people have realised their practicality for busy lifestyles where the garage is NOT used for a vehicle and frequent access is required as the garage is used as a large storeroom for bikes, toys, etc. and very often freezers or laundry facilities. The traditional pair of side hinged doors give the person on foot easy access without having to raise a complete door up.
The choice of traditional styles manufactured in various timbers as well as GRP and steel also give the customer a good, varied choice.
Style
You can totally individualise your doors. You can have them manufactured to your own design from a choice of hardwoods with either a modern or traditional feel according to the surroundings and your personal preference. There is a wide range of beautifully crafted furniture, again in traditional or contemporary style. The steel and Upvc ranges are more limited in design but still have purpose made sizes and window options available.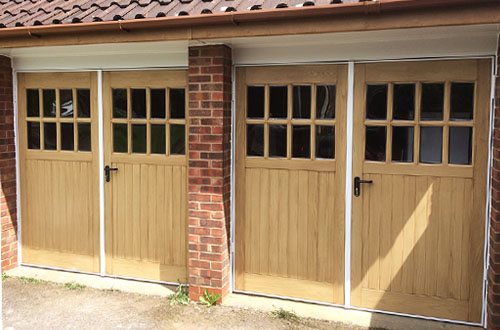 Practicality
The door set can be produced with either 1/2 and 1/2 opening or 1/3 and 2/3 opening. The second option is particularly useful for giving convenient pedestrian access if required. Furthermore, unlike steel side hinged doors, timber doors are purpose made so can be manufactured to exactly the size required. If the building is constructed of random stonework a scribed timber frame will finish the installation with a neat snug fit.
If there is a lack of headroom in your garage the side hinged garage door provides the perfect solution. Side hinged garage doors are a blessing for those whose garages are decked out with shelves or garages that house meters or pipework. The lack of tracks or panels protruding into the garage means that you have no worries about fouling operating gear. You can utilise all of the drive through height and width (providing the doors open to 90°). And the lack of lifting gear means that the side hinge garage door is wonderfully maintenance free apart from treatment of the timber. No springs, cones or cables to maintain or replace when they have worn out. On a very practical note if depth and width of garage is restricted (or more depth and width is required) the doors and frames can both be fitted externally.
Low Maintenance
For low maintenance options look no further than the fantastic GRP range of side hinged doors from specialist manufacturers Wessex Garage Doors. These doors are all manufactured to suit in any size up to approximately 8 feet (2438mm) wide and are supplied at one price to keep things simple. A superb range of styles and finishes are available recreating some very traditional designs as well as some more modern. The side hinged GRP doors are all prehung in a steel box section sub frame ready for installation on site without the hassle of having to level up timber frame sections. They are supplied in either the Classic or Exclusive range offering 2 very different levels of finish and locking facilities.
Click here for our GRP Feature >

Insulated Side Hinged Doors
One of our most popular types of side hinged doors presently are steel side hinged doors constructed from a 42mm double skin sandwich creating an excellent super strong product with great security and insulation properties to help keep your garage at an even temperature and reduce cold inot your house if your garage is integral.
Insulated Steel Side Hinged Garage Doors in our Product Catalogue >

Electric Operation Side Hinged Garage Doors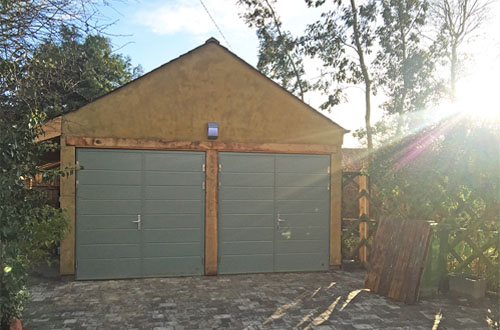 Don't forget electric operation; contrary to popular belief, you can easily fit a remote control electric operator to side hinged doors - see our feature here >. Most traditional boom style electric operators combined with a swing arm conversion kit will fit the bill.
Try to purchase a system that allows the first leaf to reach the home position slightly before the second leaf as this will close the doors more securely. Remember to fit a manual release if there is no other pedestrian entrance to your garage. Most importantly, you will need a relatively powerful operator as there are more forces applied to side hinged doors during operation in windy conditions, and these conditions need to be allowed for. New generations of electric operators constantly monitor doors in different stages of operation and compensate in their safety features – Seip, Hormann and Somfy are good examples.
We can also automate swing doors using hydraulic piston arms as used for gate automation systems.
Side Hinged Doors open outwards, so check that your drive does not slope upwards and that the door panels can fully open.
Be aware if your garage is in front of a public area or pathway that hinged doors will open into that area - check with your local authority this is acceptable.
For further information on side hinged garage doors, please contact a member of our staff who can offer the latest brochures and prices.
Timber Side Hinged Garage Doors
More about Timber Side Hinged Garage Doors >
Cedarwood Timber Side Hinged Doors in our Online Catalogue >
Accoya Timber Side Hinged Doors in our Online Catalogue >
Idigbo Timber Side Hinged Doors in our Online Catalogue >

Steel Side Hinged Garage Doors
More about Steel Side Hinged Garage Doors >