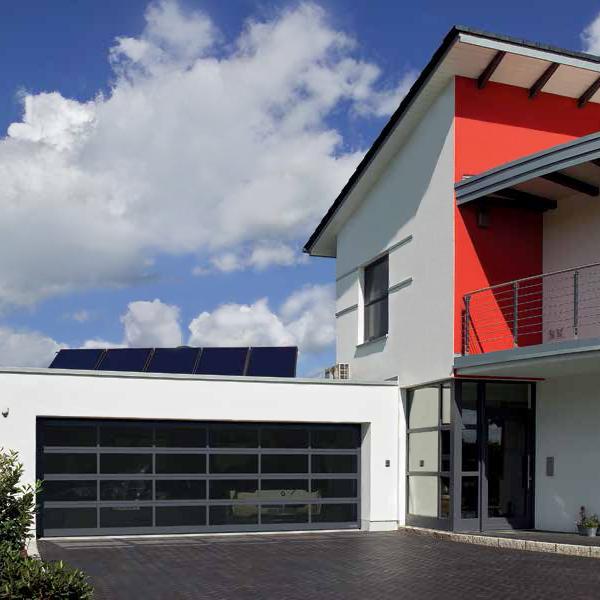 Hormann ART 42 Sectional

Create the ultimate modern garage with Hormann's aluminium framed door, with 11 infill variations.
To make an enquiry about this product, please click the button "Make an enquiry" below this message, or call 0800 525 442
The ART 42 aluminium sectional garage door is a derivative of the excellent ALR door, a commercial sectional door used extensively in the motor industry in car showrooms, workshops and other more exclusive environments. The ART 42 however, has been manufactured to allow for installations within domestic environments.
What is the Hormann ART 42?
It is a sectional door with as much glazing incorporated as possible, allowing full light and vision, although there are also glazing options which do not allow vision available. There are nine different glazing infill options in total.
The ART 42 is available in purpose made sizes up to 5500mm wide and 3000mm high to install either behind or inbetween a structural opening. In true bespoke form, the door is always perfectly arranged to the size chosen providing perfectly aligned and uniform division of the glazed window sections.
Domestic Operating System
The ART 42 has been produced as a sectional door using the domestic operating mechanism along with domestic specification automation equipment such as the Supramatic E, P and H motors.
This allows full use of all the fantastic remote control systems offered in the Hormann range, such as single or multi channel hand transmitters, finger readers, keypads, switches and even the Hormann Bi Secur Gateway for control of the door from a smartphone or tablet via the app.
The ART 42 also has a 'Thermo' option with a thermal break system to offer the best thermal insulation values when required.

With the vented infill options this sectional door is also perfect for multi parking space car parks, underground or simply covered, offering a ventilation of 58% or 40% as required.
The use of the Z, N and L track systems means the headroom required is minimal compared to so many other options.
Infill Variations
Synthetic Double Pane, Brown Tinted

Synthetic Double Pane, Crystal Structure

Double-Moulded Pane

Synthetic Double Pane, Grey Tinted

Polycarbonate Double Pane, clear

Synthetic Double Pane, Clear

Synthetic Double Pane, White Tinted (opal)

Crimped Mesh

Stainless Steel Expanded Mesh

Perforated Stainless Steel Sheet

Welded Grille