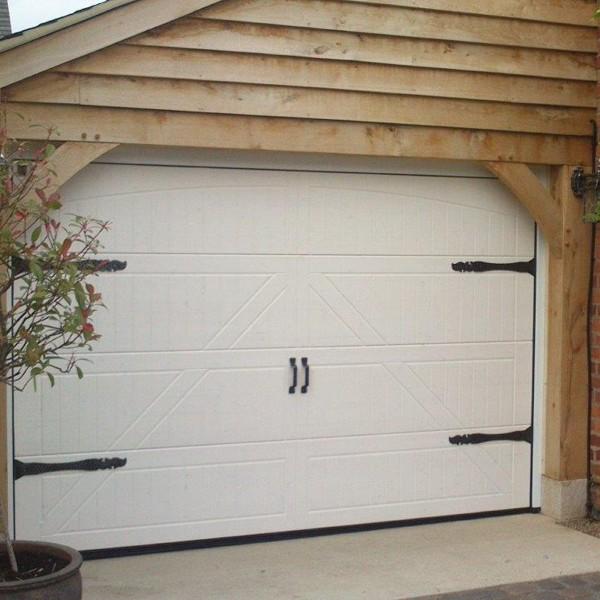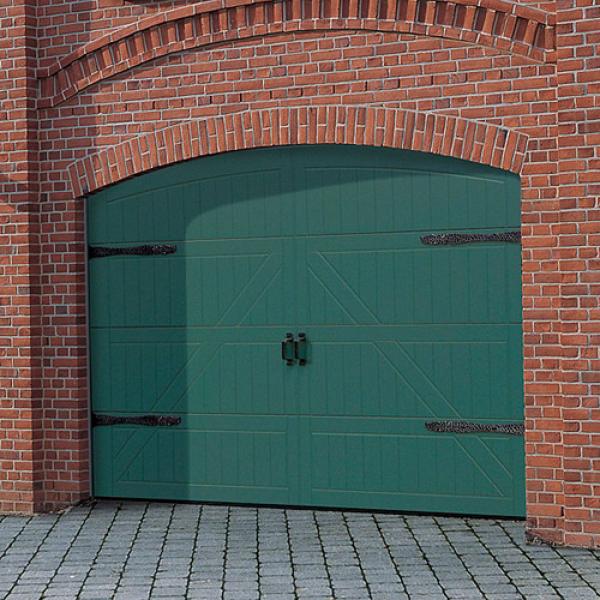 Hormann LTH Hemlock 405

Fabulous deception - this is not a pair of side hung timber garage doors!
A Hormann sectional garage door with an effective facade.
To make an enquiry about this product, please click the button "Make an enquiry" below this message, or call 0800 525 442
Incredibly deceptive, the Hormann LTH 42 Hemlock solid timber infilled sectional garage door Style 405 gives an immediate first impression of a pair of traditional side hinged timber barn doors! It is only on closer inspection that you learn that, far from barn doors, this is actually a state of the art sectional garage door. A computer controlled electric router ensures absolute precision design and symmetry with even cutting. This exceptionally cleverly designed sectional garage door can further be enhanced by ornate mountings that replicate traditional door furniture.
Specially selected Western Hemlock, this Canadian and USA imported timber is a pale brown in colour and somewhat lustrous, with a straight grain and fairly even texture, lacking knots and shakes, altogether a stable material, properly treated it is not prone to warping or splitting. Although the doors are factory treated for protection against insect and fungal attack, they always need treating with a wood preservative.
The Hormann LTH 42 Hemlock solid timber infilled sectional garage door Style 405 comes with several patented safety features including finger trap protection and safety tracks. These solid timber sectional doors are heavier than steel sectional doors so Hormann always supply them with the stronger torsion spring technology. Weather resistant seals are fitted around all four sides of the door.

Thermal insulation
Doors with solid timber infill
Door leaf U = 2.50 W/m2 K
Fitted door 1) U = 2.90 W/m2 K
Wind pressure
Doors with solid timber infill class 3
Glazing Options
There are no glazing options for the Hormann LTH 40 Style 405
Accessories
Hinged door ornament set – exclusive
Hinged door ornament set – standard

Maximum Door Sizes
Width 5000mm
Height 3000mm
Handles
The Hormann LTH 42 is manufactured with no pre-drilled handle hole as standard. This is to offer a smooth door finish on doors with electric operation which do not require a handle. If a handle is required, a selection of handles are available from the selection below at a surcharge.
Black
synthetic plastic

White
cast aluminium

New Silver
cast aluminium

Brushed
stainless steel

Bronze
cast aluminium
Suitable Operators
Both the Hormann Promatic and the Hormann Supramatic are the perfect remote controlled operators for the Hormann LTH 42. They both come supplied with an integral receiver, automatic locking, automatic safety cut-out, emergency release from inside, and a soft start/soft stop function to minimise door wear and tear.
Hormann electric garage door operators are supplied with 2 transmitters as standard when purchased. Other remote transmitters and access control systems are available from the selection shown below and other controls are available to link in with Homelink systems and also vehicle transmitter systems.

HS 1 BS
Hand Transmitter
(1-channel)

HS 4 BS
Hand Transmitter
(4-channel)

HS 5 BS
Hand Transmitter
(5-button)

HSE 2 BS
Micro Hand Transmitter
(2-channel)
To view the whole range of Hormann remote control accessories, view the Hormann Remote Control Operators page.
Eight Types of Wood Preservatives available:
| | | | |
| --- | --- | --- | --- |
| Limestone White | Pine | Teak | Rosewood |
| Ebony | Agate Grey | Fir Green | Nordic Red |
Brushed Timber Surface Finishes
| | | | |
| --- | --- | --- | --- |
| Hemlock | Nordic Pine | | |
Please note:
The timber is impregnated at the factory to protect it against insect and fungal attack. To protect it from weathering and retain its beautiful appearance, please treat the timber with a wood preservative.
With wood preservatives, the wood content may show through the 46 coating, leading to a change in the surface colour.