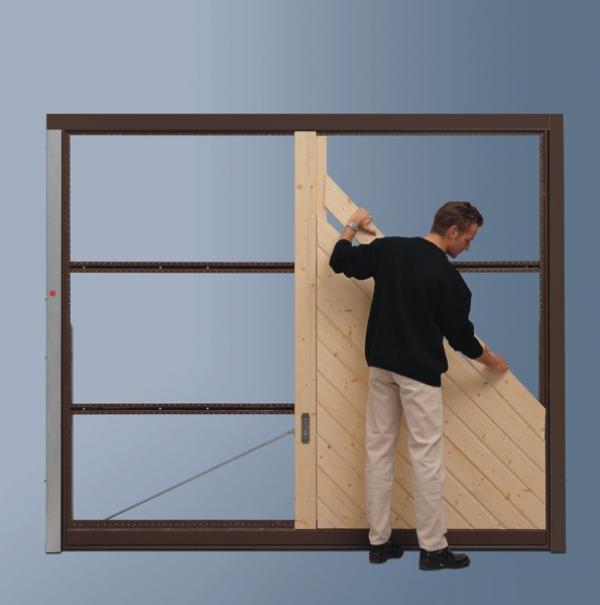 Hormann N80-DF98 Style 905 Open for Infill

Door Type:
Up and Over Doors
Design your own garage door with Hormann's Open for Infill option!
To make an enquiry about this product, please click the button "Make an enquiry" below this message, or call 0800 525 442
description
colour finishes
Overview
The Hormann N80 & DF98 range offers a new series of exciting designs and sizes to meet all commercial and domestic garage door needs.
The Hormann Style 905 allows you to design your own garage door. We simply supply you with the solid standing frame so that your artistic abilities can flow into any design you like.
All the Hormann N80 and DF98 garage doors are manufactured in Germany so you can never have one straight from stock but if you require a garage door made with just that little bit more attention to detail and you don't mind waiting then this range is well worth a look at.
Sizes
The Hormann N80 & DF98 range of garage doors can reach an extended size range of upto 5000mm wide x 2750mm high.
Additional Extras
The N80 and DF98 range of garage doors has more special options than any other range available and these include:
- Any RAL colour paint finish as well as anthracite CH703 option
- Range of standard RAL colours to choose from - 15 in total
- Silk-matt surface colour finish for timber doors. 3 layer paint coat in 6 standard colours
- Retrofit fascia panels for covering damaged brickwork edges in colours to match the door panel and frame
- Ventilation grilles for style 914 only
- Retrofit insulation boards (N80 only) for on site installation giving excellent insulation to the door panel
- Hormatherm insulation polystyrene boards with plaster surface- factory fitted for certain styles only
- DammTec sound absorbing coating for steel doors reducing the noise of the door panel in operation to a minimum
- Bottom rubber seal (N80 only)
- Wicket door insets for certain designs offering pedestrian access without opening the whole door
Handles
This door comes with a plastic black nylon handle however the following handles are available at a surcharge
Click the handle name to view the image
Cast Aluminium White Finish (similar to RAL 9016)
Cast Aluminium New Silver Finish
Cast Aluminium Brass Finish
Polished Stainless Steel
Brushed Stainless Steel
Electric Operators
This model is available remote control operated and Hormann offer 2 fantastic operating systems; the inexpensive ProMatic with a maximum of 10 cycles per day, and the high-quality SupraMatic with a maximum of 50 cycles per day. More information on Hormann Operators is available here.

HS 1 BS
Hand Transmitter
(1-channel)

HS 4 BS
Hand Transmitter
(4-channel)

HS 5 BS
Hand Transmitter
(5-button)

HSP 4
Hand Transmitter
(4-function)


HSE 2 BS
Micro Hand Transmitter
(2-channel)
To view the whole range of Hormann remote control accessories, view the Hormann Remote Control Operators page.
Colours
White is available as standard with this model however the following RAL colours are available on request with any RAL colour available at an extra price per square metre.

RAL 7040
Window Grey


RAL 7030
Stone Grey


RAL 7035
Light Grey


RAL 1015
Light Ivory


RAL 5014
Pigeon Blue


RAL 5003
Sapphire Blue


RAL 5011
Steel Blue


RAL 9006
White Aluminium


RAL 8003
Clay Brown


RAL 8001
Ochre Brown


RAL 8028
Terra Brown


RAL 3003
Ruby Red


RAL 6009
Fir Green


RAL 6005
Moss Green


RAL 7016
Anthracite

RAL 9016
White