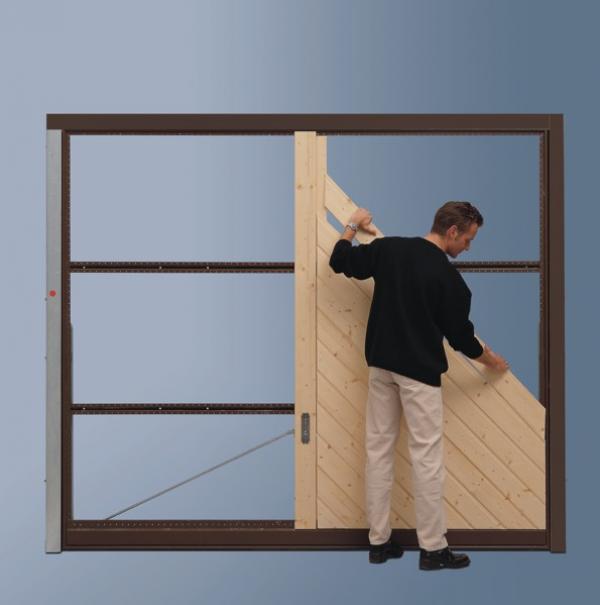 Hormann N80-DF98 Style 905

Design your own up and over garage door with the Hormann N80-DF98.
To make an enquiry about this product, please click the button "Make an enquiry" below this message, or call 0800 525 442
Hormann N80-DF98 Style 905 Open For Infill Garage Door
The N80 and DF98 one piece garage doors have been the very garage doors that made Hormann what they are today - a strong, stable and secure steel framed box section steel up and over door system that is offered with a multitude of different steel, timber and GRP infills.
The same system of offered as the style 905 or 'Open for Infill' as it is more commonly known as and this is a door system that allows you to design and assemble your own one piece up and over door with all the stability issues and lifting system already sorted.
The door is always a 'fully retractable' type offering greater weight handling with adjustable springs to the sides lifting the panel. These springs can be uprated when using heavier timber species such as oak or mahogany.
The door system is delivered with all the operating gear and the steel sub frame already factory assembled and all you have to do is infill the main door panel which has steel predrilled bracing sections fitted horizontally. The locking system is also fitted and is supplied as standard with a hanlde pack and euro profile locking cylinder set which can be fitted or left if you are going to add a remote control system.

The Hormann 2001 Vertical comes with a plastic black nylon handle however the following handles are available at a surcharge.
Black Nylon Handle
Standard

Cast Aluminium
White Finish

Cast Aluminium
New Silver Finish

Cast Aluminium
Brass Finish

Polished
Stainless Steel

Brushed
Stainless Steel
Sizes are available up to 5000mm wide and 2500mm high with the N80 being the single door width system for sizes up to 3000mm wide and the DF98 for wider doors or where heavier timbers are used. The DF98 has a larger overall steel chassis thickness and more strength and lfiting capacity but operates in exactly the same way as the N80
The N80 and DF98 are both designed as manually operated doors but can be further enhanced with the addition of electric motor systems, again specified depending on the weight of the infill timber used in the panel.