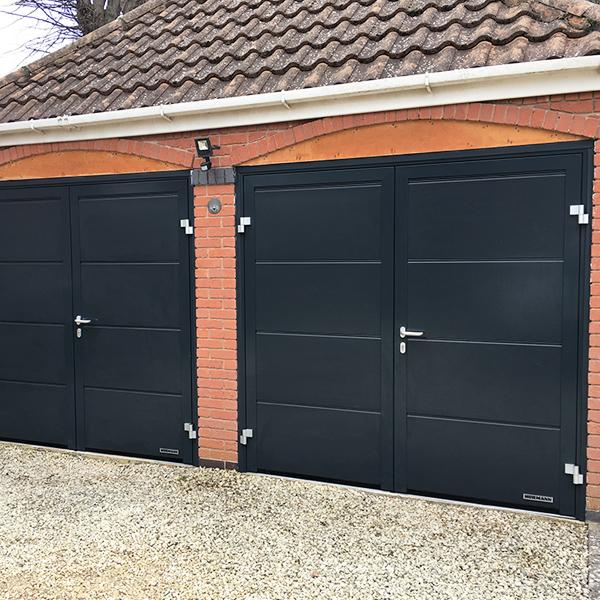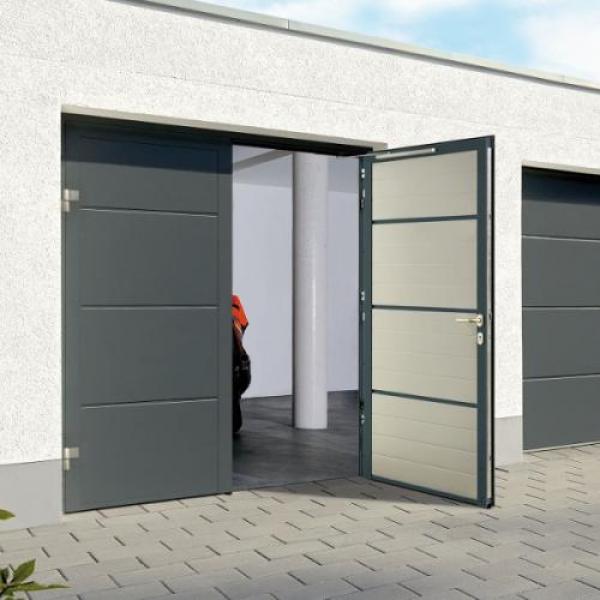 Hormann NT60 L Ribbed

The L Ribbed design for Hormann's side hinged garage doors provides a sleek, modern appearance.
To make an enquiry about this product, please click the button "Make an enquiry" below this message, or call 0800 525 442
description
wood design
colour finishes
The Hormann NT60 side hinged doors are insulated with a double-leaf aluminium frame and have 42mm thick panel infills.
The NT60 side hinged doors are delivered ready to fit with a profile cylinder mortice lock, a lever handle set with a security rose escutcheon outside and oval rose escutcheon inside and 3-way adjustable, maintenance free hinges.
Standard equipment
Double-leaf garage door for fitting in the opening, opening outwards

Door infill
Double-skinned, PU-foamed steel sections, depth 42 mm
Leaf frame and door frame
Aluminium profiles, depth 60mm
Lever handle
NT 60-2: For garage doors in RAL 9016 and Decograin surface finish:
Plastic lever handle set, black.
For garage doors in colour and RAL to choose: Cast aluminium lever handle set, natural finish (F1)
Hinges
NT 60-2: 3 two-part hinges, for garage doors in RAL 9016: white.
For garage doors in colour and RAL to choose: Cast aluminium, natural finish (F1)
Garage doors with Decograin surface finish: Hinges in a matching colour

Standard colour:
Frame, leaf profile and infill: Traffic white, RAL 9016
Interior infill: Grey white, RAL 9002
Size range
From 1330 x 1960 mm to 2500 x 2558 mm
Locking
Mortice lock 1314

Door infill surface finish
Exterior: Woodgrain, Sandgrain, Silkgrain or Decograin
Interior: Stucco-textured, RAL 9002
| | | | |
| --- | --- | --- | --- |
| Woodgrain | Sandgrain | Silkgrain | Decograin |
Colour Options
Decograin is available in five natural-looking timber designs and with a metallic effect only for M-ribbed and L-ribbed doors.
| | | | | | |
| --- | --- | --- | --- | --- | --- |
| Dark Oak | Golden Oak | Night Oak | Rosewood | Winchester | Titan Metallic |
Finishes
For the Woodgrain, Silkgrain or Micrograin surface finishes, you can choose from the following preferred 15 colours or can be supplied as standard in white polyester paint (RAL 9016).

RAL 7040
Window Grey

RAL 7030
Stone Grey

RAL 7035
Light Grey

RAL 1015
Light Ivory

RAL 5014
Pigeon Blue

RAL 8001
Ochre Brown

RAL 5011
Steel Blue

RAL 9006
White Aluminium

RAL 8003
Clay Brown

RAL 8028
Terra Brown

RAL 3003
Ruby Red

RAL 6009
Fir Green

RAL 6005
Moss Green

RAL 7016
Anthracite

RAL 9007
Grey Aluminium
Sandgrain Surface Finishes
This finely structured surface is an ideal choice for price-conscious owners and is particularly suited for modern homes. Available in Traffic white RAL 9016 and in 3 preferred colours.



RAL 9006




White Aluminium




RAL 8028




Terra Brown




RAL 7016




Anthracite