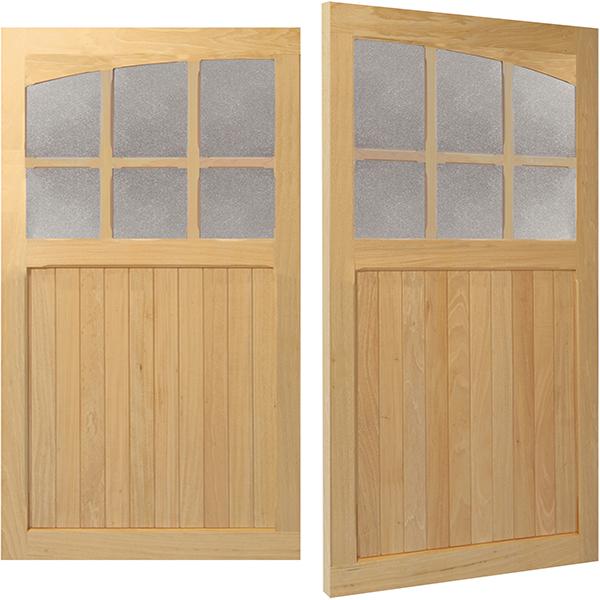 Woodrite Warwick Thrapston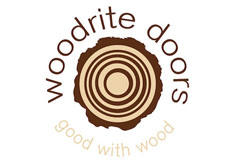 The arched feature of the windows makes the Thrapston a beautiful, classic side hinged door.
To make an enquiry about this product, please click the button "Make an enquiry" below this message, or call 0800 525 442
description
colour finishes
The Woodrite Warwick Thrapston is part of a range of wooden garage door that are hand crafted in idigbo mouldings, idigbo tongue & groove boards and raised and fielded idigbo panels for timeless appeal.
The Warwick range is part of the Coach House collection of wooden garage doors and is unique in using idigbo, a hardwood that is very similar to oak in grain and colour, yet at a lower price. Warwick doors hand-built in and supplied fully finished to the highest standards. Many of these side hinged garage door designs are available with matching personnel doors – see each style for details.
What Will My Door Size Look Like?
Double door designs over 10'6" are created with the appearance of two single doors side by side to ensure accurate proportions are maintained. Doors up to 10'6" wide use repeated features or wider proportions for each feature to achieve an attractive and balanced design.
Handles, Locks & Ironmongery
Each door is supplied with a black handle and a key operated lock as standard. The key operated lock is used to activate the multi-point latch locking system. For doors that are to be operated by motor, lock deletion can be specified at the time of order – locks can always be fitted at a later date but cannot be removed! Handle finishes are available in Black, Brass Effect and Chrome Effect.
The ironmongery we fit to our garage doors is of a high quality and selected to ensure years of trouble free service. All packs share the same components and differ only in terms of the type of hinges used and the finishes of each item, giving a choice of three styles – Contemporary, Classic and Traditional.
| | | |
| --- | --- | --- |
| Contemporary | Classic | Traditional |
Contemporary ironmongery is fitted as standard to the York and Warwick side hinged garage door range.
Side hinged garage doors and personnel doors are hung with three brass-effect hinges per leaf or with the option of a pair of classic strap hinges in black or silver colour or traditional strap hinges in black wrought iron. Side hinged doors have a night latch and finger pull (commonly used on front doors) with the option of a mortice lock and lever set – see individual furniture pack for details.
Personnel doors have a mortice lock and lever set as standard.
Side hinged doors have shoot bolts top and bottom to secure the inactive leaf and door stays to hold the door in the open position.
All side hinged wooden garage doors open right hand leaf first when viewed from outside the garage with the option of left hand opening available on request.
Frames
All doors are available with the option of a frame. Frames are constructed using galvanized steel and finish in brown, white or black.
Doors upto 8'0" wide by 7'6" high (2438mm x 2286mm) are supplied with the frame pre-fitted to the door. Doors over this width or height are supplied with the frame as a knockdown kit for assembly on site.
For full sizing details on frames and all doors, call us on 0800 525 442
All doors can of course be fitted to a good quality timber goal post type frame. We recommend a minimum of 70mm x 70mm section to provide adequate fixing for the doors operating gear.
Guarantee
Woodrite Doors are guaranteed against any form of manufacturing defect or mechanical failure for a period of 2 years from the date of original purchase.
The exterior factory fully finished panel is guaranteed to provide a weatherproof membrane which will resist perforation of the substrate from the weather side due to corrosion for a period of up to 5 years - this is dependent on location, position of door and provided door has been maintained in accordance with the manufacturers instructions.
Colours
Each door is available with a base-treatment that you will need to stain in a colour of your choice, or a choice to be fully factory finished in one of the classic shades. Woodrite use the TEKNOS wood finish system and recommends this for on site finishing.
The finish provides a low gloss surface that can be wiped clean with a soft cloth and water. Re-staining is recommended at least every three years, but keep an eye on the finish as south facing doors in strong sunlight may require more regular care. Love your wood!
| | | | |
| --- | --- | --- | --- |
| Aged Oak | Brackley Oak | Chocolate Oak | Conker |
| Golden Oak | Green Oak | Mid Oak | Midnight Oak |
| Natural Oak | Old Oak | Red Oak | Rustic Oak |
| | | | |
Please note that these on-screen colour examples are not 100% true to life. Please see our samples and showroom doors for more accurate colour examples.