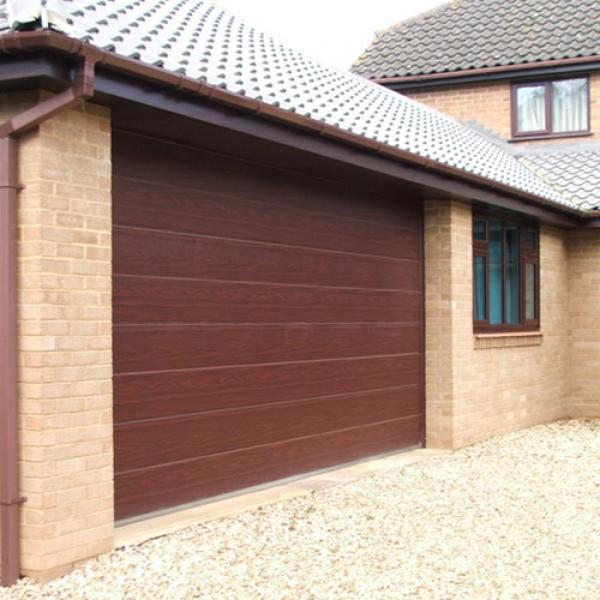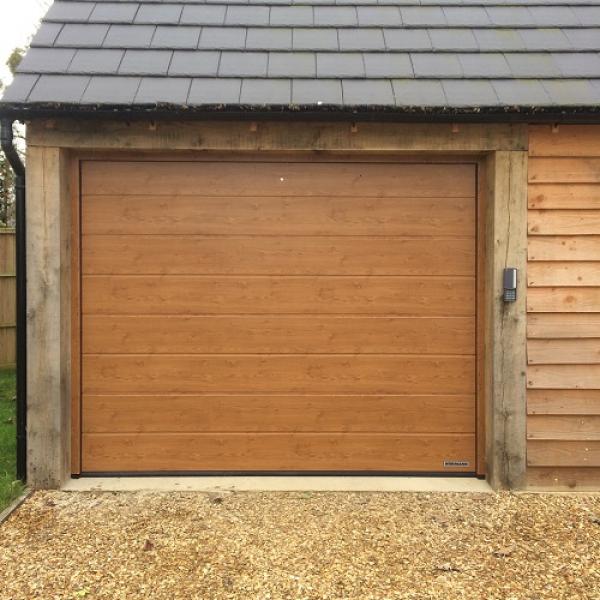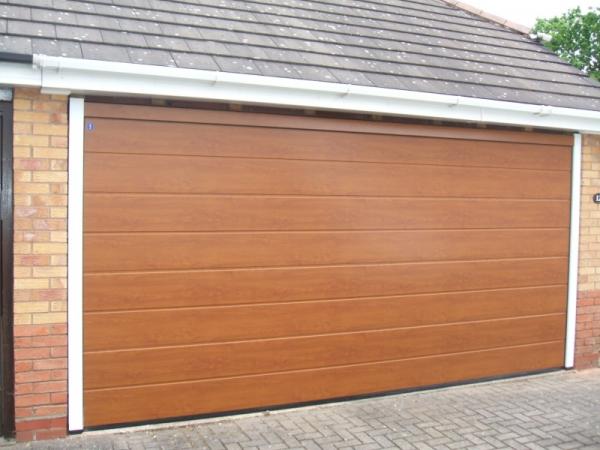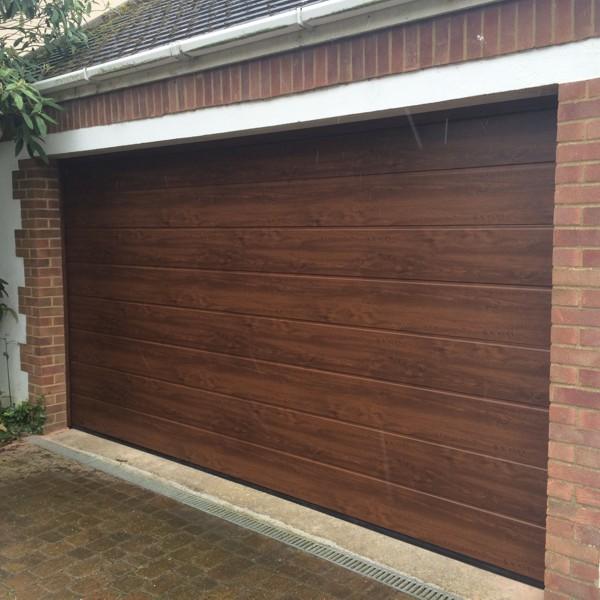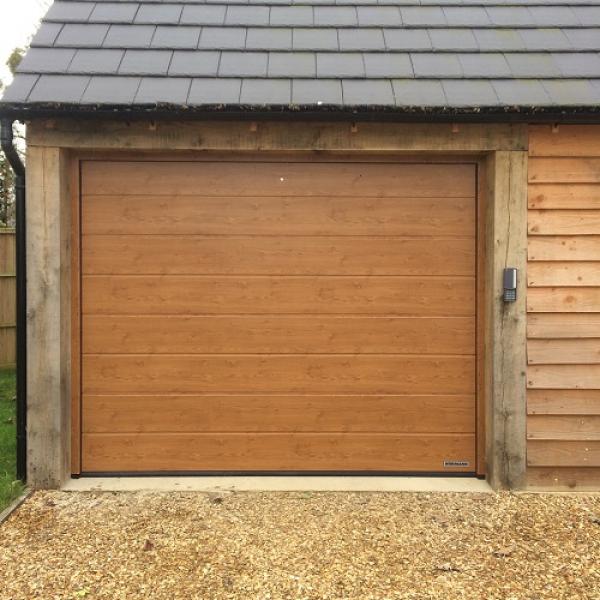 Hormann LPU 42 M Ribbed Decograin

Door Type:
Sectional Doors
This LPU 42 Decograin steel sectional garage door absolutely replicates the look of a timber garage door - just without the maintenance!
To make an enquiry about this product, please click the button "Make an enquiry" below this message, or call 0800 525 442
description
colour finishes
The Hormann LPU 42 M-Ribbed Decograin® sectional garage door has an immediate warming appeal to it. The richness of the wood graining faithfully replicates the beauty and warmth of real timber. Decograin timber effects from Hormann offer the very toughest of finishes and enable the M Ribbed door to compliment almost any type of property, new or old. The crisp lines formed by the horizontal ribbing harmonize incredibly well with the modern design of many contemporary properties. A matching front door and side door are available in this rich finish – the collection has such impact a lasting impression is made. The colour and finish also make this door eminently suitable for matching upvc window finishes previously difficult to really match. The panels of the Hormann LPU 42 M-Ribbed Decograin® sectional door are UV resistant, minimising any fading or colour changing.

The short video below shows the unique features of a Hormann LPU 42 sectional garage door
As with all of the Hormann LPU 42 M Ribbed sectional doors this door is fully insulated with 42mm thick foam filled panels and weather resistant seals around the door edges and between the panels. Combined with rubber seals between each panel this sectional door provides very high levels of insulation and resistance to weather but also high levels of security in the design and strength of the panle comdined with the operating mechanism.
The finish is a luxurious embossed texture, so very similar to the real timber. The LPU 42 M Ribbed Decograin® sectional garage door is available in a choice of tough laminate foilf finishes (very convenient for matching upvc window finishes).
Thermal insulation
Double-skinned steel doors 42 mm
Section U = 0.50 W/m2 K
Door leaf U = 0.90 W/m2 K
Fitted door 1) U = 1.30 W/m2 K

Maximum Door Sizes
Width 5500mm Height 3000mm
Acoustic insulation
Double-skinned steel doors 42 mm R = approx. 22 dB
Wind pressure
Double-skinned steel doors 42 mm class 3

Glazing Options
16mm double pane in clear (DS) or crystal structure (DK)
Type D
Handles
The Hormann LPU 42 is manufactured with no pre-drilled handle hole as standard. This is to offer a smooth door finish on doors with electric operation which do not require a handle. If a handle is required, a selection of handles are available from the selection below at a surcharge.
Black
synthetic plastic

White
cast aluminium

New Silver
cast aluminium

Brass
cast aluminium

Polished
stainless steel

Brushed
stainless steel
Suitable Operators
Both the Hormann Promatic and the Hormann Supramatic are the perfect remote controlled operators for the Hormann LPU 42. They both come supplied with an integral receiver, automatic locking, automatic safety cut-out, emergency release from inside, and a soft start/soft stop function to minimise door wear and tear.
Hormann electric garage door operators are supplied with 2 transmitters as standard when purchased. Other remote transmitters and access control systems are available from the selection shown below and other controls are available to link in with Homelink systems and also vehicle transmitter systems.

HS 1 BS
Hand Transmitter
(1-channel)

HS 4 BS
Hand Transmitter
(4-channel)

HS 5 BS
Hand Transmitter
(5-button)

HSE 2 BS
Micro Hand Transmitter
(2-channel)
To view the whole range of Hormann remote control accessories, view the Hormann Remote Control Operators page.
Colour Options
More recently the Decograin range has extra finishes to choose from - 5 beautiful woodgrain laminate finishes with unique embossed graining offering either Golden Oak, Dark Oak, Rosewood, Light Oak, Night Oak & Winchester as a fully finished surface.
| | | | | |
| --- | --- | --- | --- | --- |
| Dark Oak | Golden Oak | Night Oak | Rosewood | Winchester |