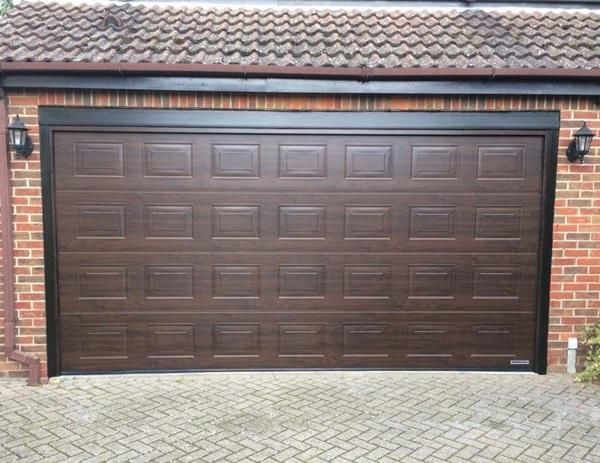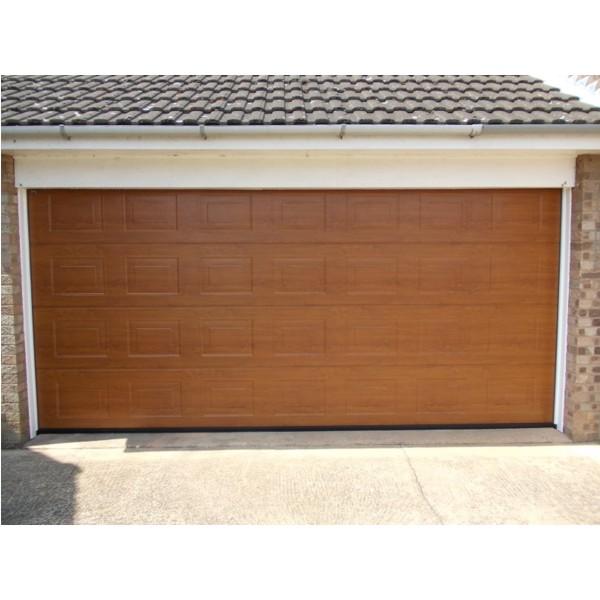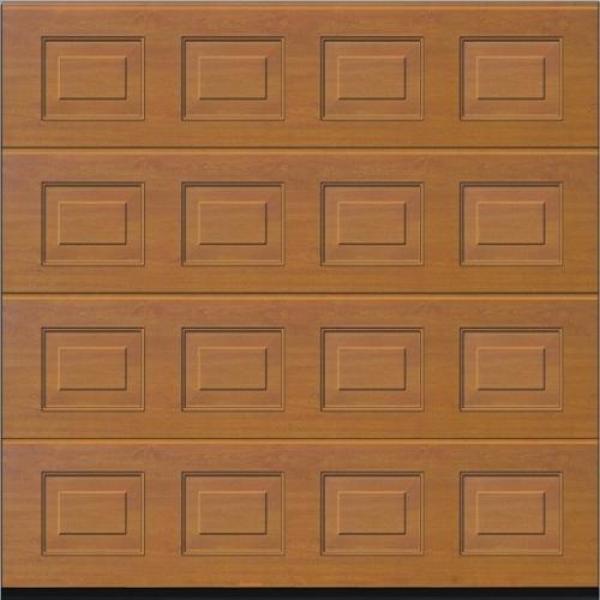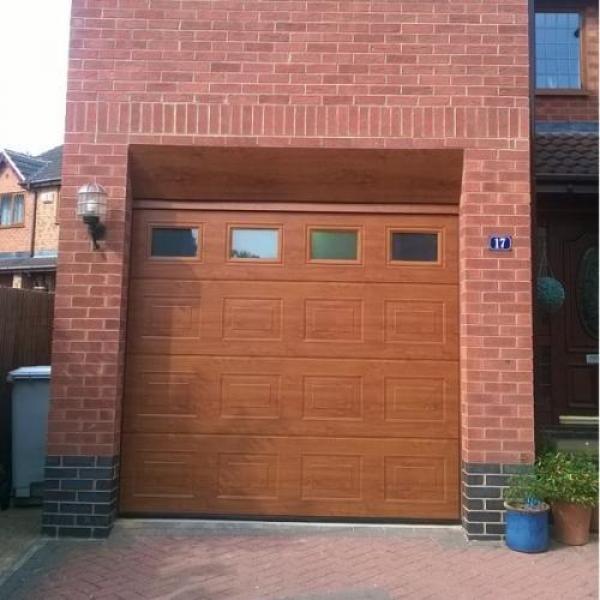 Hormann LPU 42 S Panelled Decograin

Door Type:
Sectional Doors
An attractive period design with a beautifully authentic wood grain finish.
To make an enquiry about this product, please click the button "Make an enquiry" below this message, or call 0800 525 442
The Hormann LPU 42 S Panelled Decograin® sectional garage door is eminently suitable for most property types. Perfectly evenly formed Georgian profiles, uniform panel divisions and barely visible section transactions enhance the elegance this door demonstrates. A neat four profiles in the single door rising to a tidy seven profiles per panel in the double door – very stylish, very chic.
A particular benefit of this door is the Decograin® finish – surprisingly, the embossed graining totally captures the genuine characteristics of timber. The coating is actually a UV-resistant synthetic foil treated with a special surface protection to preserve the beautiful appearance for many years.
The Decograin® finish is perfect for matching Upvc window surrounds, especially with the three colour choices available. Absolutely ideal when white just will not do!
The Hormann LPU 42 S-Panelled sectional garage has weather resistant seals around all four sides and between each panel. Fully insulated, with the panels filled with 42mm thick insulation using 100% CFC-free rigid PU foam, the Hormann LPU 42 S-Panelled sectional garage door offers the opportunity of creating a fully sealed garage providing the opening is plumb. Ultra convenient if using the garage as a utility room and obviously giving cost savings on fuel bills.
The Hormann LPU 42 S Panelled Decograin® sectional garage door has an immediate warming appeal to it. The richness of the graining faithfully replicates the beauty and warmth of timber.
As with all of the Hormann LPU 42 sectional doors this door is fully insulated with 42mm thick foam filled panels and weather resistant seals around the door edges and between the panels. Combined with rubber seals between each panel this sectional door provides very high levels of insulation and resistance to weather.
The short video below shows the unique features of a Hormann insulated sectional garage door

Surface Finishes
The finish is a luxurious embossed texture, so very similar to the real timber. The LPU 42 S Panelled Decograin® sectional garage door is available in a choice of 5 absolutely gorgeous colours (very convenient for matching upvc window finishes).

Thermal Insulation
Double-skinned steel doors 42 mm
Section U = 0.50 W/m2 K
Door leaf U = 0.90 W/m2 K
Fitted door 1) U = 1.30 W/m2 K
Acoustic insulation
Double-skinned steel doors 42 mm R = approx. 22 dB
Wind pressure
Double-skinned steel doors 42 mm class 3
Maximum Door Sizes
Width 5500mm Height 3000mm
Glazing Options
16mm double pane in clear (DS) or crystal structure (DK)
Type D
Handles
The Hormann LPU 42 is manufactured with no pre-drilled handle hole as standard. This is to offer a smooth door finish on doors with electric operation which do not require a handle. If a handle is required, a selection of handles are available from the selection below at a surcharge.
Black
synthetic plastic

White
cast aluminium

New Silver
cast aluminium

Brass
cast aluminium

Polished
stainless steel

Brushed
stainless steel
Suitable Operators
Both the Hormann Promatic and the Hormann Supramatic are the perfect remote controlled operators for the Hormann LPU 42. They both come supplied with an integral receiver, automatic locking, automatic safety cut-out, emergency release from inside, and a soft start/soft stop function to minimise door wear and tear.
Hormann electric garage door operators are supplied with 2 transmitters as standard when purchased. Other remote transmitters and access control systems are available from the selection shown below and other controls are available to link in with Homelink systems and also vehicle transmitter systems.

HS 1 BS
Hand Transmitter
(1-channel)

HS 4 BS
Hand Transmitter
(4-channel)

HS 5 BS
Hand Transmitter
(5-button)

HSE 2 BS
Micro Hand Transmitter
(2-channel)
To view the whole range of Hormann remote control accessories, view the Hormann Remote Control Operators page.
Colour Options
More recently the Decograin range has extra finishes to choose from - 5 beautiful woodgrain laminate finishes with unique embossed graining offering either Golden Oak, Dark Oak, Rosewood, Light Oak, Night Oak & Winchester as a fully finished surface.
| | | | | |
| --- | --- | --- | --- | --- |
| Dark Oak | Golden Oak | Night Oak | Rosewood | Winchester |