Teckentrup Insulated Side Hinged

There are many reasons why one may install an insulated garage door, however a side-hinged door in particular would offer you the very best in convenience if you use your garage as a workshop office, gym, or other function. Side-hinged doors allow you to open and close only one door leaf, whilst when it is closed it maintains excellent insulation and security levels. The doors are sealed around the sides and the top, with the integral sub frame used.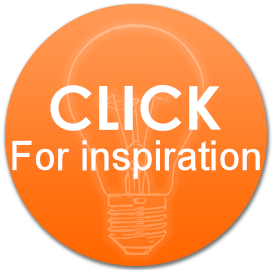 For the very best in panel strength, security and insulation, look no further than the superb insulated, steel, side-hinged garage door range from market-leaders Teckentrup (known as Teckentrup in Germany).
Teckentrup do not tend to be known for hinged doors, but more for their fantastic sectional garage door range; the door panels that are used for their side hinged doors derive from the insulated, double skinned steels panels of the sectional garage doors. In Germany the Teckentrup manufacturing plant produce many different types of side hinged doors and the Teckentrup side hinged range has been developed specifically for the UK garage market.
Teckentrup make superb made to order side hinged doors, that contain high levels of security and insulation. Alongside this, you can design your own door.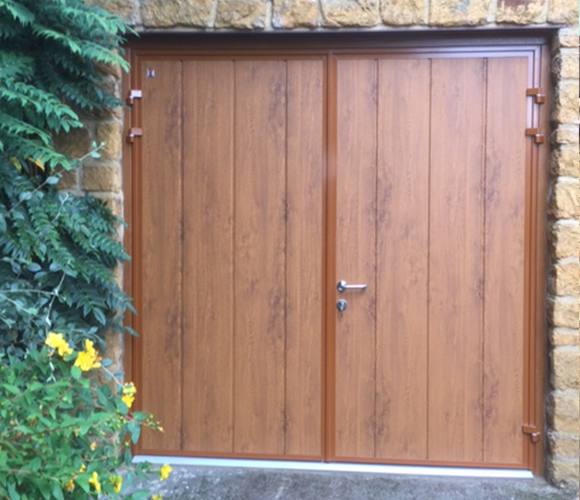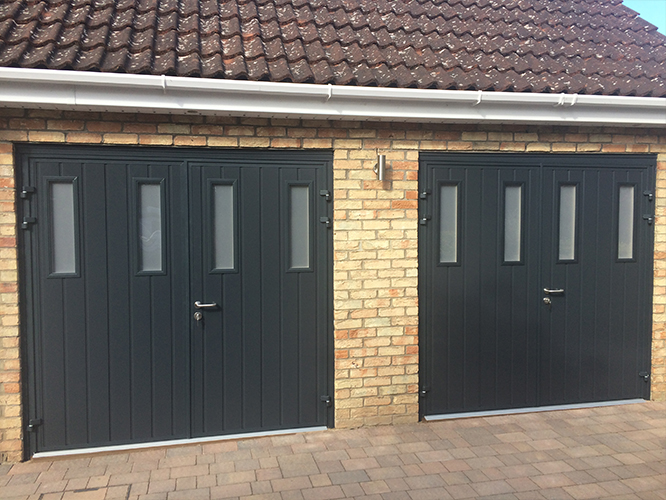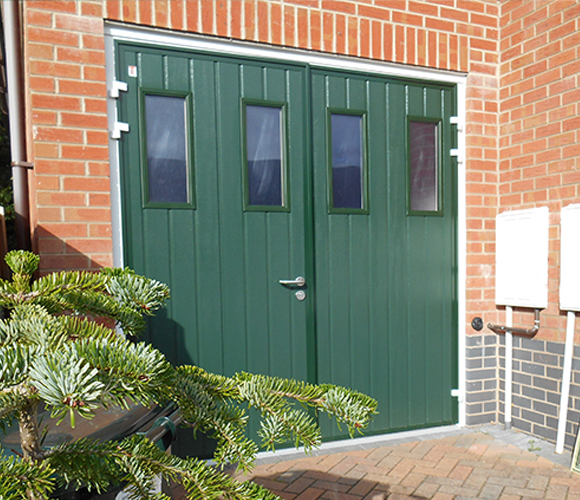 Why Insulated Side Hinged?
Most people who purchase a side-hinged garage door do so because they use their garage for other purposes other than storing their vehicle. For instance, their garage may be a workshop, games room, gym, office or perhaps a simple storage areas for bikes or household items. As access to these items may be frequent, often with the garage's direct access to the main home through an internal door, security is a very important factor to consider, as well as the benefits of high levels of insulation. The insulated door panels will help maintain an even temperature inside your garage all year round.
Design Choices
The Teckentrup side hinged doors are available in 8 different panel designs, each design having options available for a woodgrain embossed surface, stucco or micrograin surface finish for the finer details of visual appearance.
All designs can have a 50/50 or 1/3rd and 2/3rd option to offer a smaller pedestrian door for easier access; the only one that cannot be offered is the Georgian design with the taller, vertical panels, as the design is restrictive.
Insulated Steel Side Hinged Door Designs
Click here to view all Teckentrup Insulated Steel Side Hinged garage doors >
Solid 40mm Thick Panels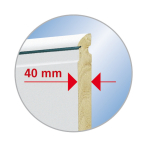 The Teckentrup side hinged doors are constructed from 40mm thick, interlocking foam-filled galvanised steel panels that provide excellent sound reduction and incredible strength.
The mitred door leaf and door frame are finished in a matching finish from white, Trend and RAL colours, as well as woodgrain effect laminate finishes. The door panels are always RAL 9002 off white to the inside face for maximum light enhancement and practical purposes.
The inside face of the door panels are also very easy to keep clean and have no unsightly bracing bars and locking mechanisms unlike single skin steel and timber constructed door panels.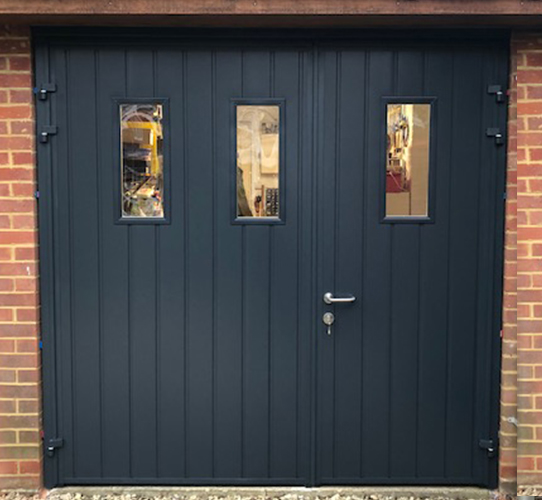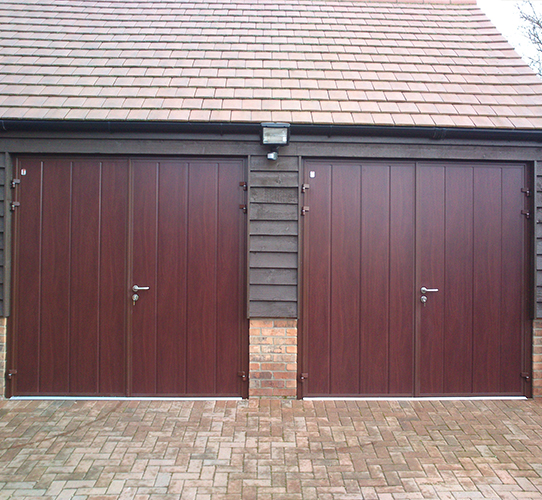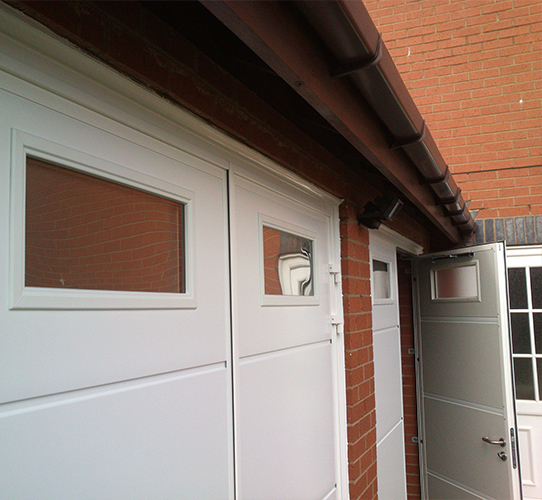 Fixing Frame
All Teckentrup side hinged doors are factory fitted with a fully finished aluminium fixing sub frame to make installation easy and precise, on site only, requiring the door and frame to be positioned into place, squared and secured.
The doors are all made to order, ensuring a perfect fit and to maximise the width and height of your garage opening.
The frame is finished in the same colour as the door panel colour chose,n and in the case of the laminate woodgrain panels, a complimentary RAL colour is used for the framework.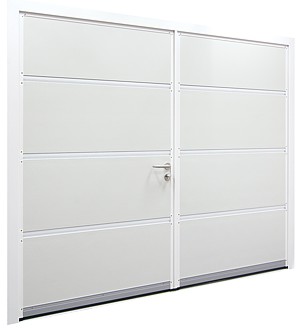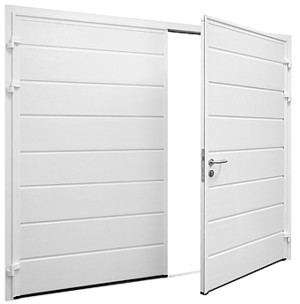 Internal view of Teckentrup side hinged door (left), external view (right).

High Quality Features as Standard
High grade stainless steel handles and lock covers are standard and offer a tough attractive finish to the overall visual appearance.

The double deadbolt locking is extra secure and the locking mechanism is situated behind a tough cover strip, fitted on the leading door panel.

High quality aluminium hinges are fitted as standard with secured hinge bolts, making it extremely difficult to lever the door open.

Easy adjustments are possible for fine-tuning the door leaf operation.

2 or 3 hinges are fitted to each leaf depending on the door size ordered.

Double seals and mitred corners make the Teckentrup side hinged doors exceptionally draught and rain proof.

In addition to a seal on every edge of the door panel, there is also rubber sealing to the aluminium fixing sub frame

The inactive garage door leaf is secured with flush fitting bolts to the top and bottom, and at the bottom is further enhanced with the standard feature of a rot proof floor seal and threshold, further increasing the sealing properties and security of this door.

Door stays are fitted as standard, protecting your door panels from slamming closed or flying open on windy days or smashing into objects/ your vehicle.

These door stays are top grade spring dampened with easy adjustment.

They are desinged to hold the door panel open at 90 degrees.
Finished Colours
The Teckentrup side hinged doors are available in the optional standard paint colours shown below for a small extra charge, and also in Golden Oak, Rosewood and Dark Oak laminate finishes which match very well with Upvc windows using the same finishes. White (RAL9016) is the factory standard and off white (RAL9002) inside.
Wood Effect Laminate Finishes
Decograin Range:
| | | |
| --- | --- | --- |
| Dark Oak | Golden Oak | Rosewood |
Standard RAL Finishes
Flame Red
RAL 3000

Jet Black
RAL 9005

Moss Green
RAL 6005

Fir Green
RAL 6009

Anthracite Grey
RAL 7016

Light Grey
RAL 7035
Window Grey
RAL 7040

Sepia Brown
RAL 6014

Grey Aluminium
RAL 9007

Cream White
RAL 9001

White Aluminium
RAL 9006

Steel Blue
RAL 5011
Quartz Grey
RAL 7039
Woodgrain Surface Finish
| | | | | | |
| --- | --- | --- | --- | --- | --- |
| Woodgrain Finish | Smooth Finish | Micro Finish | Stucco Finish | | |
Window Options
There are a choice of scratch proof, easy-clean window options for any of the designs available, and they are all double sealed units to maintain the insulation and strength offered by the main door panel. Round and square windows are available for the solid panel door designs.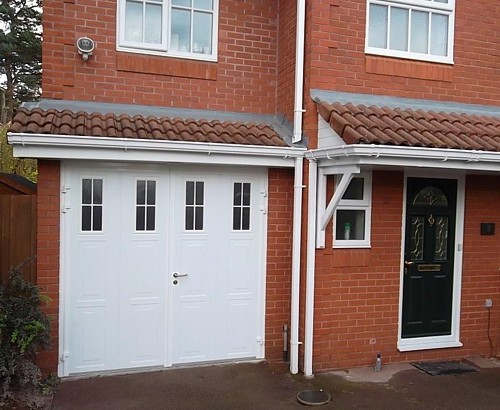 Georgian 50/50 split doors fitted with double glazed units and Georgian glazing bars all in white.