Timber Sectional
Timber sectional garage doors are readily available from four main manufacturers:
The Garage Door Centre specialises in all 4 of them for supply and installation. We can offer advice on all aspects - sizes, gear operation types, timber species and finishing treatments. A smaller but versatile range is also available in the U.K. from Cedar Doors offering a great degree of flexibility in design and sizing. A sectional door is very versatile in use and properly specified can optimise a garage internally as well as externally. The tracks can be specified at different heights to maximise the internal space in your garage.
Timber Sectional Garage Door Sizes
Timber sectional doors are all available up to 5000mm wide and Hormann produce heights up to 3000mm high. There are many standard sizes starting from 2250mm wide and most of the doors can be made to order to fully utilise your structural garage opening. Small variations in structural opening sizes can easily be accomodated by a sectional door as they do not pass through the opening at any point during operation.





As the doors do not pass through the garage opening at any time during operation you can also install timber sectional doors behind odd shaped openings too without special gearing.
The mechanism allows this to work and opens up a world of opportunities for garage designs.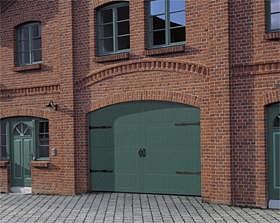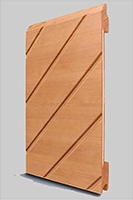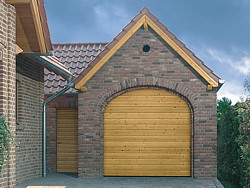 Timber Sectional Garage Door Designs
The designs available as standard are either raised and fielded panels (Georgian) or horizontal ribbed boards. Variations are available including vertical lines either creted by routing into composite timber panels or using traditional joinery made sections made from cedar tongue and groove boarding to keep the weight to a sensible level.
All doors will be supplied with some form of base coat preservative for final decoration on site, preferably before installation.

All the timber sectional door manufacturers offer a range of standard routed design patterns created from composite timber panels.
Bespoke designs can be produced recreating almost any design required.
Timber Sectional Garage Door Wood Species
All the manufacturers tend to use Nordic Spruce or Hemlock as standard but other timbers including Cedarwood, Meranti, Iroko, Mahogany and European Oak can be used for producing the doors panels. Certain restrictions may apply to certain timber types due to their weight and stability at larger sizes. Whatever requirement you have to match existing timber on your home or local planning restrictions we are sure to be able to provide the right door in the right design.
Timber Sectional Garage Door Special Designs
Timber as a material gives the option to produce almose any design in a timber sectional door. There are many standard designs but using a computer aided precision mill you can design you own style of door for your property. Draft out a design and the design will be created for you to approve or amend as necessary to create the perfect match to architectural features or individual tastes. Whatever your design requirements are we are sure to be able to help.