Timber side hinged garage doors

Side hinged garage doors offer solutions to many problems and provide opportunities not possible with other types of door. They are simple in their operation and easy to maintain over the years with minimal moving mechanical parts.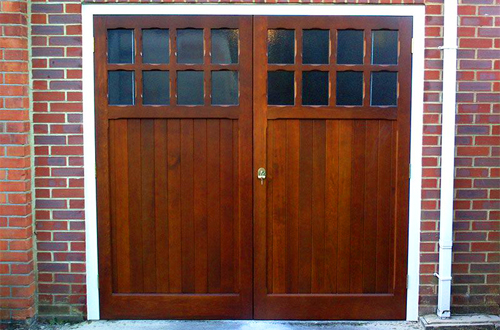 We have seen a marked increase in the number of customers wanting side hinged, traditional type garage doors over the years and the choice of materials, styles and finishes are bigger than ever before with modern materials and finishing options.
(timber side hinged garage door with windows)
Customers have realised once again the practicality of side hinged doors for busy lifestyles where the garage is usually NOT being used for a vehicle, and frequent access is required as the garage is used as a large storeroom for bikes, toys, etc. and very often freezers or laundry facilities as well as workshop, gym or general additional room.
Traditional side hinged doors give you easy access to your garage without having to open a complete door panel up - frequent, easy access to your garage with minimal effort in operation.
Styles
Many different styles of side hinged doors are now available in steel, timber, GRP and also adapted bi fold systems in aluminium.
Using timber as a material you can totally individualise your side hinged garage doors as well as choosing from a wide range of existing traditional standard designs we offer. You can have them manufactured to your own design from a choice of either grade A cedarwood or various hardwoods such as Idigbo, Accoya or Oak, with either a modern or traditional feel according to the surroundings and your personal preferences.
In the double skinned steel options we offer you have a range of clean, modern designs with varying front surface effects on the panels. The insulated double skinned doors can also have double glazed windows inserted to suit your requirements.
Quality
We DO NOT supply low grade softwood timber side hinged doors of any description as the stability and longevity of the timber used in cheaper timber side hinged doors is generally not fit for purpose in our opinion for the very aggressive UK climate.
For long lasting durability and high quality you will have to look at Cedarwood, Idigbo, properly seasoned, or engineered Oak or other durable timber species to cope with our very variable weather here. Another great option is the wonderful Accoya timber (link to Accoya page). Good quality selected timber is also essential for the construction and strength of these doors.
There are a wide range of beautifully crafted furniture options, again in traditional or contemporary styles. The steel and GRP ranges are slightly more limited in design but still have purpose made sizes and window options available. Panelled designs are common in single skin steel and cost considerably less than timber equivalents. In the double skinned steel doors you will see far more modern designs and the use of vertical and horizontal lines in varying quantities.

Designer Doors
Just as with the sectional garage doors we see more and more customers looking for an individual garage door design and the desire to use stainless steel or coloured elements as an overlay or inlay in the design. These 'designer' type doors can create dramatic effects or simply a bold statement of individuality.
Below there are just some of the more popular side hinged garage doors from the vast range supplied by The Garage Door Centre
| | | |
| --- | --- | --- |
| Bierton - Woodrite | Burnham - Woodrite | Coleshill - Woodrite |
| Gawcott - Woodrite | Tickenham - Woodrite | Chalfont - Woodrite |
| | | |
| --- | --- | --- |
| Ashbourne - Cedar | Ashford - Cedar | Bakewell - Cedar |
| Belper - Cedar | Chesterfield - Cedar | Haddon - Cedar |

| | | |
| --- | --- | --- |
| Ashton - Garador | Chevron - Garador | Garador Horizontal |
| Seymour - Garador | Tudor - Garador | Vertical - Garador |

Materials
Side hinged garage doors are readily available in either Steel, GRP or timber and in standard or purpose made sizes generally up to 10 feet (3048mm) wide and 8 feet high (2438mm). Above that width is possible but the whole door panel construction becomes more like a gate and hinges and framework have to be considerably larger to take the extra weight involved.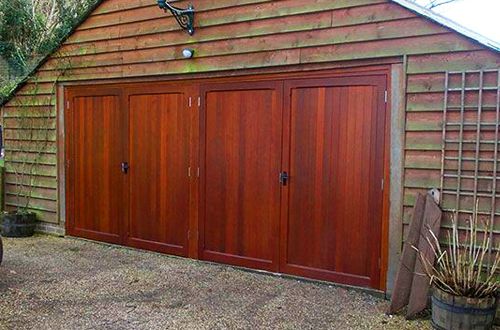 The ever popular and fantastic range of double skinned, insulated steel side hinged doors offers superb weather protection, insulation and fantastic security through their design and beautiful styles and finishes.
Practicality
The side hinged garage door set can be produced with either 50/50 split opening or a 1/3 and 2/3 opening in most designs. The 1/3rd and 2/3rd opening offers the best solution to frequent pedestrian access meaning only the smaller door leaf is opened every time access is required.
Sizing
Unlike steel side hinged doors, timber doors are generally purpose made so can be manufactured to exactly the sizes required. If the building is constructed of
uncut stonework a scribed timber sub fixing frame will finish the installation with a neat snug fit.
If there is a lack of headroom in your garage the side hinged garage door provides the perfect solution. Side hinged doors are a blessing for those whose garages are decked out internally with shelves or cupboards or garages that house intrusive gas/electric meters or pipework. The lack of tracks or panels protruding into the garage means that you have no worries about fouling door operating gear. You can utilise all of the drive through height and width (providing the doors can open to 90° or more). The lack of lifting gear also means that the side hinged garage door is wonderfully maintenance free apart from treatment of the timber. No springs, cones or cables to maintain or replace when they have worn out.
On a very practical note, if depth and width of garage is restricted (or more depth and width is required) the doors and frames can both be fitted externally with some kind of flashing required above the frame head to prevent water ingress. Fitting the doors externally can also offer the greatest drive through width and height if this is a requirement.
Electric Operation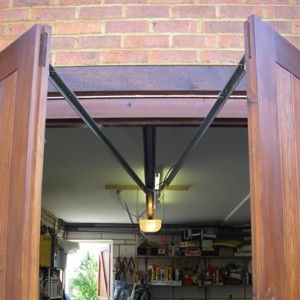 Don't forget, electric operation is perfectly possible. Contrary to popular belief you can fit a remote control operator to side hinged garage doors very easily. Most boom style electric operators combined with a swing arm conversion kit will fit the bill. The systems we install allow the first leaf to reach the home position slightly before the second leaf – and this closes the doors more securely. Remember to fit a manual release if there is no other pedestrian entrance to your garage. Most of all you will need a relatively powerful operator as there are more forces applied to side hinged doors during operation especially in windy conditions, and these conditions need to be allowed for.
New generations of electric operators constantly monitor the doors in different stages of operation and compensate in their safety features – Seip, Cardale, Marantec, Hormann and Somfy are good examples.
It is also possible to use hydraulic and mechanical gate operator technology for a really neat and reliable automation system for side hinged doors, and we install quite a few of these when the inside of the garage has high ceilings or a finished interior. These operators are either articulated arms or piston style rams as well as top mounted operators very similar to doors you may see in retail shops and public buildings. Very reliable and perfectly suited to high useage too, these units are quiet and have excellent longevity in use.

Buyers Beware!
Side hinged garage doors usually open outwards so check that the drive does not slope upwards and that doors can fully open, we can offer inward opening on most of the models if required, however this is a fairly rare procedure.

Be aware, if your garage is in front of a public area or pathway that the doors will open into, check with your local authority whether this is acceptable. Other safety systems may be required.

Search through our Product Catalogue for high quality timber side hinged garage doors

Many types of double skinned insulated side hinged doors are becoming available now in the UK and these offer excellent security through the panel design and locking systems as well as fantastic insulation.

Email us directly for the very latest and best prices on the internet or call us now with your requirements.

For further information on side hinged garage doors, please contact one of our experienced sales staff who can offer details on the latest designs, materials and prices.