Certain Doors Offer Fantastic Value for Money
Garage Door Prices generally are failry simliar for the majority of manufacturers but look at what you actually get in certain door types and they are superb value
We have many pages trying to explain the complex pricing involved with various garage door types and in the main for a standard replacement door in a standard size and standard colour it is easy to get a price that will be fairly accurate if some sizes are provided.
What isn't discussed so much up front is the incredible value for money some garage doors are in comparison with others.

The most obvious example of what is meant here is to look at the replacement of a double width garage door in a standard size on a garage built somewhere between about 1970 and 1990 where the door fitted will almost certainly be a 14' x 7' steel up and over fitted usually onto the back of the brickwork opening.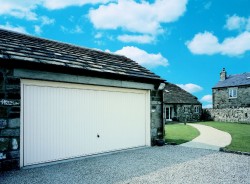 You could replace this door with a modern steel up and over at the same size of 14' x 7' and in a pressed steel design in a white finish this would cost about £2,100 inc. VAT (Not including any discounts that may be applied by any distributor) BUT the same opening could also have an LPU40 S or M Ribbed double skinned insulated sectional garage door fitted in a white finish for about £2,200 inc. VAT (again without potential discounts applied). The £100 difference is nothing compared to what differences there are in the insulated sectional door over a normal one piece steel up and over.

The up and over swings out in its operation, it is heavy to lift past halfway up and has gaps along the bottom in order to operate without catching the floor.
The door is also constructed from single skin steel panels so transmits all the cold in the winter. It is a perfectly acceptable door and works well with a 10 year gurantee but is dated in its operation method.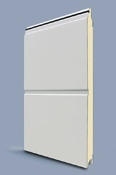 The sectional garage door, in this case a Hormann LPU40 insulated door, offers vertical operation without swing out, easy operation throughout the whole movement up or down, weatherseals on all 3 sides and a larger seal across the bottom panel to go onto the floor. All this and the door is constructed from 42mm thick double skinned foam filled panels providing an insulation value somehwere near the same levels as bricking the opening up!!

This door is also extremely secure, held by 10 rollers rather than 2 and with a heavier duty locking mechanism. All this for £100!!!!

For an extra £49 and depending on the actual brickwork opening width you can also go for a larger door and maximise your opening drive through width. For £49 you can get the 14'6 wide door and even if your opening was only say 14'4" this would not matter as the door panels do not move past the fixing frame at any poine so as long as your internal return widths were sufficient you could have this wider door and al the benefits of increased garage drive through width. All for £49!!
To make either door into an electric operated dor would cost the same money but again the benefits of a door that does not swing out means a remote operation is less dangerous if it were to happen.