Domina Trackless Sectional Garage Door
Introducing the new Domina trackless sectional garage door...
The Domina trackless sectional garage door has no internal tracking!
How is this possible?

Simply by the fact that this is a totally unique type of garage door mechanism, this door offers many unique advantages to you and your garage opening. And as usual it is a manufactured by Silvelox, so it is a superb finished door panel and super smooth operating mechanism. The door is manufactured from timber and is available in many stylish, modern designs and finishes.
• The Domina opening mechanism allows maximum use of the garage as a room and maximum drive through opening.
• It allows you to park the car immediately in front of the door, inside and outside and still operate fully.
• In projects with internal obstacles such as internal support beams, vaulted ceiling and offset internal walls, this might well be the only garage door type that can be installed.

Choose from Various Door Models
• Available in a wide range of models both in RAL colours and in varnished wood.
• Oppurtunity to insert windows and ventilation grills.
• It can be personalised following the customer's needs in the choice of materials, finishes and accessories.

See the Domina Door in action >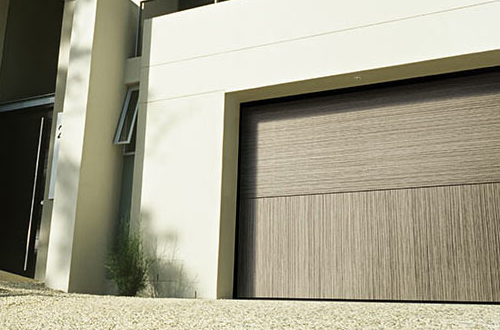 Security & Safety as Standard
• Exclusive Silvelox electric automation with electronic power control.
• During a powercut, it is perfectly possible to open the door by hand after releasing the mechanism
• Seals for finger protection positioned at the junction of the panels between the door leaf and frame and between door leaf and floor.

A Lasting Garage Door Purchase
• Multi-ecowood panels with 40 mm thickness as standard.
• Thermal insulation taken to as low as U= 1,14 W/m2K.
• Operating mechanism with balanced counterweight system without parts subject to wear.
• Warranty up to 10 years.