Hormann Bi Secur Electric Openers
At last the Series 3 Hormann Bi Secur electric garage door operator is available!
The New Hormann Bi Secur Electric Operator Series 3
From July 1st the brand new range of electric garage door operators will be available from The Garage Door Centre.
These new operators use 2 way radio communication to provide a super secure system combined with led indicators providing easy information about the current state of your garage door.

Hörmann-developed in co operation with cryptology experts at the Ruhr University Bochum (RUB)
128-bit encryption provides the same high security level as in online banking
Interference-resistant radio signal with a stable range
Backwards compatible with earlier versions enabling the purchase of the superb new stylish hand transmitters – stronger and easier to use whilst at last looking very good too.
The HS5 BS 5 button transmitter is the unit which will provide information about your garage door fed back from the operator unit itself – Is my door open or closed?
Very useful when you cannot see your garage door from your home

Multicolor LED - Shows the status of the door and radio transmission.
Blue = transmitting, red = door open, green = door closed, orange = status query
Status button - To query the door position, simply press the status button and then the function button – the LED will indicate if the door is open or closed. To close the door, press the function button again; the LED will be illuminated in green as soon as the door is closed.
4 function buttons - To operate 4 door functions. Garage door and entrance gate operators with a radio frequency of 868 MHz* can still be operated. Simply transfer the functions from the appropriate hand transmitter.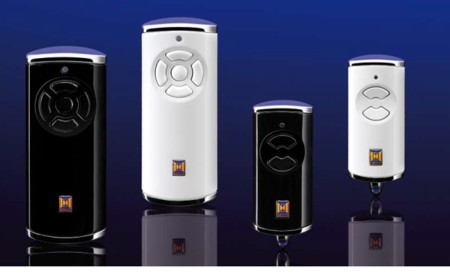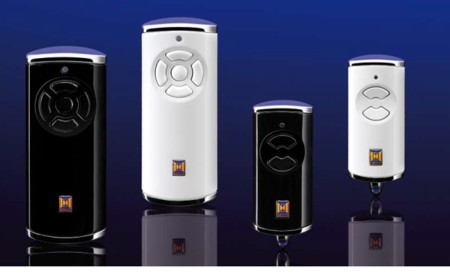 Exclusive hand transmitter designs - With black or white* glossy surface in a piano lacquer look.
Backwards compatible to the radio frequency 868 MHz
All Hörmann operators with a radio frequency of 868 MHz can still be used with the new BiSecur control elements.
Longer battery life - under normal conditions, with common AAA batteries.
Future-oriented technology - For an intelligent home.
For convenient operation of: garage doors, entrance gates, lights and more.
SupraMatic garage door operator series 3 with BiSecur radio system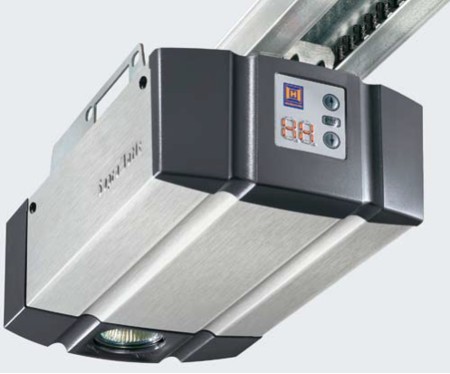 Standard: 5-button HS 5 BS hand transmitter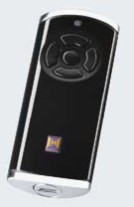 Featuring status query and closing function with feedback once the door is closed.
Low power consumption in standby mode
Less than 1 watt in standby mode, resulting in a 90% reduction in power consumption.
Very simple and quick initial start-up
Just select the door type and start an automatic learning run. Easy registration of a hand transmitter within the first 20 seconds.
Easy-to-use programming
Clear and easy programming with a double 7-segment display.

Call now for the latest prices and details on (01933) 229135