Hormann Garage and Gate Operators
Looking for the highest quality, reliable and secure electric operators - Hormann have the answer
Garage Door and Entrance Gate Operators
We know how irritating it can be when you arrive at home, tired after a long day, it is raining and you have to leave the comfort of your car to fumble with the gate or garage door, only to get back in again to park...but with Hormann gate and door operators, all this can be avoided.
You can depend on the Hormann operators day after day to make entering your home convenient and secure, the way it naturally should be. The reliable operating system ensures a smooth, swift and quiet transition from moving traffic straight into the safety of your own garage.
All of our operators are approved and certified by independent experts at TÜV, fulfilling the strict safety standards we would expect from any Hormann door or operator. You can rely on your operator to work in harmony with your Hormann garage door, together presenting a highly secure unit. When you close the garage door, it automatically engages the door security kit to lock and secure it against forced entry. Even in a power failure you can be sure of your security as, unlike operators from other manufacturers, it is purely mechanical.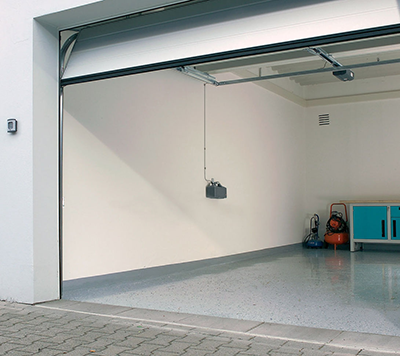 For added security around your home, the reliable built-in automatic safety cut-out securely stops the door if it encounters an obstacle at any point in travel; this is a brilliant prevention for the door or gate closing on a car, foot or even small child!
Because of the quality of manufacture, Hormann automatic gate operators remain in good condition in the long term. Weather resistant and long lasting, your garage door or gate operator lasts longer than any other without needing its battery changed, so arriving home will be a breeze.
In an emergency, you do not need to worry about being inconvenienced by your garage door. All of our door operators have the option of a re-chargeable emergency battery pack so that, in a storm or power failure, your garage door operation system will still work for up to 18 hours, so while everyone else may be stranded, you are free to follow your normal schedule as planned!
Whatever your preferred accessory to your door, you can be sure that Hormann will have something to fit your needs - a tiny key ring that can be attached to car or house keys, a hand transmitter that inserts inconspicuously and conveniently into your cars cigarette lighter, or an elegant key switch post outside your door that also illuminates the entrance, all of them as easy to use as your TV remote. You can use one remote for several different functions, for example, operating your entrance gate, garage door, and an outside light, even if they are of different makes.
Integration with Home Link systems is also perfectly possible with most of the Hormann operators as well as many optional items coming later this year, offering two way wireless communication to enable many extra fantastic features.
Call now for latest prices on (0800) 525442.