Hormann High Quality Timber Sectional Garage Doors
The best in timber garage door technology - Hormann LTH40 sectional garage doors...
Here at The Garage Door Centre...
We know that when it comes to garage doors, you want it to look beautiful with the rest of your home as well as performing beautifully. That's why we take so much care when selecting and preparing the wood for our classic timber doors. The Hormann LTH range of sectional timber doors are constructed from the very finest materials and operated by the smoothest operating gear, making for a perfect combination.
The timber is carefully selected for its strength and quality by us, and then pre-treated at the factory in a double-immersion bath process to protect the wood from insects and fungal attack. Your wood needs protecting from harmful UV rays if it is to retain its gorgeous appearance, so we strongly recommend post-treatment of the timber door, purchased at any leading specialists, which will put the finishing touch to your door.
Any translucent timber preservatives can be applied, for example a teak finish to give your door a unique appearance. If you would like to paint your timber door in a light colour, we will supply it already pre-treated with preservative and primed white, for no extra cost.
Hormann traditional style sectional timber doors give your home a rustic, country-house feel, made more harmonious by the fact that matching side doors for both sectional and panelled garage doors are precisely aligned.
We supply timber doors in two different types of wood; elegant Hemlock is a cool light brown colour with a predominantly straight grain, the majestic Nordic Pine is a golden colour with more spiral graining and darker 'knots', which are natural features of the wood. The type of wood you choose makes no difference to the skilful joinery and top quality workmanship reflected in the design you have chosen.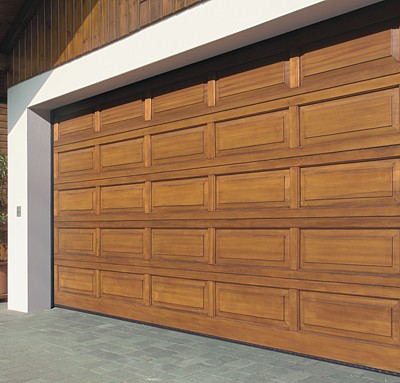 Although traditional, Hormann timber doors are far from old fashioned. Each door comes with a convenient garage door operator – we recommend the powerful Hormann Supramatic E, adding comfort and ease.
Solid timber garage doors are much heavier than aluminium or steel, and we realise this could be cumbersome should you wish to use it manually, which is why we supply all of our timber doors with torsion spring technology. The high quality, solid and strong wood these doors are made of makes timber garage doors extremely durable and safe against break-ins.
From our artistic range of creatively designed timber doors, there is a wide variety to choose from, all guaranteed to be the envy of your neighbourhood. Exclusive to Hormann is the incorporation of natural stone as an attractive design feature, with a choice of three marbled stone colours to choose from. You may think that garage doors are limited to the 'up and over' type, but Hormann offer a 'barn door' look, enhanced by beautiful double-leaf fittings for the two doors to be side mounted.
Additionally, why not give your timber door a personal design – all we require is an appropriate drawing from you and we can display your initials, house number or name, or even a motif on your new door! Whatever the look you choose, you are guaranteed satisfaction with your wonderful new timber door.
Call now for the latest information and pricing on Hormann timber sectional doors.

(0800) 525442