Insulated Garage Door Options
There are now a fantastic number of options when choosing an insulated garage door
Insulated Garage Doors Options
The modern lifestyle is constantly evolving, and with that so is the home of the 21st century – garages included. Not only can your windows, walls and loft space contribute to maintaining the warmth of your house, but so can your garage door. The demands of increasing heating bills and the cold, British weather call for your garage door to become a part of this modern solution.
Thankfully, improved technologies have allowed for garage doors to adopt insulating properties, aiding to improve the warmth of rooms that neighbour or sit above the garage. Plus, when a garage door offers insulating properties, the door panel's strength is in turn improved, ensuring greater levels of security for your garage and home.
Some modern homes strive for the very lowest energy consumption using the highest levels of insulation and modern technology. An integral garage requires the same effort as windows and pedestrian doors to reach their insulation levels; for such a property, we are able to offer many doors to achieve this.
Roller Shutter Garage Doors
Insulated roller doors function in the same way as a standard roller shutter, however rather than just being constructed of a single sheet, there a two that are foam-filled. This not only makes your garage warmer, but the increased thickness of the curtain makes for a stronger and, in turn, more secure door.
Due to the formation of the slats of a roller door, they can simply not compete with the insulating qualities of a sectional door. However, they can of course be fitted with brush and weather seals to prevent draughts and debris from the outdoors entering your garage space.
View in product catalogue: Hormann Rollmatic, SeceuroGlide, Gliderol Insulated Roller Door.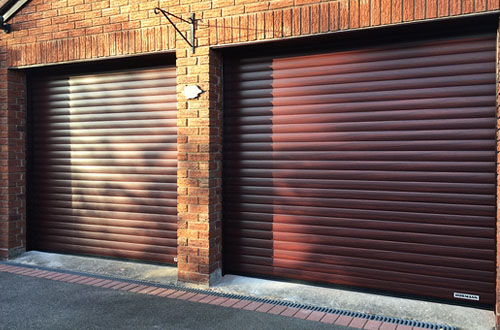 Sectional Garage Doors
Insulated, double-skinned sectional garage doors offer excellent insulation and U-Values. At least 40mm thick, all sectional doors from The Garage Door Centre are CFC free, foam-filled and constructed with double-skinned galvanised steel panel construction.
Not only are the doors manufactured with impressive insulation, but are also of great strength as a result of this. Sectional doors' heavily weather sealed frame work means the door is a great option if insulation is a priority, with some doors having extra optional weather seals. Hormann, for instance, offer a 'Thermoframe' kit, further enhancing their door's insulation at the sides and top of the door when it is closed.
New for 2018 from Hormann is the LPU 67. With 67mm thick sections, this sectional garage door is super thermally insulating (30% more so than Hormann's LPU 42), and therefore also majorly more sturdy and secure than a standard sectional door.
View in product catalogue: Hormann, Carteck, Ryterna.
Side Hinged Garage Doors
For those who use their garage for functions like a gym, workshop or storage space, a door type such as side hinged with insulation will be greatly beneficial. Not only will the insulated door make the garage a more comfortable environment to be in, but, being side hinged, it allows for ease of pedestrian and vehicle access.
View in product catalogue: Carteck, and Ryterna.
Round the Corner Garage Doors
There are two types of round the corner doors: side sectional and round the corner, the latter of which's slats are produced similarly to insulated roller doors. The side sectional can have similar levels of insulation as a standard sectional door; the bottom tracking section however, must have gaps in order to operate, therefore reducing the amount of some insulation.
View in product catalogue: Hormann HST.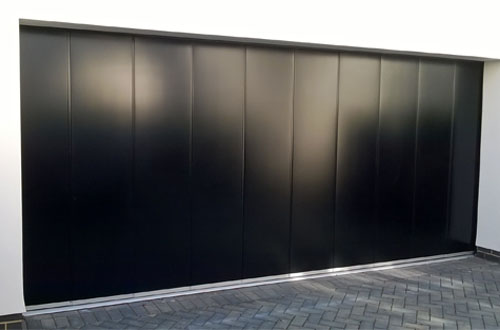 Front Entrance Doors
Having an insulated front entrance door is likely to be an import element to factor in for many home owners as it enters directly into the home. Thankfully there are now excellent doors manufactured with great insulating properties which can even match the aesthetic of your garage door.
Insulating entrance doors not only offer heat insulation, but sound insulation also.
View in product catalogue: Hormann, Ryterna.
Additional points:
- If you have an electrically operated garage door, you won't have to leave your car to open it, meaning that once you leave the warmth of your car, you won't have to brace the cold at any point (if you have a door to your home from the garage).
- Insulated garage doors are convenient for garages that may be utilised for uses other than vehicle storage – like a workshop or gym – making your time spent in there more comfortable.