LPU 40 Sectional Garage Doors
What exactly is an LPU40 sectional garage door?
The Hormann LPU40 is the flagship door in the Hormann steel sectional garage door range. It is a double skinned, foam filled, 42mm thick insulated sectional garage door with incredible strength which also gives it high levels of security at any size if installed correctly and more so with a suitable Hormann electric operator. The door has been developed over years by Hormann and is definitely one of the best value garage doors in the UK today with one of the widest range of colour and finish options.

What is a sectional door? The sectional garage door is still relatively new to the UK and this is inbelivable when you make comparisons with other garage doors. The sectional garage door rises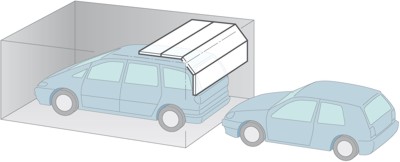 vertically, usually in 4 sections on a standard height and then curves and retracts into the garage on rails at higher level to give a full width and height (in most cases). As it does not go through the opening and due to its operation high levels of weathersealing are achievable all round and once you add into this a 42mm double skinned panel you have a garage door with fantastic insulation values.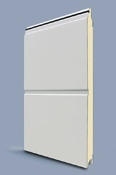 The door is offered in the series 2000 UK standard range up to 4877mm wide (16feet) and much larger European range of standard and purpose made sizes. Because of its strength is is available up to 7500mm wide and 3000mm high and as an upgrade from the EPU40 and LTE40 ranges at smaller sizes it is well worth the extra cost.

The LPU40 sectional door is available in several different panel designs and finishes with woodgrain, silkgrain, decograin and now micrograin options offering subtle variations in visual appearance.


If insulation is of primary concern Hormann now offer the 'Thermoframe' option which is an additional installation kit to further lower the U value of an installed LPU40 door installed correctly behind the structural opening. When installing inbetween the opening a level of acceptance has to be taken that the surround of the door will not be as well insulated as the door panel itself but will still seal the same all round unlike any other garage door can.

'Designer Doors'
The LPU 40 panel is used as the primary basis for the entire Hormann range of 'designer' sectional doors with modern stainless steel and glazing elements offering very stylish and individual designs many of which can be complimented with matching front entrance doors from the Thermopro or TOP entrance door ranges also from Hormann. Modern surface finishes also help to create incredible visual effects, such as the Titan metallic or anthracite options as well as the almost limitless choice of the majority of the RAL paint finish colour options.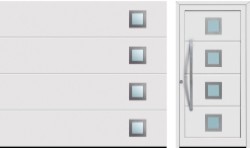 Sectional garage doors offer so many benefits over the usual up and over, side hinged or roller shutter doors and if you want a door that offers the ultimate in security, insulation and style then you should definitely take a look at the Hormann LPU40 range.

Learn more about the LPU40 range >

Go to the LPU40 range in our online catalogue >