Make Sure the Garage is Big Enough
Avoid the consequences of not building your garage opening big enough or specifying the right garage door to make sure you can manouver your vehicle in and out of the garage.
Make Sure The Garage Opening is Big Enough!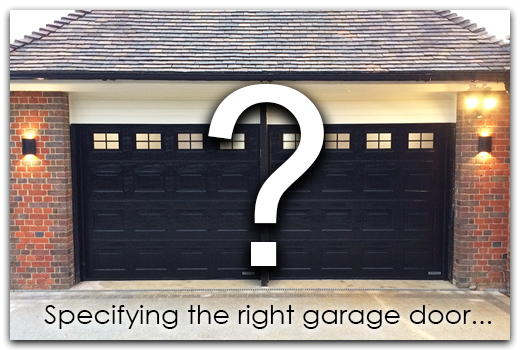 We cannot tell you how many times over the last 25 years we have been called out to survey a newly built garage to then have to tell the builder and client the only garage door that will fit will not be big enough to get the car through the opening that remains. It keeps happening time and time again!
What is the perfect size?
Ultimately, there is no perfect size as so many factors come into the equation, width, height and length being the three main factors.
However, do see below for our recommended sizing:
For a standard garage with a single car width opening we would now suggest a 2438mm wide and 2134mm high door as the best for most vehicles with an internal garage length of at least 5 metres, preferably 5.5m if achievable.
To get the structural size for this door correct will depend on what type of garage door you want and where it is to be installed, i.e.in between or behind the opening.
There are many variances on sub frame sizes from different manufacturers and options also available for headroom requirements so this is not a simple explanation, you are best to call or email to discuss this with us, it is not presentable on any chart to make any sense, we have tried!

The standard 7 foot wide door (2134mm) is definitely not wide enough for so many standard cars these days let alone anything exotic or a 4x4, and the same factor that a lot of people seem to forget is that any type of garage door will always have a fixing sub frame, (or guides in the case of a roller shutter door) and these are quite often totally forgotten about in the measurements.
So many garage openings are built at 7 feet (2134mm) wide and then we are asked to supply a 7 foot wide garage door but then have to explain it needs a 70mm frame either side for fixing (and on the height as well) and therefore your nearest standard width is then 6'6 (1980mm) wide and renders the garage useless to all except the smallest of cars and motorbikes. The size reference for most garage doors is referring to the internal dimensions of the framework and NOT the opening required (except for a sectional type door installed to the rear of the opening).

For double car garages for many years the standard door has been a 14 foot (4267mm) wide and 7 foot (2134mm) high but we recommend nowadays 15-16 feet (4572-4877mm) as a standard width with more width internally as well, say 5.5 metres wide, to enable easier opening of the car doors to get out the vehicle.
We sell many 16 feet wide doors now as well as 5 to 5.5 metre widths which are always either sectional or round the corner type doors due to the size and weight. Again great consideration has to be given to the position of these larger doors as larger garages will inevitably have larger lintel/RSJ's and piers to hold the large roof so door position will make a big difference to the visual appearance and the practicality of operation and drive through dimensions when actually open. A good example of an oversight is ordering a 16 foot (4877) wide and 7 foot (2134) high one piece up and over timber door to find that when the door is open with the panel thickness and bracing you can lose up to 250mm of height with the door sitting under the frame head giving you a height useless for a 4x4 vehicle to drive under, it happens quite often!!
Let us try to make sure you get the right garage door for you and your requirements, e-mail or call us now and speak to any of our consultant sales people for all the latest door details, sizes and prices.