Paraflex - The Perfect Umbrella
An umbrella that can follow the sun for optimum shading and does not have a central pole to interfere with precious space.
Umbrosa Paraflex Side-Mounted Umbrellas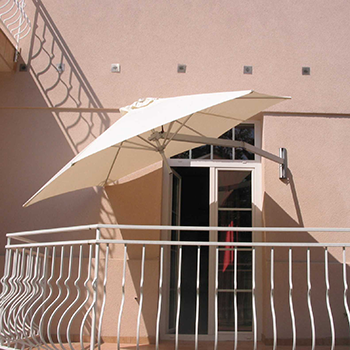 In the summer time when the sun is shining we understand how important it is to have a cool place in the shade to relax and unwind in, and have created the perfect solution. Umbrosa have been inspired by nature to bring to you all the beauty and ingenuity of natural shade right where you need it.
Choice in Style
Interchangeable fabric offered in a whole range of at least 25 different beautiful and classic colours provides luxury and high quality UV protection, providing you with the ultimate in shading solutions, whilst at the same time being elegant and stylish.
Lightweight, with no heavy central pole, the Paraflex Wallflex provides shade wherever and whenever you need it as it is supported by an 'arm' not dissimilar to a human arm, meaning it can pivot in three dimensions to shade you the right amount, in the right place, whenever you like. The aluminium and fibreglass holder can be left outside all year round; being weatherproof it is not affected.
The parasols are not recommended for use in stormy conditions (although sitting outside in a storm is not advised either!), but in a heavy wind the umbrellas will set themselves and do not get blown away, being much more wind resistant than a traditional parasol. The parasol comes out of the holder at the click of a button, or you can leave it in the holder and use an Umbrosa waterproof protection cover to keep the parasol clean and dry.
Versatile
Easy to handle, the arm is made of aluminium and the umbrellas are very lightweight, this is a major advantage when tilting and bending the parasol to your satisfaction. The Paraflex parasol is multi-applicable – it can be attached to any surface with a wall mount, which is suitable especially for balconies, large terraces with several other umbrellas, or just if you would like a little more floor space, or you have the option of fitting it to a lateral central pole if that suits you better. You can have a single umbrella or attach up to five parasols on the same attachment, be it wall or central pole, depending on the shade coverage you choose to have.
Durable
Paraflex also stands out in the field of durability. The gorgeous top quality fabric can be removed, washed and replaced, or you can reorder or replace it altogether if you decide you would like a change. Paraflex fabrics are interchangeable and limited edition fabrics are brought out every year, so you can keep your stylish addition to the house up to date. Spare parts are readily available if for any reason you need them, for any component, therefore saving you from having to replace your parasol when it is worn out; Paraflex provides an ecological yet brilliant solution.
We are so confident that Paraflex Wallflex parasols will live up to your expectations and more – to prove this we offer a three year guarantee on all of the materials used. Our expert fitters can come and install your parasols quickly and easily, although they are so easy to install that it can be done by almost anyone. An instruction manual is included should you wish to install your Umbrosa Paraflex yourself.